Townsend, Tennessee - Fly Fishing in the Great Smoky Mountains National Park, East Tennessee and Western North Carolina

If you don't see today's fishing report please refresh you browser. Since this report is updated every day, an older version could be in your computer's cache.
Welcome to the Fishing Report. It is sunny and 61 degrees in Townsend this morning. It felt like Fall outside when I walked to my truck. I saw our resident wild turkey hen with her six poults this morning. One of our neighbors thought something got a few of them, probably our local bobcats. He told me that night before last. Nope, all six babies are alive and well. They look like adults now, only smaller.
Little River is low. Low? Well, by the new standards the river is low. Flow is currently 307 cubic feet per second (cfs) or 2.28 feet on the gauge. Median flow for this date is 131 cfs. The water temperature is 63.6 degrees at 8:05 am.
So, flow is twice normal. How can I say the river is low? Look at the USGS chart below. It depicts the flows in Little River for the past 120 days. You can see, only on a few days did the river dip to 2 feet or less on the gauge. That was back in June. I wouldn't be surprised to see the river reach 2 feet today which would be low by the new standards.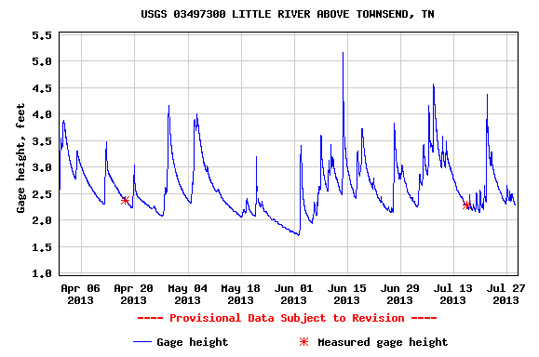 Fly fishing in the Smokies is very good. Look at our message board. I have talked to several anglers who are reporting great fishing. I think, those who did best this weekend fished nymphs that were heavily weighted. I talked to one customer who got skunked yesterday and he is a good fisherman. He was fishing above Elkmont. The more we talked we both realized his nymphs were not getting down. There is plenty of current in the rivers and streams. There are plenty of areas where dry flies will work and some that are so swift, nymphs will do better.
Now that the streams are receding closer to normal, dry flies might work very well. They may work fine today.
Fishing for smallmouth bass in the lowland rivers has been very good. The same can also be said for catching pan fish on flies in these streams. These Spring-like flows are perfect for fishing our free flowing rivers. The water temperature is good too.
We've got some pretty awesome tailwater fishing opportunities today according to TVA. Their current schedule indicates the generators will be off until 3:00 pm at Norris Dam. They also say Cherokee Dam will have no generation between 8:00 am and 1:00 pm. It looks like Douglas Dam will be off and on all day. Check the TVA website for current generation schedules. They change. And, I could have read them wrong.
We are looking forward to cool nights and fairly cool days over the next few. We might see lows in the 50's tonight. Rain may return on Wednesday since it is my day off. Paula and I plan to fish. The chance for thunderstorms is 60%. Those are pretty good odds for us. On many of our planned fishing days this year, the chance for thunderstorms has been closer to 100%.
I spent 2 ½ hours last night laying in the bottom of our boat. And today, I could barely get out of bed. I installed new swivel seats. What a job. After drilling holes, you have to tighten the lag bolts with a 9/16" open end wrench moving a distance of about 2 inches per stroke. The only way to see the bolt heads is to lay down in the boat. I know this will turn out to be a worthwhile project. I'm just glad the installation process is over.
The Daily Times had an interesting article about the greenway idea that would connect Knoxville to Townsend through Alcoa and Maryville. You can read it by CLICKING HERE. I keep hearing bits and pieces about this idea. Maryville and Alcoa have a very nice greenway that is popular. Connecting Knoxville to Townsend is going to take a lot of planning and money.
Fishing conditions are excellent. Fishing is great. This is like no Summer we have had that I can remember. Get out there and fish!
Have a great day and thank you for being here with us.
Byron Begley
July 29, 2013