Townsend, Tennessee - Fly Fishing in the Great Smoky Mountains National Park, East Tennessee and Western North Carolina

Welcome to the Fishing Report. It is cloudy and 72 degrees in Townsend this morning. We had a brief but heavy shower earlier. Our gauge had .20" of water in what was a bone dry vessel before today. We will probably get some more rain. There is a 60% chance for thunderstorms today.
Traffic was light. Kids are going back to school. Family vacations with youngsters are about over. I was actually surprised at the number of fishermen in here yesterday. And even more surprised to hear their success stories. Despite the low water, people are catching trout in the Smokies.
Little River was a mere trickle yesterday evening at the swinging bridge. Flow right now is 63 cubic feet per second (cfs). Median flow for this date is 105 cfs. The lowest flow this year was just under 50 cfs in early July. The lowest flow I can remember was 18 cfs. I think that was in 2008. Maybe I'm wrong.
The USGS Little River Water Temperature page is not opening again this morning. If that continues, I will need to take the temperature myself like I used to do. By the time I park the truck, stumble down to the shoreline and take the reading, it eats up about 10 minutes each morning. Now, that does not sound like a lot of time. Unless I did the math wrong, that is 60 hours per year. That's a work week for me. That could be a week-long fishing vacation. I hope they get this fixed.
Trout are taking dry flies and nymphs. Beetles are working very well. Green Weenies are working well. Tie on a beetle and drop off a Green Weenie and you should catch trout. Fish the faster water. Early and late is best. Fishing should be fine all day today due to the cloud cover unless the storms or barometric pressure have an effect on the trout's activity. Who knows. I don't.
Fishing for smallmouth bass continues to be excellent in the tailwaters. The lowland rivers should be fishing fair but I have not been nor have I heard any credible reports.
Yesterday I was looking at some photographs of the drained lake-bed in Maryville called Greenbelt Lake and I described this in yesterday's Fishing Report. This lake is going through a $3 million dredging and environmental enhancement project.
Of course I'm interested because we are trying to do the same thing with Laurel Lake which was drained 20 years ago. It looks like they have established a wetland buffer around Greenbelt Lake that is supported by a revetment made from riprap. The rocks will be underwater leaving the wetland under about 1 foot of water. The wetland will be planted with aquatic vegetation and act as a filter to trap contaminates that wash into the lake.
I called Tennessee Department of Environment and Conservation yesterday. I left a message with Larry at the Knoxville Field Office. He returned my call at about 8:00 am this morning. I hope to get the engineering drawings from TDEC.
Last night we had a small get-together at the Barn in Townsend. All attending were members of the host committee for our Blount County fundraiser/dinner for Friends of the Smokies that will be held in October. Tom, Maryville's Mayor was there and my buddy Joe, who is a City Councilman and former Mayor was also at the party. I spent a lot of time talking to Joe about Laurel Lake. He is a huge supporter of the project. The City of Maryville will certainly help us with grant writing and permit applications. I'm sure I can get a copy of their engineering drawings, which will be very helpful.
I drew a side view of this "wetland revetment" yesterday and you can look at it below. Like I told Larry from TDEC this morning, "I can't help but look at this project from a fisherman's perspective".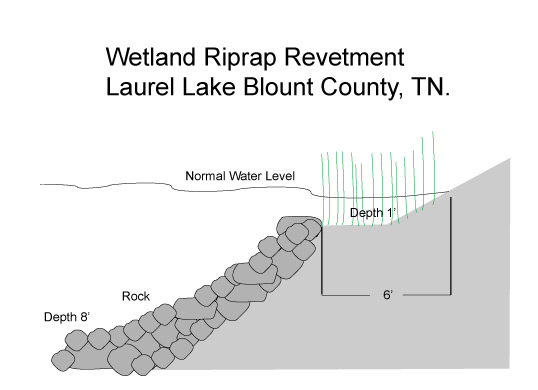 Think about the fishing enhancement with a design like this. I'm thinking this sort of structure will be more appropriate along the road-side of the lake. The wetland will filter contaminates that drain into the lake from the road. The wetland portion of the structure would be 6' to 8' in width, covered with at least 1' of water at full pool. The riprap would support the wetland and slope to a depth of 8 feet. The structure would be about 1,000 feet long. I admit I'm no expert and those who are may tear this whole theory apart so, I'm just thinking out loud.
Think about the juvenile fish that would live in the wetland and in the rip rap. This structure would be a perfect home for frogs, tadpoles and crayfish. Other invertebrates would find this to be a perfect home.
I will talk to the experts. In fact, I talked to one this morning.
Have a great day and thank you for being here with us.
Byron Begley
July 31, 2012
Respond to: byron@littleriveroutfitters.com