Townsend, Tennessee - Fly Fishing in the Great Smoky Mountains National Park, East Tennessee and Western North Carolina

Welcome to the Fishing Report. It is foggy and 70 degrees in Townsend this morning. I saw more wild turkeys on my way to work than I saw cars on the roads. I saw 7 turkeys and two vehicles. People are not active this morning. Turkeys are active.
Little River looked good. There is still plenty of flow though it has not rained in two days. Two days without rain this year seems like a drought. It is supposed to rain this week. Right now, flow in Little River is 182 cubic feet per second (cfs) or 1.92 feet on the flow gauge. Median flow for this date is 129 cfs. The water temperature at 7:50 am is 66.2 degrees.
Fishing is good in the Smokies. What we have now are good dry fly fishing conditions. Tie on about any fly that is reasonable for the Smokies in August and you should do well. I would use a Yellow Neversink Caddis or black foam beetle pattern for the dry fly. I would use a Green Weenie as a nymph or dropper off the dry. The pink version of the Green Weenie will catch fish. Some people use and like red weenies. Other fly patterns will catch trout too.
Ryan came in yesterday and announced that he is an awful smallmouth bass fisherman. He waded in Little River at the lower end of town and started casting a popper. He caught two rainbow trout in the 15" to 16" range and no smallmouth bass. Trout do hit poppers.
Take a look at the generation schedules for Norris and Cherokee Dams. They don't look great for wade fishing but maybe there is a way. Since I don't fish there, I don't know. I would say from what I hear that boat fishing on these rivers might be OK today. Check yourself and make that determination.
We were busy here yesterday. Some anglers know that the fishing is good in the Smokies right now. Others may not know. Those who do are out there fishing. Normally, we have very low water in August and it is warm. Fishing in August is not normally as good as it is right now.
A very close friend of mine was fishing in town on Little River last week. Somehow, he forgot to put his Jeep in gear when he parked it. A few minutes later, the Jeep rolled down a hill, hit a tree then landed in Little River. The water was not that deep where it landed and nobody was hurt. The Jeep was upright and he was able to start it. But, he could not drive it out of the river at that location.

So, he drove downstream in the river, through riffles and under a bridge to a point where he could drive it out onto dry land. Evidently, tubers were packed into the river along with this Jeep. Can you imagine what that looked like? Wouldn't that be fun, driving a vehicle in the river? I'm tempted but I don't think I'll try it. A Jeep Wrangler would be better suited for that than my old Suburban. Hmmm, Paula has a Wrangler.
Daniel and I are going through our sales history on most items we sell. We have data that goes back to 1998 in our computer point of sale system. We are trying to decide what to keep and what to allow to "go away". In this business, you keep the items that sell well. And, you don't replace slow sellers so you can have cash to buy new merchandise that will hopefully sell better. What you want are lots of "inventory turns" to stay in business.
Yesterday I looked at some of our small accessory items. I found these four Dr. Slick clamps and scissor clamps. These four items are big sellers. And, they are not on our online store. I knew that but forgot to do something about it. Yesterday I photographed each one in the closed and open positions then added them to our online store.
The best seller by far is the 4" scissor clamp. It is small, light and perfect for getting hooks out of smaller trout, pinching down barbs on small hooks, attaching small split shot to light tippet material and cleaning out hook eyes. The scissor is for cutting tippet after you tie on a new fly. The 4" scissor clamp is "King" of clamps in our store.
The second best seller is the 5 ½" scissor clamp. This one is designed for anglers who fish for larger trout and other gamefish. I have a pair of these in the boat. The #3 seller is the 5" clamp without the scissors. #4 is the 4" clamp without the scissors. You can read more about these items or buy online by clicking on each image.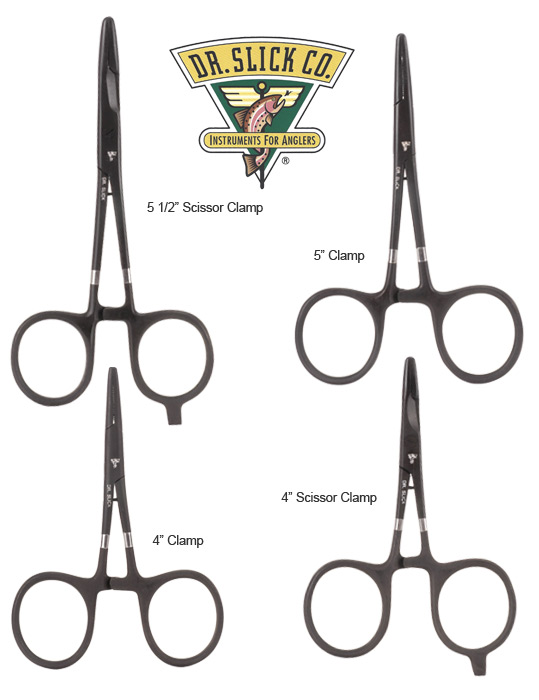 Have a great day and thank you for being here with us.
Byron Begley
August 4, 2013