Townsend, Tennessee - Fly Fishing in the Great Smoky Mountains National Park, East Tennessee and Western North Carolina

Welcome to the Fishing Report. It is foggy and 64 degrees in Townsend this morning. It's beginning to feel like Fall. If you look at the 10 day weather forecast, you will notice it is going to be cool, day and night. Highs will be between 79 and 85 degrees. Lows will hover in the neighborhood of the low to high 60's. That seems highly abnormal doesn't it? Not really. According to the Weather Channel website, our average high during mid august is 85 degrees. Average low is 61 degrees. I'm surprised. Next month they say, the average high is 80 degrees and the average low is 55 degrees. Now we're talking!
Little River's water level is dropping. Right now, flow is 170 cubic feet per second (cfs) or 1.88 feet on the gauge. Median flow for this date is 115 cfs. So, we're still above normal but getting closer by the day. The water temperature at 8:05 am is 65.5 degrees.
Fishing is great in the Smokies. Traffic and human encounters are down. Tubing traffic is down. The water temperatures in the streams are excellent. Trout are very active in the Park. Anglers are catching a lot of them, sometimes several in one pool or riffle. The fish are hungry and looking for a meal with vigor. Dry flies and nymphs are working well. My fly of choice right now is a Yellow Stimulator or Yellow Neversink Caddis. My nymph choice would be a Green Weenie without a doubt.
I would venture into the backcountry and fish smaller shaded streams today and tomorrow. We are going to have a mix of clouds and sun. We have a 60% chance for rain and thunderstorms on Wednesday and a 50% chance on Thursday and Friday. With odds like those, it's probably going to rain.
I was disappointed when I checked the TVA generation schedules for today on our local tailwaters. Unless TVA changes their mind, fishing opportunities today on the Clinch and Holston are not going to be great for wading and fly fishing.
Paula and I are going fly fishing in one of the lakes tomorrow. Right now, we don't know which one. It will probably be Tellico Lake, maybe up high in the Little Tennessee tailwater section or maybe down low where the Little T meets Tellico River. We are trying to figure out the lower section of the two right now.
The upper reaches below Chilhowee Dam have navigation issues that always keep me on my toes, especially when they are generating which they always seem to be doing. The water is clear and I'm always looking down when driving the boat. I see some scary stuff down there in the form of boulders and submerged forests.
We'll be casting Rubber Legged Dragons and Knuckleheads. I call them Byron's Knuckleheads for marketing reasons. If you do an internet search for "Knucklehead" you find all kinds of stuff from guitar strings to motorcycles. Add "Fly Fishing" or "Bass Fly" and you will find it. There is a bass plug called a Knucklehead. So, I needed to call these by my first name.
I've tied about 450 of these so far this year and continue to do so at a rate of 3 per day on average. They are for sale in the shop and online. We sell 2.8 per day. Byron's Knucklhead is fairly easy to tie. CLICK HERE to see a tutorial I put together early this year. They are tied on a Gamakatsu bass stinger hook in size #6. You can buy them online by CLICKING HERE. Our online store page has some great photography of these flies so you might want to check it out.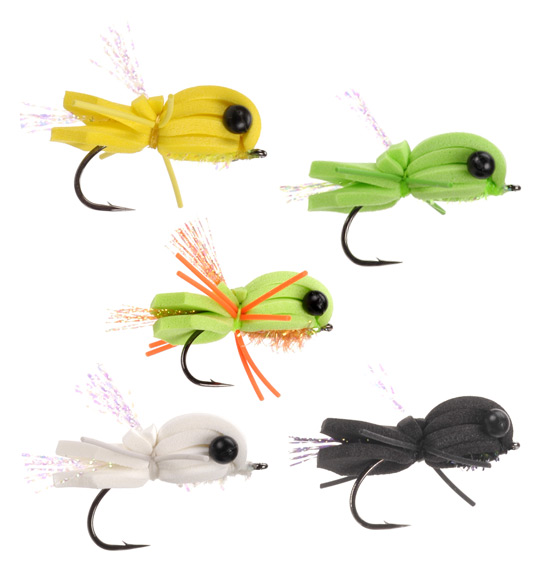 These flies cast very well on a 6 weight outfit. I use an 8 pound fluorocarbon leader and tie the fly on with a non-slip loop knot. I don't strip them, I twitch them. They float well. You can add some color to these flies using Sharpie or Prismacolor pens. You can also bar the legs with a chisel tipped Sharpie. I fish them just the way you see them here without making any color changes.
They catch smallmouth bass, largemouth bass, large bluegill and trout. We sell a lot of them online and most go to the Southern States where smallmouth bass do not live. I think customers are using them for big bream and largemouth bass. Feedback also indicates they work well in farm ponds. I have had additional comments from customers who use them for trout, even in the Smokies. I haven't tried that.
Anyway, we'll be tossing those tomorrow along with the Dragons.
Sundays are getting slow around here. They used to be better. So, I want to announce that we are open every Sunday (except Easter). We've been open on Sundays for 19 years. I'm going to start reminding people about that.
If you are planning a Dog Days fishing trip to the Smokies, be prepared for the fact that fishing is much better this August than one would expect. Rainfall this year is 17 inches above normal and it has been cool. That is why fishing in the Smokies is so good this Summer.
Have a great day and thank you for being here with us.
Byron Begley
August 5, 2013