Townsend, Tennessee - Great Smoky Mountains National Park
Welcome to the Fishing Report. It is overcast and fairly cool this morning. It is going to be a lot cooler tomorrow morning. A rain shower found us last night. It woke me up temporarily. We had ¼" in our rain gauge at the shop. The Knoxville Airport reported .34". Traffic is very light. I saw only a handful of vehicles on the streets and just a few people walking. This is transition time in the resort town business.
Little River is up some from yesterday morning, though you would hardly notice the difference. Flow is 107 cubic feet per second. Median flow for this date is 115 cfs. The water temperature at the swinging bridge is 72 degrees. It will be colder than that tomorrow morning. The water is clear.
Fishing is somewhat good depending on who you talk to. Joe McGroom said the rainbows were stupid on the Middle Prong yesterday. Another angler said "You couldn't buy a fish". May that angler was fishing behind Joe. Terrestrials, nymphs and Green Weenies are working. Yellow Sally Stonefly imitations are doing well too. The higher elevation streams are fishing extremely well. The water is cold and the trout are active.
Quite a few anglers fished lower Little River yesterday morning. Some reported catches of redeye and largemouth bass further downstream. Another couple of guys did catch some smallmouth bass. Then another fellow said the smallmouth fishing was slow. All the people I talked to used poppers or Stealth Bombers.
Remember, the moon is full. On clear nights during a bright moon phase it seems to all of us that the smallmouth bass fishing is slow the next day. We think they are doing well at their feeding endeavors during the night with the added advantage of light. Who knows? It's just a theory.
As the temperatures drop and the water cools, fishing around here is going to get better. Maybe we'll start fishing the lakes again. The Smokies streams will be fishing better. The lower elevation rivers will certainly get better. This is going to be a nice week. The high tomorrow should be 83 in the valley. The low is predicted to be 61 degrees. That trend will continue.
I'm excited about the hippies. Mark Brown, sales manager of Chota was one of the fellows who fished for smallies yesterday. He came in and we talked about the hippies. They are coming in on Monday.
"Hippies" are the new Convertible Wading Socks developed and will soon be brought to the fly fishing market from Chota. They are actually hippers that can be worn as their name implies but can also be converted to two lower levels of protection. Frank Bryant, President of Chota showed some prototypes to me in May. They are sitting in their warehouse in Knoxville right now just waiting for you. Like I said, we'll have them here Monday, probably late in the afternoon.
We put them on our online catalog yesterday. Chota will connect their online catalog "Hippie buy page" to ours tomorrow. If you are buying Chota fly fishing gear on their website, you will automatically be transferred to ours. We do the online sales work for them. It is working very well. If we run out of Hippies, I can just run to Knoxville and pick up more. You can buy them online right now for $119.95 by CLICKING HERE or on the image below. Or call the shop at 877-448-3474 and order them. They will ship to you this week. I'm going to own a pair of these and test them Wednesday. They are perfect for what I do.
Have a great day and thank you for being here with us.
Byron Begley
August 14, 2011
Respond to: Byron@LittleRiverOutfitters.com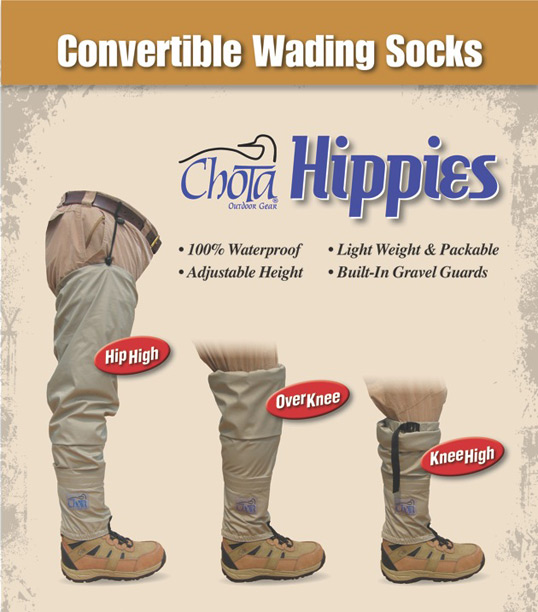 FLY FISHING CLASSES
Our fly fishing classes will be offered from March to October 2011. To sign up just call the shop at 877-448-3474. You can read more on our website in the Schools Section. The fly fishing class schedule follows:


Saturday September 10 – Beginner Day One
Saturday September 24 – Beginner Day One
Sunday September 25 – Beginner Onstream Day Two
Saturday October 8 – Beginner Day One
Saturday October 22 – Beginner Day One
Sunday October 23 – Beginner Onstream Day Two
Respond to: byron@littleriveroutfitters.com