Townsend, Tennessee - Fly Fishing in the Great Smoky Mountains National Park, East Tennessee and Western North Carolina

Welcome to the Fishing Report. It is partly cloudy and 65 degrees in Townsend this morning. Traffic was very light on my way to work. I probably saw 5 vehicles. I am here very early today.
Little River is flowing at 68 cubic feet per second (cfs). Median flow for this date is 119 cfs. The water temperature was 68 degrees at 7:25 am.
Fishing is good in the Smokies. Some streams are flowing higher than normal. Others are lower. The higher water is on the North Carolina side of the Park. That should change today. We have an 80% chance for thunderstorms this afternoon. This cool spell continues. Our highs for the next few days will be in the low 80's. Lows will be in the mid to low 60's, maybe in the 50's. Fishing conditions will only get better.
Anglers are catching trout on dry flies and nymphs. I talked to some customers last night and they were catching lots of small trout on dry flies. I suggested they fish deeper. I told them to pinch on some split shot and get their nymphs down. When something is not working, try something else. Though the water is low in Little River right now, you should do fine if you stay hidden and fish the choppy water. Fishing will be best early and late on sunny days. It is sunny right now. I don't think it will be for long.
A guide who works with Smoky Mountain Angler in Gatlinburg caught an 18" rainbow in Little River right in town. That is rare this time of year. He was shocked too. He was fishing for smallmouth bass. Little River is stocked in town but they curtail that when the water temperature reaches 70 degrees or thereabouts. Then, in the Fall, when the water temperature drops they start stocking again. TWRA has not stocked in months. This fish obviously had a spring he was living near.
The smallmouth bass fishing in Little River has been good. I'm hearing that often now. Though I have not been fishing in about a month, I know these folks are telling me the truth. When the fishing for smallmouth bass is slow, they tell me that too.
My guess is, fishing on the lakes for smallmouth bass with a fly rod is slow right now. After next week, I'm planning to take at least one day off each week. And, I'll be fishing for smallies either in the river or the lakes. I may go with Josh on a tailwater soon too.
Well, I got our t-shirts back from the embroiderer who was foreclosed on. The shirts were locked up along with company assets. I met with the liquidator yesterday, proved the shirts were ours and he helped me load them in my truck. I signed some paperwork and told him I would appear in court if they needed me. Today I'm meeting with a new embroiderer.
Our business has been really good for August. We are way up from last year. I think, there are more people fishing again. In late June and all of July it was too hot to do anything outside. August has been normal. Highs in the low 80's and lows in the low 60's are normal for now. Rainfall has been normal too. Actually we are running above normal for the year.
Our concept plan drawing for re-building Laurel Lake is finished. The concept plan is not finished. All the details will be decided on after public meetings which I hope to hold in September. I will write a description of the project as I see it and get approval or changes from our concept committee. Then, that will be printed in full color for handouts at public meetings. I talked to Gordon, our County Commissioner yesterday. We are thinking about having one at either The Heritage Center or the Blount County Courthouse. Maybe we'll have two.
The Concept Plan drawing was done by Steve Fritts at Barge Waggoner Sumner and Cannon. This image is small. As you can see there is a hiking trail system including a boardwalk over the wetland. That's the brown line going around the lake and through the Park. There is a Disc Golf Course, parking, a fishing pier and boat launch. I think we have about 160 acres of total land. The lake will be about 35 acres. It will be a "paddle only" lake.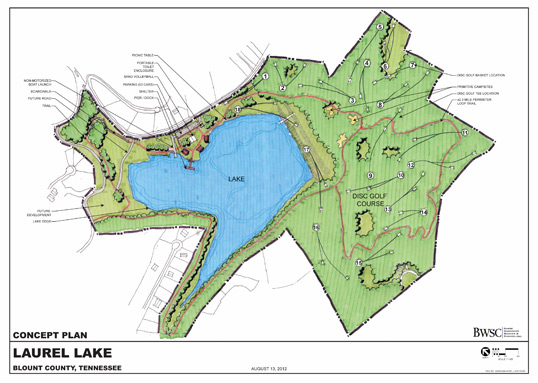 The land is owned by our County. I guess this will be a County Park if it happens. This lake was first built in 1935 by the Civilian Conservation Corps (CCC). It was drained 20 years ago due to seepage from an unknown source. The City of Townsend owned the lake and property at that time. The city did not have the money to fix the problem. This project will be funded by donations and grants.
Have a great day and thank you for being here with us.
Byron Begley
August 17, 2012
Respond to: byron@littleriveroutfitters.com