Townsend, Tennessee - Fly Fishing in the Great Smoky Mountains National Park, East Tennessee and Western North Carolina

Welcome to the Fishing Report from the Great Smoky Mountains. The sun is shining on a cool morning in Townsend, Tennessee. It sounds like the mountains have been pretty quiet this week. I expect everyone will start to arrive on Friday.
We had another cool night last night. Water temperatures dropped down to around 67.5F at the Y. This is quite good for this time of year. Water temperatures in higher elevations will be even cooler. Water levels are dropping too. They still aren't bad, just a little below normal. The flow this morning on Little River was 1.43 feet or 81 c.f.s. The normal for this date is 105 c.f.s. The streams are very clear so you'll need to be extra stealthy.
The weather forecast for the rest of this week is calling for clear weather with highs in the upper 80's to low 90's depending on where you are. Sunday is supposed to be cool and wet with highs only in the upper 70's to low 80's. A nice cold rain is going to do wonders for the fishing. Good water levels and cool temps will mean some great late Summer fishing.
Most anglers are still using terrestrials like the Mike's Magic Beetle and the Tophat Beetle. Green Weenies and Barbie Bugs are making good droppers. Dry fly patterns like Elk Hair Caddis, Thunderhead and Yellow Sally patterns have been good also.
This is ordering time of year for me. All the manufacturers are sending out the new catalogs full of stuff for 2015. Most want pre-season orders. We order now for items that won't arrive until the Spring or later. Some of these orders, like flies are no problem. I don't worry too much about them. Big orders for items like waders, boots and rods put a knot in my stomach. It only takes a couple of misses to be left with lots of unsold products on the shelves. It is fun to get to see the new products.
There is some great new things coming out for this Fall and next year. Yesterday I ordered some of Sage's new Accell fly rods. They are $595.00 but they cast beautifully. These are the normal Sage cannons. The Accell casts like a trout rod should be. Smooth and accurate. They are excellent all around rods but will be perfect in the Smokies.
Another new item we have already gotten in is the Tacky Fly Box. This box is slim with a magnetic closure. The insert is silicone and not foam. It holds the hook better and won't tear up as easily. Like any of the boxes with this style of insert it is going to be a better nymph or wet fly box. Big, bushy dry flies like Royal Wulffs will get their hackle mashed. Fly bottomed flies like parachutes and comparaduns will work great in it though. I haven't gotten this box added onto the Online Catalog but we have them in stock.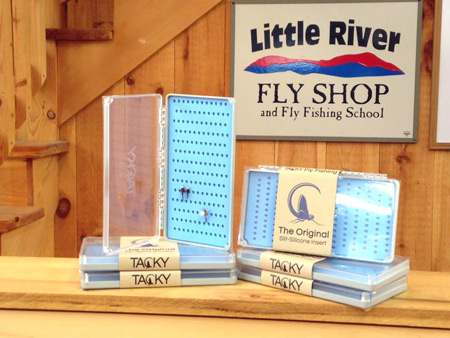 If you head out fishing today drive a little further to a higher elevation stream. With the standard dry fly or nymph patterns concentrate on the fast moving current. If you are casting a beetle out there tuck it up under an over hanging limb.
Have a great day and thank you for being here with us.
Daniel Drake
August 27, 2014