Townsend, Tennessee - Fly Fishing in the Great Smoky Mountains National Park, East Tennessee and Western North Carolina

Welcome to the Fishing Report form the Great Smoky Mountains. It is foggy and 63 degrees in Townsend this morning. Traffic is light. When I pulled into the street in front of the store, Rob Fightmaster was pulling out with a client in his truck. They were headed to the mountains.
I've been on a fishing trip since Sunday. It doesn't look like we got any rain while I was gone. Little River is flowing at 75 cubic feet per second (cfs) or 1.40 feet on the flow gauge. Median flow for this date is 102 cfs. The water temperature at 7:55 am is 68.1 degrees.
It is going to be hot today and tomorrow. We may see the high reach 90 degrees or better. It will be fairly cool at night, in the mid 60's. Rain is in the forecast beginning Sunday and extending through Thursday. That should help our low water situation.
Fishing is pretty good according to Daniel and our customers. You will need to use light tippets and blend in so the trout don't see you. I would fish in the backcountry in shaded streams. I would probably use a dry fly of some sort and drag a Green Weenie behind it.
Due to the heat we are expecting, I would also fish the higher elevations to the very high elevations where the water is cooler. The trout will be more active in the cooler water and you won't be bothered by warpaint shiners as much as you would in the lower elevation streams.
Terrestrial insect imitations like beetles and ants will work well. Most any reasonable dry fly will produce. The trout will be hungry and willing if you fish the cooler streams.
My buddy Frank and I stayed at Lake Cumberland Resort Park at Jamestown, Kentucky for a few days. We arrived Sunday afternoon and got home yesterday. We had a great time. We floated the Cumberland River tailwater with guide Hagan Wonn Monday and Tuesday. Hagan is a great guide and person to spend two days fishing with. I had fished with him before this trip. He has the most beautiful all-wood drift boat you will ever see. We floated about 8 miles each day. Fishing was great, especially on Monday. Hagan keeps count of what his clients catch using a click counter. We caught 35 trout Monday and about half that Tuesday.
The trout were a mix of rainbow, brook and brown. We didn't land any larger than 19 inches. But, larger trout were there. Someone caught a 30 inch brown days before we were fishing. We were always looking for that one.
We used double nymph rigs with a strike indicator and streamers. I even fished a Knucklehead of course. I did catch one good rainbow that slammed my foam fly. Hagan took a photo of the trout's head with the fly in his mouth. He did it because nobody would believe it.
Frank and I spent a lot of time wandering around Hatchery Creek. This will be a man made, 1+ mile long stream, with spawning areas and a catch and release section. It is under construction now.
Water, exiting the National Fish Hatchery will be re-routed further downstream and enter the Cumberland River. The cost of the project is $1.9 million, which is funded partly from coal mine mitigation money. I am anxiously watching this project, which was 5 years in planning. Once this stream is proven to be successful, and there is no doubt it will, other opportunities to do the same thing below other dams exist.
Like Joe Congelton said on our Message Board, all it takes is money and planning. I think this stream will be a model for the future. Once we have a successful model, let the planning begin.
Please enjoy the photos below. Have a great day and thank you for being here with us.
Byron Begley
August 28, 2011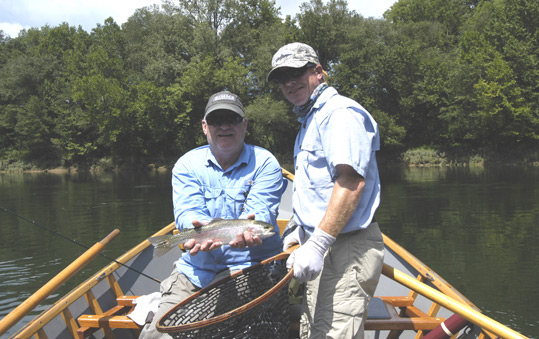 Frank Brown and guide Hagan Wonn with a nice Cumberland River rainbow.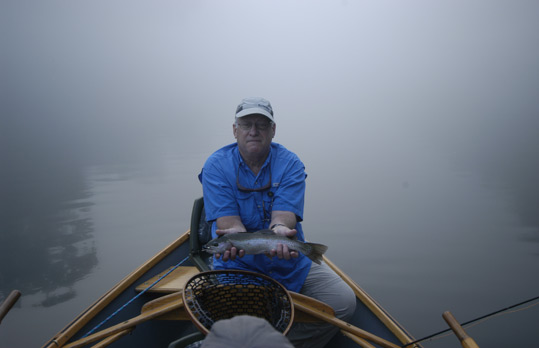 Frank with an early morning trout.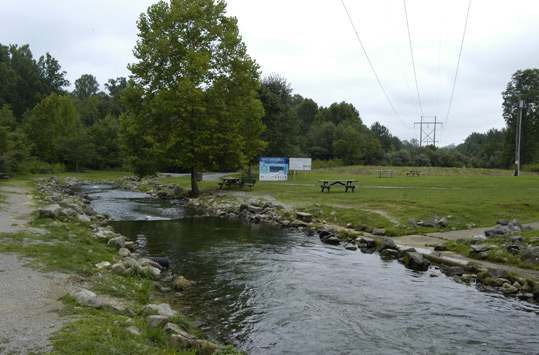 Hatchery Creek outflow below the National Fish Hatchery at Wolf Creek Dam in Kentucky.