Townsend, Tennessee - Fly Fishing in the Great Smoky Mountains National Park, East Tennessee and Western North Carolina

Welcome to the Fishing Report from the Great Smoky Mountains. It is dark outside and 66 degrees at 6:40 am. Last night, I saw plenty of visitors coming to Townsend for the holiday weekend. It's going to be busy around here until Tuesday.
Little River is flowing at 67 cubic feet per second (cfs) or 1.35 feet on the flow gauge. Median flow for this date is 90 cfs. The water temperature at 6:40 am is 69.9 degrees.
Fishing in the Smokies is good at the mid to high elevations where the water is cooler. You will find water temperatures in the 50's at the high creeks, at elevations around 4,000 feet. Downstream, in the mid elevations, you may find water temperatures in the 60's. In the low elevations, water temperatures may be 70 degrees. Don't fish there. It's too warm.
Dry flies and nymphs will work. I would use dry flies with a dropper. The dry would be about any reasonable pattern for this time of year. Try these: Elk Hair Caddis, Yellow Stimulator, Neversink Caddis, Parachute Adams Yellow, any Yellow Sally Stonefly pattern, and others. For a dropper, I would use a Green Weenie.
You will do well using a Green Weenie, weighted with a small split shot weight. You can use a strike indicator, or not use one at all. If you don't use a strike indicator, you can vary the depth of the fly easily. It's fun to use a tight line and have direct contact with the fish that strikes. That takes practice but it pays off.
To avoid people this weekend, hike into the backcountry.
It is going to be hot for several days with highs in our valley near or above 90 degrees. Lows at night will be in the high 60's. We have a very good chance for rain and thunderstorms tonight and tomorrow. The threat of rain continues next week though the chance drops to 20% and 30% Monday, through the following few days.
We are having another great month at the shop. Business is up double digits again in August compared to last year. That trend is consistent to what I'm hearing from other fly shops in our region.
For the next few days, I'll be writing the fishing report from home early, then working at the shop in our photography studio. I have to photograph all of our fly patterns that we sell. Our new online store software requires a larger image. The required image size is 1,250 x 1,250 pixels. Our studio has three huge flash units controlled by a trigger mounted to the hot shoe of our SLR cameras. We use a Nikon Nikor Macro lens and shoot at F32. The lens is placed just inches from the fly. Below is a photo of one I took yesterday.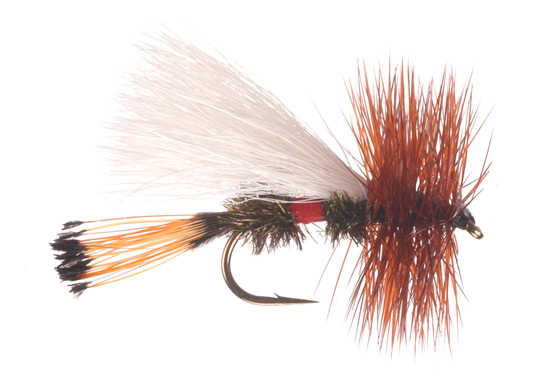 Do you think this photo is large? It is 539 pixels wide, less than half the size of the original. I had to reduce it to fit in the space on this page. I've got to shoot about 300 patterns. This is going to take some time, probably 10 days. I don't think I've seen flies shot at that size and placed on an online store. It will certainly be a different shopping experience.
I'm going to spend a lot of time behind the camera this year. Each photo has to be cropped and some are color corrected. We use other Photoshop tricks to enhance our photos. We think it is worth the effort.
A good website takes a lot of time to maintain. My goal is to spend about 40 hours per week on ours from now on. Additionally I'll do the bookkeeping and plan special events. We've got some big plans.
I hope you have a great weekend and be careful out there.
Thank you for being here with us.
Byron Begley
August 30, 2014