Townsend, Tennessee - Fly Fishing in the Great Smoky Mountains National Park, East Tennessee and Western North Carolina

Welcome to the Fishing Report. It is foggy, overcast and 71 degrees in Townsend this morning. The fog is lifting except for the mist following Little River through town. It seemed like Winter this morning. I left for work before daylight. But it felt like Summer, 70 degrees at our house. I didn't see any wild turkeys. They were still roosting. I did see a beautiful sunrise from my office later and the photo is below. The tree to the right is next to our dumpster. I like my office.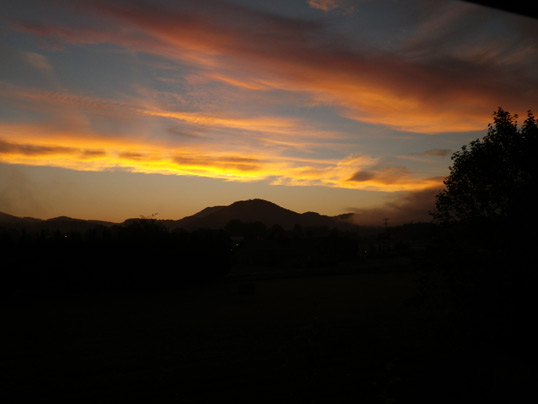 Little River got a little blip in it's level yesterday. There was a small thunderstorm somewhere in the watershed. Right now the flow is 44 cubic feet per second (cfs). Median flow for this date is 82 cfs. The water temperature at 6:59 am was 71.75 degrees.
Tropical depression Isaac has change course. The models now indicate that Tennessee will get some heavy rain, mostly in the middle of the State. We will be affected too. Rain chances here are 50% tomorrow, 60% on Saturday and 50% on Monday. That will be a welcome occurrence. Late next week it is supposed to be much cooler, more like normal. The high today should be around 89 degrees.
Fishing is fair in the Smokies. The water is low, at least in our watershed. Cataloochee has been getting some rain and the levels there are slightly lower than normal now but were at normal briefly yesterday. Oconaluftee River is flowing near normal. The Davidson River is flowing near normal. I don't know about the Little Pigeon. That gauge was shut down due to lack of funding. Come on somebody, step up.
Planning for fishing here this weekend is going to be tricky but you might have the time of your life. If that rain comes, the trout will be active. More good news is, it is going to be partly cloudy today and cloudy this weekend. Tourists won't like that. Anglers will. Unless we are pounded by torrential rain, this may be a good weekend to be here.
You would think you might have a hard time reserving a cabin or motel room this late on a holiday weekend. For the sake of our local economy I hope you do. But, time and time again, when rain is predicted, people cancel their reservations. I don't know why. I like it here when it rains. Maybe that won't happen and Townsend will enjoy a great holiday business. I hope they do.
Get ready with dry flies and nymphs. You might need a few streamers. It all depends on the weather. My guess is, most streams in the Park are flowing well now. Little River is one of the exceptions but I can only guess. I don't have time to drive all over the Smokies and look. If I had that much time on my hands, my alarm would not have gone off at 4:00 am this morning.
Whatever turn Isaac takes, if the rain does not arrive here, fishing overall in the Great Smoky Mountains is going to be pretty good this weekend. One exception would be flooding. Let's not talk about that.
I worked almost 12 hours yesterday and I'll do it again today. I picked up 150 new t-shirts, a new design and the shirt colors are olive (short sleeve) and black (long sleeve). This is the Streams T. First I have to fold them all. That takes longer than you think. I have to print tags and attach them. We have some strips that indicate the size of the shirt. I have to attach those. The shirts then go downstairs and fill a newly created display in our new T-Shirt Department. The olive shirts are down there now. The black shirt will be shortly.
We got a big Wapsi order in yesterday. It takes a day to process one of those. We have to check off each item on the invoice. There are probably over 500 different items with multiples of some. Then, we put the merchandise out on the flip tag hooks. I check the price charge against the price we should be paying on each item. That takes a couple of hours. Then, the spreadsheet I'm working from has to match the invoice to the penny or it won't get paid in "Account Receivable". This is one of our checks and balances. We don't get overcharged for anything. If we are undercharged, we call the vendor and have them adjust the invoice up. Most mistakes are made in our favor.
After all of those steps are taken, I will enter each item into our point of sale computer software. If I make a mistake, the "receiving" won't match the invoice. I have to find the error or the invoice won't get paid.
Yesterday, when I picked up our t-shirts the lady who owns the embroidery company charged me for 136 shirts. I told here there should have been 150 shirts. She said she counted them twice. I paid her and brought the shirts here. Dang, somehow 14 shirt were lost! Our 600 square foot classroom with 12 tables is a perfect place to sort, fold and tag t-shirts. I counted them and sure enough, we had 150 shirts. I sent Cathy an e-mail and told her to invoice me for the under-charge due to her counting wrong. She will be happy about that.
I better get to work. Tonight is a blue moon by the way.
Have a great day and thank you for being here with us.
Byron Begley
August 31, 2012
Respond to: byron@littleriveroutfitters.com