Townsend, Tennessee
September 8, 2009

Welcome to the Fishing Report. It is foggy this morning in Townsend. I can see everything at ground level but the mountains are blocked from view. When I drove by the road that goes down to our barn there were 11 wild turkeys, all hens just standing there at the intersection. There were probably more in the woods I couldn't see. The big boys tend to stay hidden this time of year. I've thought about setting up a blind and just sitting near the field with a camera one day for a few hours. I could get some great pictures of these magnificent animals.
Little River looks good. The flow is low but higher than normal. I checked the flow chart and it appears we had some rain in the mountains early this morning. There was an up-tick on the graph very early. We have a chance for thunderstorms today and the Weather Service has issued a Hazardous Weather Statement. There could be some strong wind, heavy rain, light flooding and hail. This was not a warning, just a statement.
Fishing is good in the Park. Anglers are catching some trout. Nobody I talked to was complaining about the fishing. I did hear some comments about swimmers, tubers, rock skippers, large rock "kaplunkers" and general non-fishing activities on the streams. The tourists are pretty much gone. It's quiet in the Park.
Dry flies are working well. So are nymphs. Take your choice or use both. For a dry I would pick a beetle, small Yellow Sally pattern, Yellow Elk Hair Caddis or Parachute Adams. I would fish a Green Weenie or Bead Head Pheasant Tail as a dropper or on its own.
I talked to someone yesterday who took the temperature above Elkmont around Husky Branch. Oh yea, it was Bill Bolinger who works here. The temperature was 56 degrees.
Next week its going to be cooler starting Monday the 14th. The chance for rain increases then too. Of course that is due to the fact that Paula and I are taking off the 14th through the 18th to go fishing. So, I expect to see high wind out of the East, rain, cold temperatures and the moon will probably revert back to full. I expect flooding. I expect to be sitting home all week tying flies. I guess that goes with the territory of being a "Bad Weather Begley."
We should be getting in three huge and heavy boxes of Jim Cadada's "Pursuit of Passion" books today. He mailed them Saturday then sent me the tracking numbers via e-mail. His new book about fly fishing in Great Smoky Mountains National Park has been a huge seller for us. This is our third shipment in less than two weeks. They are available in hard and soft cover and you can see them on our online catalog by clicking HERE. Place an order and we'll pay the ground shipping.
I've been working on our Holiday and Christmas direct mail campaign. There will be four different post cards printed this week to be mailed in the local market for the next four months. One of them evolved from a photograph I took on my way to the lake a couple of weeks ago. I happened to see the file holding some of the pictures and opened this one up. Somehow it struck a nerve of inspiration. I pulled in a couple of graphics and added some text. I thought I would share it with you below.
Thank you for being here and have a great day.
Byron Begley
September 8, 2009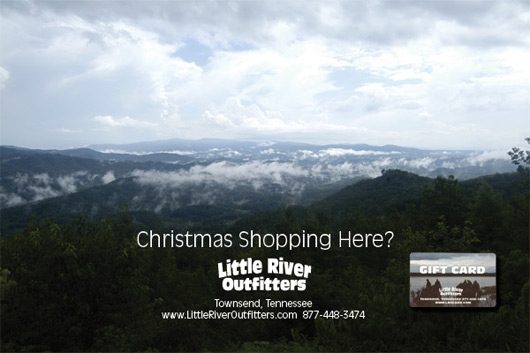 Respond To: byron@littleriveroutfitters.com