Townsend, Tennessee
September 12, 2009

Welcome to the Fishing Report. It is cool this morning and the sun is burning off the fog. The mountains are coming into view. I saw one wild turkey hen this morning. That was it. On my way to work I noticed that one of our policemen, Frank had pulled someone over. That's not unusual. What is unusual is our Police Chief, Ronnie Suttles arrived on the scene too. There must have been something else going on. Frank doesn't need any help with speeders. He's a retired State Trooper.
Little River looks good though it is somewhat low. But it is still flowing above normal for this date and other streams around here are doing the same. I noticed Cataloochee is flowing below normal.
Fishing is pretty good but not great. I think the trout are waiting for "dog days" to end. That two-word phrase was most likely made up by fishermen. I have only heard one other use of those words in a non-fishing sentence. Don Henley refers to "dog days" in an Eagles song called "Waiting in the Weeds".
They are going to end next week, possibly later in the week. When the temperatures drop to the 50's at night and only climb to the 70's during the day "dog days" are over. For now I would use beetles, ants, Green Weenies, yellow jackets and bees. You might try a yellow dry fly of some kind too. The Yellow Parachute Adams, Yellow Neversink Caddis and Yellow Elk Hair Caddis are good "dog days" flies.
I guess most of you have heard about the new world record brown trout. It is not official yet but a report and the photo below in an article by Aaron Ogg of the Grand Rapids Press indicates this is true. The fish was caught by Tom Healy in the Manistee River in Michigan. It weighed 41 pounds 7 ounces and is 43.75" long. He caught it on conventional tackle. He fought it for 15 minutes. This fish shatters the Michigan state record.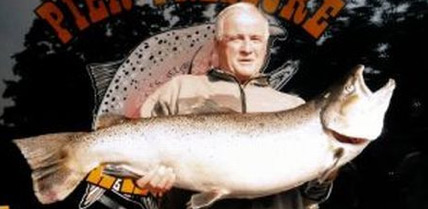 Manistee River is one of my favorites. There is almost no development along the banks, it is designated in some way to protect it from any human change and below Tippy Dam it is a free flowing, slow moving tributary to Lake Michigan. Huge logs litter the bottom of the river. They were lost during the logging days. Under the designated protection they can't be removed by law. Several species of salmon and trout swim into the river to spawn. One of them are the brown trout. They refer to them as "lake run browns".
Frank, Brad and I drove to Manistee in the first week of December about three years ago to fish for these huge browns. Normally the highs during that time of year are in the 40's and it might get down to freezing at night. That sounded good to us. We could stand the cold mornings. We would be fishing with Chuck Scribner in a large drift boat powered with a 50 hp engine for three days.
Before we got to Ludington, Michigan it started snowing. There was a foot of snow on the ground by the time we got to Manistee. Our destination was Welston. We got there and the front bumper on my truck was pushing snow on the roads. At night the temperature dipped to 5 degrees every day we were there. Chuck, our guide offered to cancel the fishing. We wouldn't do it. We wanted to catch those "lake run browns". So every morning in 5 degree conditions we launched that boat at select ramps where ice was not covering the concrete. The temperature never got over 20 degrees. We fished from daylight to dark. We didn't catch a thing. I don't think we got a bump. The last day we were pushing through ice and slush on the river. If anyone fell overboard it would have meant certain death. It was a great trip. All day long we looked forward to building a huge fire in our cabin's fireplace and enjoying a few beverages.
We have customers who are there now or are going soon. The salmon are running. There is a bridge on a back road that spans Manistee River. I've spent I don't know how many hours on that bridge watching the king salmon swim under it. Sometimes you will see twenty fish between 15 and 25 pounds swim by. That is something to see.
The locals refer to steelhead as "chromers". I have caught one steelhead and plenty of salmon there. I've caught some nice trout that live in the river while salmon fishing. But I have been haunted by the thoughts of catching one of those "lake run browns". Someday that will happen. Maybe it will be larger than that big guy in the photo above.
Have a great day and thank you for being here with us.
Byron Begley
September 12, 2009


Respond To: byron@littleriveroutfitters.com