Townsend, Tennessee - Fly Fishing in the Great Smoky Mountains National Park, East Tennessee and Western North Carolina

Welcome to the Fishing Report from the Great Smoky Mountains. Man, we've got some fog out there. The fog is so thick you can feel it. It feels like a misty rain on your face. The temperature at 7:50 am is 62 degrees. Human activity on the roads is very light. I stopped at the IGA to get some Cool Aid and I was about the only customer in there. After all, it is September, the quiet before the storm. The tourists will be arriving soon.
Little River is getting low. It is still flowing higher than normal though. Flow right now is 94 cubic feet per second (cfs) or 1.59 feet on the gauge. Median flow for this date is 73 cfs. The water temperature this morning is 64 degrees.
We have a massive weather front headed our way. Right now it is crossing the line into Mississippi and West Tennessee. Rain and cold temperatures should arrive late tonight. The high temperature tomorrow is supposed to stay in the 70's. The chance for rain is 90%. That usually means it is going to rain. That's OK, we could use some rain. Not too much though, we don't want the streams to get blown out. Sunday looks nice, mostly Sunny with a high temperature of 78 degrees. Low temperatures at night starting tomorrow will be in the 50's for a few days.
If you go fishing today, start with dry flies, either Neversinks or Stimulators. It's time for the Orange Stimulator. I don't know what it is about Fall, but orange seems to work well. We do get some October Caddis hatches. Yellow is still the color. Beetles, ants and Green Weenies should produce.
If you go fishing tomorrow, take a rain jacket. If we are lucky enough to get some color in the water without too much stain or current, nymphs would be my choice. You might catch a large brown trout. Watch for quickly rising water. We don't know what to expect. This could be an awesome weekend to fish in the Smokies. I love clouds and rain. Trout love clouds and rain.
I'm pumped about next week. Paula and I are going to try out these new Game Changer flies. I'm getting out our 9 weight outfits and planning the attack. We will be fishing where there are a lot of stripers. That's the reason for the 9 weight rods. But, there are bass and trout in the river too so we'll have 7's and 8's on our boat.
I got a detailed e-mail from Josh Pfeiffer at Frontier Anglers. Visit his website by CLICKING HERE.
Josh says the Park has been fishing great with dries and nymphs but the dry flies have produced best due to the low water. He said he is catching more brown trout than usual. They are seeing Slate Drakes and October Caddis sporadically.
Josh goes on to say that smallmouth bass fishing has been great on the Holston and French Broad rivers. The bass are taking poppers. Josh is noticing crawfish claws sticking out of the throats of fish he is catching. That happens often. I see it too. I never see them coming out of the other end. I guess they can digest those big claws. He said they are catching lots of smallies on crawfish patterns. Below is a picture of one of Josh's recent clients holding a nice smallie. His client's head is missing. Maybe Josh doesn't have permission to show the man's face. Maybe there is a witness protection issue. Nice fish though.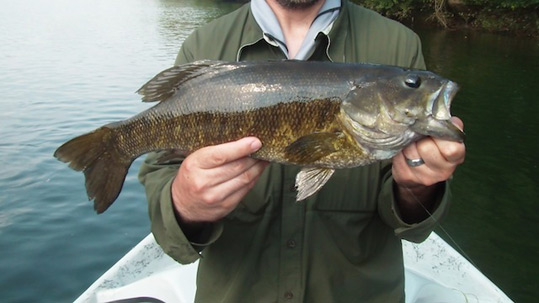 Uh oh! Guess what day it is? Guess what day it is? No, it's not hump day. It's sales tax return submission day in Tennessee. Yoo Hoo! I do it every month on the 20th and it's done online.
John Ross came by the shop yesterday and gave me signed copy of his new book, "Trout Unlimited's Guide To America's 100 Best Trout Streams". This is the updated version of his first book on the subject. I helped him a little with this one so he gave us a plug. Thanks John!
We've got a lot of Tennessee trout streams listed in the top 100. There is the Clinch River, Hiwassee River, South Holston River, Tellico River, Watauga River and of course, Little River discussed in John's book.
I looked at the list and picked out the streams I have fished. They are, Beaverkill, Willowemoc Creek, LeTort Spring Run, Little Juniata River, Penns Creek, Spruce Creek, Cumberland River, Nantahala, Norfork, White, Au Sable, Manistee, Snake, Gallatin, Madison, Rock Creek, Yellowstone, Firehole, Green, Slough Creek, and much of the Tennessee list. I've only fished about 25% of them. I need to get busy.
John and I are planning a book signing at the shop this Fall to benefit Trout Unlimited. John lives in Virginia.
Hey, we may have some great fishing on Little River this weekend, one of the top 100 trout streams in America.
Have a great day and thank you for being here with us.
Byron Begley
September 20, 2013