Townsend, Tennessee - Great Smoky Mountains National Park
Welcome to the Fishing Report. It is raining lightly in Townsend this morning. We got about 1/3" of rainfall since midnight. There were a lot of folks at the Parkway Phillips 66 earlier. Lots of people were grabbing a cup of coffee and a sausage biscuit for breakfast. Steve was in there waiting on lots of customers. During the morning hours that place is the busiest in town. People pack in there for lunch too. They have the best chili dogs and at a low price. Try the slaw dogs.
Little River is absolutely perfect for trout fishing. All the streams in the Park are probably the same. You could not ask for better conditions. Over the next few days the temperature will be ideal, highs in the 60's and 70's, lows in the 40's and 50's. We will be camping in the Cherokee National Forest this weekend at our early boar and bear hunt. I can't wait. The last one I went on was last December. It was cold with sleet and snow falling. The dirt logging roads were almost impassable. The hounds chased a bear to Citico Creek and he swam across. The river was swollen and those dogs were afraid to cross. It was a great chase that ended with the bear winning. That's fine. For me it's all about the chase and the southern Appalachian culture and heritage. And, it's about being with friends having fun.
If you go fishing today you might want to use nymphs first, maybe streamers. Fog is blanketing the mountains so it just seems like a nymph day. The trout are active and feeding. The water temperature is right in their preferred range. Water levels are higher than normal. Today the flow in Little River at the "Y" is 179 cubic feet per second (cfs). Median flow for this date is 90 cfs. The water temperature in town is 60 degrees. The water will be cooler in the Park.
Remember those baitfish patterns I tied and posted on the message board? One was a Puglisi with a marabou tail and a wiggle lip made with heavy 44 pound tippet material and Clear Cure Goo. The other fly with a lip was tied using marabou and Palmer Chenille. I would like to report that these flies swim and look great in the water. I used a couple of them on our recent trip to Dale Hollow. I caught a couple of fish but didn't use them much because we were fishing deep, I only had three and did not want to lose them. See the photos below. I hope to fish with them around here next week. You can see a page about these flies by CLICKING HERE.
Have a great day and thank you for being here with us.
Byron Begley
September 30, 2010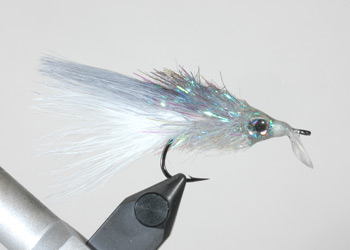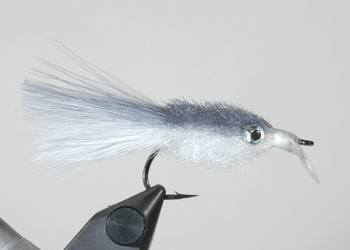 Respond to: byron@littleriveroutfitters.com