Townsend, Tennessee - Fly Fishing in the Great Smoky Mountains National Park, East Tennessee and Western North Carolina

Welcome to the Fishing Report. It is foggy, wet and 59 degrees in Townsend this morning. I woke up at 4:00 am to the sound of rain. Wow, do we need this. Most of the mountains I can normally see from my office are fogged in and it is dark outside.
The rain held off for the most part this weekend which was important to those attending and exhibiting at all the events held here. Everything turned out fine. Attendance to the Railroad Museum, Visitors Center, Heritage Center and Cades Cove was high. This weekend served as the introduction of Fall and the tourism business that comes with the season. All is well in Townsend this morning.
By all accounts that I know of, fishing was slow this weekend in the Smoky Mountains. I'm sure there were exceptions but most people I talked to reported fishing to be tough. The water was actually higher than the days during the past few weeks when fishing was good. It was sunny on Friday and partially sunny on Saturday. Most anglers seem to do best on overcast days. What about the moon? We have had plenty of moonshine lately at night. Maybe that was the problem. I believe that fishing is slower after a clear night and a bright moon. I think the fish feed more at night when the sky is brighter. I don't know for sure. If I ever find a talking trout, I will ask.
Well, conditions are different now. We have a 100% chance for rain today and tonight. There is a 60% chance tomorrow and a 50% chance tomorrow night. We have had ¼" of rain so far at the shop this morning. There is more to come. One weather website estimates we might get 1" today and ½" tonight. They are not saying what they think about tomorrow.
Little River has not risen at all yet. At 7:50 am, flow was 48 cubic feet per second (cfs). Median flow for this date is 80 cfs. The water temperature at that time was 63 degrees. That number is going to drop this week. We are going to see cool days and nights this week.
I would use nymphs over the next few days or at least that is what I would start with. The usual patterns should work. Try a Prince Nymph, Copper John, Tellico, Hare's Ear, Green Weenie or a Bead Head Pheasant Tail.
If we get some higher water that is somewhat discolored that will be good for us. I don't think the rivers will be blown out by this rain event but you never know for sure. Keep an eye on the Little River USGS gauge. If the water shoots up fast to 3' or more on the gauge, we might have some chocolate milk flowing out of the Park. It depends on how quickly the rivers rise. Downstream, you will be more likely to encounter dirty water.
The river smallmouth anglers are having a great time. Fishing for smallies in Little River and the Little Pigeon has been really good. Maybe it's the moon. Maybe the cooler water turned them on. I know one thing, my friends who fish for those river bronzebacks had a good week.
You should see what I'm seeing. The fog has lifted and the clouds over the mountains are beautiful right now. The clouds are moving fast too. I shot the picture below but the event I saw was about over when I pulled the trigger on the camera. It probably lasted a minute. Right now, the fog is back and the mountains are obscured. Oh well. Here's the photo anyway.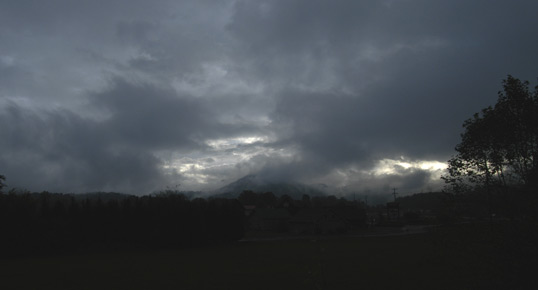 We are busy building 2013 merchandise spreadsheets. Daniel is working on the fly department and he said yesterday it was 14 pages long. I'm working on Orvis. Next I'll do Tiemco and Umpqua hooks. I just got a hook order in from Umpqua and I'm getting them out on the wall.
Our new Townsend T shirts are stuck in Nashville getting some digital design work done before they are printed. This new design contains 12 colors and many are blended. Getting our art ready for a 12 color (spot color) press takes some adjusting and this one is requiring more than normal. I'm hoping they will be printed this week. There are 200 shirts at the printer right now.
We are running low on the Brook Trout Restoration Shirts. As soon as the Townsend T's are shipped, I'll send the printer 200 more for the Brook Trout shirts. This will be that shirt's third printing since June. I don't like having two printing jobs in the plant at the same time. I'm afraid there will be a mix up. So, I wait until one job ships then begin another. Once one of our new designs is printed, the turnaround time on a re-print takes about two weeks because of shipping. The shirts are shipped from California where they are made, to Nashville where they are printed. These are USA made t-shirts.
We also have three companies doing our embroidery. I'm taking some hats and fishing shirt to our local embroiderer today. The other companies are located out west, one in California and one in Montana. The embroiderer is Montana is Simms. Some of the hats we will offer next year will actually be Simms hats with our artwork embroidered on them. Simms makes great hats.
Well, it's time to get to work. Enjoy your day and thank you for being here with us.
Byron Begley
October 1, 2012
Respond to: byron@littleriveroutfitters.com