Townsend, Tennessee - Fly Fishing in the Great Smoky Mountains National Park, East Tennessee and Western North Carolina

Welcome to the Fishing Report. It is partly cloudy and 60 degrees in Townsend this morning. We had a brief rain shower at our house at 7:00 am. There was nothing worth mentioning in our rain gauge at the shop unless you are interested in the mockingbird droppings. I booted up the server and my computers then looked out the window. I had to take a picture. The clouds and penetrating sun were spectacular. See the fog just above the trees in the valley behind Trillium Cove? That fog is the path of Little River through our town. You can barely see the beginning near the Park entrance. Some Canada geese flew by at window level after I pulled the card out of my camera. Too late!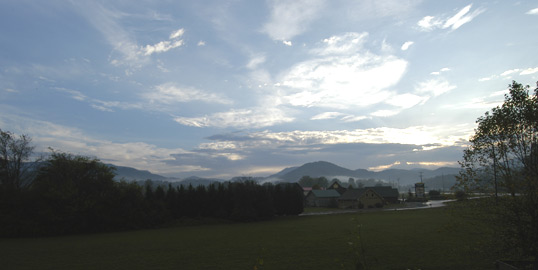 This is going to be the perfect day. Another rain event will pass by us to our south in a few minutes. It looks like it will miss us. I don't see anything else on the radar. The forecast calls for showers today but I don't see them. One weather site puts the odds of that happening at 60%. Another indicates the odds are 30%. Well, it has happened so I'm putting the odds at 100%. I think it's over.
The high today will remain in the 60's. The low tonight will be in the 40's and tomorrow night we may dip into the 30's. Lets face it, Fall is here.
Little River is flowing at 103 cubic feet per second (cfs). Excellent! Median flow for this date is 72 cfs which is low. We usually have low water levels in early October. The water temperature at 7:55 am was 59.9 degrees. Excellent again!
Fly fishing in the Smokies is very good. You should have no trouble catching rainbows, browns or brook trout on dry flies or nymphs. The browns and brookies are in the spawning mode. They are very active. The rainbows are in the eating mode. They are active too. It's the conditions. The conditions are conducive to catching trout in the mountains.
Don't think you can just walk out there looking like a human without spooking the trout. The water is higher than normal but it's not that high. You still need to blend in, don't cast a shadow where you intend to cast your fly and stay low. Small stream fishing is a good idea. We will have intermittent clouds today. That is good for us. They think that is good for them. But we may also have some sun. Small streams are more shaded. That's why I would go into the backcountry a short distance.
Tomorrow may be different. Showers are more likely. The chance is as high as 70%. It should be cloudy all day.
If you are using dry flies, a Elk Hair Caddis would be a good choice. A small Orange Stimulator is a excellent choice. Orange seems to work best in October. Try a black Chernobyl Ant. For nymphs I would use anything with rubber legs, a Tellico, Prince or Pheasant Tail. Watch for large brown trout. They are out and you will see them. You won't find better fishing conditions in the Fall, than we have right now. I little more water might be nice.
I am building a team of professionals to permit, design a spillway, perform geotechnical testing and obtain grants to re-build Laurel Lake. This is taking more time than Troutfest. If we get this 35+ acre lake rebuilt, it will be well worth the effort.
Yesterday I found out, while talking to our water quality specialist at Tennessee Department of Environment and Conservation (TDEC), that he will be leaving the agency to pursue a career in the private sector in a few days. Dang, I like him. Not only is he a very qualified professional, he is nice and he fly fishes. He works out of the TDEC headquarters in Nashville. They are going to miss him. So will I.
I'm meeting with a fellow Tuesday morning who has offered to help. He is a geologist, in fact he has a masters degree in geology from the University of Tennessee. I know for a fact he is good and knows what he is doing. Bruce, a structural engineer has been working with us for over a year. He has lots of project management experience, working with government agencies on big projects. The projects he oversees are much larger than this one.
To design a new lake, there is one specific criteria that must be met. You can't degrade the water quality further. Our goal is to improve the water quality. The three streams that feed this lake are considered impaired by the EPA. The impairment is silt.
We can catch silt. But, we can't stop the flow. During dry periods there must still be water flowing out of the lake.
I believe we need to do two things to come up with a workable plan. We need to know how much water flows in and out of that old lake bed. We will probably need a stream flow gauge that is calibrated often. I looked up some current meters last night online. They cost about $2,000. We may need a concrete structure at the outflow that has a flat bottom and high sides to easily obtain flow data every time there is a rain event or the lack thereof.
The other important component to designing this impoundment is a good map. We probably need to map that entire 150 acres using contour lines defined to the foot, not 20 feet like you see on USGS maps. We may need to move water through a series of catch basins and wetlands while diverting water elsewhere during high water events.
I don't know that I am correct. Maybe we don't need this data. But, from what I've heard so far, we will. Maybe there is a better way to make those determinations.
Then, there is the dam structure itself. Is it safe? Core drilling and engineering will determine that. You can't build a dam that is going to breach. We've got enough of those already.
How about the lake bed? Will it hold water. Are there sink holes leading to caverns? We don't want to spend $1 million on a lake that doesn't hold water.
Oh well, this is going to take some time.
Have a great day and thank you for being here with us.
Byron Begley
October 6, 2012
Respond to: byron@littleriveroutfitters.com