Townsend, Tennessee - Fly Fishing in the Great Smoky Mountains National Park, East Tennessee and Western North Carolina
Welcome to the Fishing Report. It is 7:05 am, dark outside and 49 degrees. I had to get here early. This is going to be a busy day for me. There was barely any traffic on the streets when I drove to work.
It rained all day yesterday. I was off and at home. I checked the USGS river flow gauge on the USGS website yesterday several times. Little River hardly rose at all. Our rain gauge at the shop indicated we got .30 inches of rain during the past 24 hours. It was one of those slow soaking rains.
Little River is flowing at 117 cubic feet per second (cfs) this morning. Median flow for this date is 76 cfs. The water temperature is a chilly 53 degrees at the "Y".
Though I did not talk to any fly fishermen yesterday, I know fishing is good. The conditions are right. We have plenty of water and it is cool. This is going to be a beautiful week. High temperatures will be in the 60's until Friday. Then they will rise to the 70's. Lows at night will be in the 40's with a possibility of a low in the 30's Wednesday night. It sure does feel like Fall. It looks like Fall too.
You will probably do well using nymphs this week. Dry flies may also work too. These trout in the Smokies are going to be active. The water temperature may drop very low Wednesday night. If you are fishing Thursday you might want to wait a while to give the water a chance to warm up.
I would use my favorite nymphs, Prince, Tellico or a Bead Head Pheasant Tail. Copper John nymphs are popular right now. Also, use a Green Weenie or the pink version of that fly. I would probably use an Elk Hair Caddis for a dry fly. The little foam bodied version we sell is called a Neversink Caddis. That fly, in a #16 with a yellow body has become our best selling dry fly for fishing the Smokies during the Summer. It is still working well now.
I planned to fish Little River downstream for smallmouth bass yesterday. It was so nasty outside I couldn't make myself go. Instead, I stayed in the cave all day and tied flies. I tied Knuckleheads to sell here. We are just about out of them.
Yesterday would have been perfect for smallmouth bass fishing in the river. The water is chocked full of rainbow trout too. TWRA is stocking again. That is probably why the bald eagle is hanging around town. The bird is following the stocking truck, hoping to grab one that didn't make it from the hatchery alive. Bald eagles love trout.
I can see the mountains. It is legal sunrise. Right now the sky is cloudy. The clouds should disappear later today and we will enjoy a high temperature of 65 degrees.
I have a 9:00 meeting here with Matt Smith this morning. Matt may be helping us with the Laurel Lake project. He is a geologist. I'm going to show him the plan thus far. Bruce King may join us.
I notice I got two calls yesterday concerning the lake. One was from John Lamb. John is the director of our County's Planning Office. He is also on the board of the Little River Watershed Association. The President of the Watershed Association called me yesterday too. Her name is Kim Raia. Evidently, Kim is a water quality expert at the University of Tennessee. They were both returning the calls I made to them on Friday.
Tipton Branch and two other tributaries feed what used to be Laurel Lake. All of those branches are listed as "impaired" by the EPA. The impairment is silt. All of this water ends up in Little River. Part of our goal is to improve the water quality while re-building a lake for recreational use. The Little River Watershed Association needs to be involved and looking out for their interest which is improving and protecting the river.
I am hoping to photograph the steps, describe the procedure and create a tutorial on tying a Knucklehead this week. This fly is the only real creation for fly fishing I have come up with in 50 years. The fly is a foam bodied cross between a popper, Chernobyl Ant and a Stealth Bomber. I worked on this fly last year. The goal was to create a light fly that hits the water softly. Another trait I wanted was floatation. I hoped for a 30-dimensional shape including the eyes. Of course, it had to have rubber legs.
After many attempts and tests in the Little River last Winter I had what I wanted and I tied a few hundred to sell in the shop over the Winter. Jack and I started using them during and after the smallmouth bass spawn this Spring. We were extremely happy with the results. The fly is easy to tie. Everyone will like that. But, most importantly, the feedback from those who bought the flies was pretty impressive. The fly worked very well for smallmouth bass, largemouth bass and large panfish. I tie these flies in black, chartreuse, yellow and white.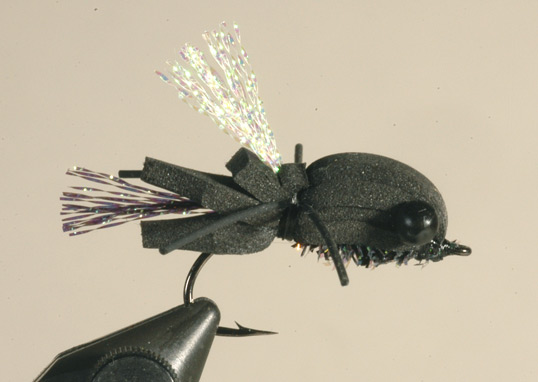 I hope I get time to create the tutorial this week. I think I can do it in one day.
Have a great day and thank you for being here with us.
Byron Begley
October 9, 2012
Respond to: byron@littleriveroutfitters.com