Townsend, Tennessee - Fly Fishing in the Great Smoky Mountains National Park, East Tennessee and Western North Carolina
Welcome to the Fishing Report. It is overcast and 47 degrees in Townsend this morning. But, what a beautiful morning it is. Look at the photo below. It's a view from my office taken at 8:05 am this morning. As you can see my view is to the east.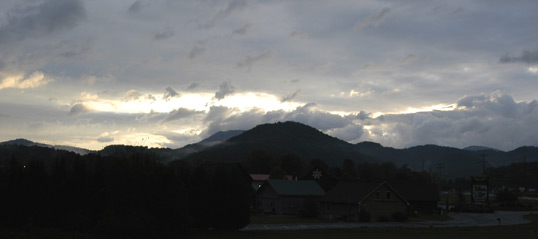 Fall is here and all the components usually attributed to this season are evident. The trees in the high elevations are very colorful. Those in the valley are turning gradually. It is cool. The low temperature tonight will be in the 30's. It will warm up some by the weekend. This weekend will be perfect for our tourism industry. There is only a slight chance for rain.
Fishing in the Smokies is good. Now that the holiday weekend is over, not many fishermen are on the mountain streams. The conditions benefiting the angler are perfect. Flow in the streams is good. Little River is flowing at 91 cubic feet per second (cfs) right now. Median flow for this date is 72 cfs. The water temperature at 7:55 am was 52.3 degrees. It will be colder than that tomorrow morning.
The guides tell me that trout are taking dry flies and nymphs. We expect nymph fishing to be good right now and sub-surface is probably your best tactical choice. However, trout are also taking dry flies. My pick for a dry would be a Neversink Caddis or Elk Hair Caddis. I like them because I can see them. Other choices would be a small yellow or orange Stimulator. A Blue Wing Olive my be a good choice at times. Nymph patterns are easy. Pick one that looks like a mayfly or stonefly. Rubber legs are useful as an attractor. Try a Copper John.
I know the smallmouth bass fishing is picking up. I just can't seem to go. I am busy here and the days are getting shorter. Maybe I can go next week.
I hope the fishing on the lakes is picking up too. It should be. Mike and I went fishing last week. We caught only two bass all day. We didn't get any action using surface fly patterns. Both dams were generating strong. At the upper end water was pouring in the lake and the water was pouring out at the lower end. There was a fairly strong current in the lake. It was just an off day. We picked the wrong one. The water temperature at the upper end was 57 degrees. At the lower end the temperature was 69 degrees. Small shad were dimpling the water surface. Fish were leaving them alone.
Today I am meeting with the new Chief Operating Officer of the Cortland Line Company. His name is Randy Brown. He lives in Cortland, New York. I believe he is one of the new partners too. I am interested to hear what he has to say.
I have spent all my career buying small companies and trying to turn them around. I've done that several times. Sometimes it worked, sometimes I failed. But it was always fun, well almost always. Business is like playing a game to me. It is a serious game. Business is building relationships with the people who work at the company. Business is building relationships with customers. And then there are the vendors or manufacturers. They are fun to work with too. Running a business is also about utilizing assets efficiently. It has always interested me and I enjoy business as much as most people enjoy fishing. There is a lot a stake. When you run out of money, the game is over.
Randy will be one of those people, who I meet for the first time, but completely understand what he is trying to do. I can't wait to hear his story.
Sea Ray Boats is closing their Knoxville manufacturing plant. They employ 200 people there. I hate to hear this terrible news. Sea Ray is owned by Brunswick. Brunswick is the largest boat manufacturer in the world. Sea Ray is just one of their many brands. Dusty McCoy is the CEO. He used to live here. I've talked to him a few times when he was President of Sea Ray a few years ago.
The problem is, Americans are not buying big boats. I'm talking about cruisers, boats that cost hundreds of thousands of dollars. Paula and I have a 16' Lowe fishing boat. Lowe is also owned by Brunswick. We have a Mercury outboard on the boat. Mercury is owned by Brunswick. Small boats are selling fairly well. Pontoons are selling well. Ski and wake board boats are selling. It's those big boats causing the problems for Sea Ray.
These big boats are selling well in Brazil. Brazil is booming. Sea Ray will continue building cruisers in Florida and Brazil. You can read the story on the KnoxNews website by CLICKING HERE.
I feel awful for those people who work at the plant in Knoxville. I know one who is a customer here. I wish them well.
Thank you for being here with us and have a great day.
Byron Begley
October 10, 2012
Respond to: byron@littleriveroutfitters.com