Townsend, Tennessee - Great Smoky Mountains National Park
Welcome to the Fishing Report. It is foggy and 53 degrees in Townsend this morning. Up in the Smoky Mountains it's cooler than that. Traffic is fairly brisk in town due to visitors here to see the leaves change. And, they are changing quickly. The colors are mostly yellow here in the valley.
Little River looked nice this morning. The water level is up a little from yesterday morning. Flow is 83 cubic feet per second. Normal for this date is 66 cfs. We did get some rain last night. Our gauge indicated less than 1/3 of an inch. I thought I was having another vertigo attack this morning. The rock I stand on to take the water temperature has finally loosened and it rocks when I stand on it. I didn't fall in and I have not yet fallen in while taking the water temperature. I do it every day and that has been the case for several years. I like starting my day that way. The water temperature was 58 degrees, up 2 from yesterday morning.
Fishing in Great Smoky Mountains National Park has been good. But, that seems to vary by the day and according to who you are talking to. Our advice is to start early with nymphs. That will be more critical later this week and during the weekend. The water is going to cool down. After the sun warms it up some switch to a dry fly. Try a Parachute Adams, Orange Elk Hair Caddis or Orange Stimulator. A black beetle pattern would also be advised. For nymphs use a Green Weenie, Bead Head Pheasant Tail, Prince, Copper John or Hare's Ear. Get the nymphs down deep near the bottom in the mornings later this week.
These dang animals are going nuts. What's going on? Wildlife activity has risen to a nine or maybe a ten. I drove to town last week and stopped at the pharmacy. When I walked out I noticed purple stuff on the side of my truck near the rearview mirror on the passenger side. At first I thought some kid threw a purple sleazy (or whatever they are called) on my truck. Maybe someone got me with a paint ball. I gave the purple stuff a whiff. Nope, it was not edible. In fact, it smelled like, well, crap (if you know what I mean). I would have used another word to describe the smell on a one to one basis.
When I got back to the store, Bill's truck had the same thing. We decided it was a bird. Sure enough we caught him. A mockingbird was pecking on the rearview mirrors thinking he was fighting another bird that looked just like him. Then he would crap all over the truck and spread it around with his wings. He got Sheila's SUV too. We caught him committing the crime. My first plan was to bring a 20 gauge to work and take care of the problem. Bill reminded me that the mockingbird is the Tennessee State bird. It is protected. I forgot about that. OK, the weapon should be a BB gun. That would be more discrete. I haven't done it yet.
I've been seeing huge flocks of turkeys every day. Last night, just like the night before there were 18 in our field when I got home. This morning our neighbors field had a smaller flock pecking the ground.
When I got to work this morning and stepped out of the truck a huge flock of honking geese flew directly overhead. They were flying at a height just over the power lines. I walked back to the rain gauge. Here came another big flock. I grabbed the bag of garbage from the back of my truck to take it to the dumpster. Here came another bunch of them, right overhead. Don't look up when they are directly over you.
David Ezell just got back from Hazel Creek. He borrowed our Smoky Mountain Push Cart and returned it yesterday. He said the bears were so bad over there that rangers closed all the campsites except the Sawdust Pile where he and his friends were camped. Everyone had to move there. Sunday night they were the only campers left. On Monday a bear entered their camp while they were fishing and stole one of their folding chairs. They could see where he dragged it across the ground, over rocks and downed trees. But it was gone. A bear swiped their chair? What's going on? It had to be a small bear. A big one could not sit in a chair made for a human. The chair was UT Orange. Maybe the bruin thought it might help during bear season to avoid getting shot outside the park.
Below is a photo of me and my bear and boar hunting buddies taken Sunday before last. We wear UT Orange clothing to avoid getting shot. I had shed mine before the photo was taken. Boy, do we have fun!
Have a great day and thank you for being here with us.
Byron Begley
October 13, 2010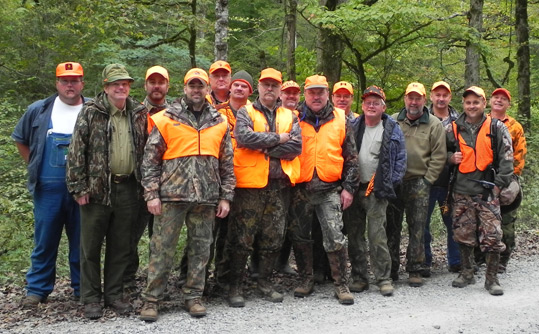 Respond to: byron@littleriveroutfitters.com