Townsend, Tennessee - Fly Fishing in the Great Smoky Mountains National Park, East Tennessee and Western North Carolina

Welcome to the Fishing Report from the Great Smoky Mountains. It is cloudy and 59 degrees in Townsend, Tennessee. Did you notice that I did not mention the word "fog"?

This is one of those rare mornings when we don't have thick fog. I could see the mountains at dawn. I drove around some of the motels this morning on my way to work. They've got a pretty good crowd. Our business is still very slow as it has been since October 1st. Up until then, business was very good.
Little River's water level is dropping very slowly. The aqua reserves underground are keeping the flows above normal despite the fact that we have not had rain in a few days. That short dry spell may end today. Some rain is expected. The chance is not high and no big rain events are in the forecast.
Little River is flowing at 96 cubic feet per second (cfs) or 1.60 feet on the flow gauge. Median flow for this date is 70 cfs. The water temperature at 7:45 am is 59.5 degrees.
This is going to be an awesome day to fish anywhere in our area. It's cloudy. I love cloudy days. The fish are not as spooky. They don't see you as well. Fish become risk takers on cloudy days.
Fishing is good in the Smoky Mountians. Today would be a good day to venture further from the entrances if you are willing to walk. You could enter at Metcalf Bottoms and walk on the road toward Elkmont. All along the way you will find some excellent fishing and a chance to catch that fish of a lifetime. The brown trout are out in the open. They are very active. The rainbows are active too.
Tom came by at 2:15 yesterday and left here to go fishing at 2:30. He returned before we closed. He said he caught 10 trout on nymphs. He was in the Metcalf Bottoms area. He saw tourists walking along the roads and rangers driving by. Other than that, he had a few hours of solitude with no road noise. And, the fishing was pretty good. Today will be better.
A lot of fishermen enter the Smokies at the Townsend entrance then proceeded to the Middle and West Prongs to fish. I didn't talk to any returning anglers yesterday who fished there. The conditions were fairly good so I know they did well if they understand how to fish here. Today will be better. I would fish with nymphs, big nymphs with rubber legs.
Josh Pfeiffer of Frontier Anglers sent me the photos below of a couple of bruiser smallmouth bass he caught on a new fly he invented. I can't wait to see it. He is fishing one of the tailwaters around here in these photos. These photos were taken last week. Sweet!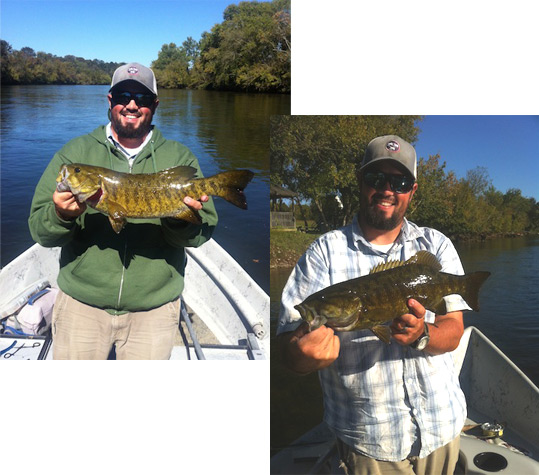 There are some fishing opportunities to be had today on the Clinch and Holston rivers. Check the TVA generation schedules and try to put a plan together. You should be out there right now.
More people I know are fishing in the Cherokee National Forest now that the Park is partially closed. Fishing has been good down there.
Some guys from Mississippi were in the shop yesterday. They are excellent bluegill fishermen. I can't believe the size of some of these bluegill and shellcrackers. Evidently there are some backwater lakes along the Mississippi River that offer some unbelievable fly fishing for panfish. They grow some monsters down there. One of them said the average size is 9 inches. I am going to look into this. I love catching bluegill on a light fly rod.
We've got some really cool weather headed our way later this week. Highs in the 60's and lows in the low 40's are predicted.
For two days, Bill Hey and I have been carrying ladders around and climbing ladders. As part of our store remodel, we are changing our lighting design and replacing older versions of the light we have to the newer more efficient systems. We are not going to do that today. We've had enough for a while.
This is Sunday. I make deposits for the past two days, make journal entries, do the payroll, enter bills, pay bills, pay the payroll tax deposit and all kinds of other accounting stuff. I'll be sitting down all day and I'm looking forward to that.
I guess we'll see what happens this week. Hopefully the Park will open and other disputes in Washington will be settled.
Have a great day and thank you for being here with us.
Byron Begley
October 13, 2013