Townsend, Tennessee
October 21, 2009

Welcome to the Fishing Report. The fog is thick. I can barely see the stores next door. Traffic is heavy in Townsend, not right now at this time of the morning but during the day and early evening there are people everywhere. The trees in the forest are yellow and some are dropping leaves. The brilliant red colors have not appeared in the lower elevations yet. But it's Fall, no doubt about that. And the forest is beautiful.
The rivers and streams are gushing with water. I was talking to Matt Kulp, one of the Park's Fisheries Biologists, day before yesterday. He reminded me that the flow chart for Little River is not showing the sharp rise and fall like we have been seeing. The graph is a smooth curve, which he believes indicates the water table is full or close to it and the water levels are dropping very slow. He's right. Our rainfall measured at the Airport is almost 11 inches above normal.
The water is on the cool side now. We are going to have some warm days and nights coming up. I bet the fishing will be better late in the afternoon after the water has warmed up a bit and the sun is off the water. You never know. Sometimes the peak feeding is not when you expect it. I would use nymphs fished weighted and deep. Watch for brown trout, they are out in the open. In the higher elevations the water will be cold. Night temperatures have been in the teens to 20's on the high slopes. A warmup will be good for fishing in the Park.
Yesterday I started digging in on Troutfest work. I talked to a lot of people and started overhauling the Troutfest website. I spoke with Rick Pope who owns Temple Fork and Frank Bryant, owner of Chota. They are both on our Troutfest Steering Committee. Serving with them as a manufacturer member is Bill Reed, Director of Wholesale at Orvis. This year I decided to add people to our committee who are in the Fly Fishing industry but do not live here. Frank at Chota will probably attend some of our Troutfest meetings. He lives in Knoxville.
Randy Hamilton is also serving from the coast of South Carolina. He is a Sales Representative working for Ross Reels, Fishpond and other companies. He asked to be on the committee and help us market the event.
I talked to Joe Humphreys. He was under his house, which is an old mill with a trout stream running under it. He was doing some insulation repairs. Gloria, Joe's wife took the phone underneath the house so I could talk to him. She told me they had a snow and ice storm in State College, Pennsylvania last weekend. I didn't hear about that because I was camping and hunting in the Cherokee National Forest. Joe is excited about coming to Troutfest next year. Our shop is sponsoring his appearance at Troutfest.
Rick Pope is bringing Lefty and paying those costs. So Lefty will be here again. I talked to Bob Clouser. He will be looking for a sponsor so he can come.
The dates for Troutfest 2010 are: Banquet – Friday May 14th. Exposition – Saturday and Sunday May 15th and 16th. Banquet tickets should go on sale around the first of the year. You will be able to buy them online or call us at the shop.
Due to the National attention we got from Zach Matthews' articles in American Angler and Trout Magazine people are coming out of the woodwork asking to help and be part of this event. Jim Casada will be here. Allen McGee who wrote "Tying & Fishing Soft-Hackled Nymphs" contacted me last week and offered to tie flies. National Manufacturers who didn't participate last year have offered to be here this year. Simms, Hardy and Cortland are a few examples.
Below is the photo of the presentation of the $40,000 check to the Park Service. I took it Monday afternoon. People from the Little River Chapter of Trout Unlimited, Friends of the Smokies, Smoky Mountain Convention and Visitors Bureau and the Park Superintendent are in the photo. The Park Superintendent is Dale Ditmanson who is near the center of the photo in uniform. And of course Matt Kulp (far left) and Steve Moore (far right in uniform) are our Park's Fisheries Biologists. They are responsible for all fish in the Smoky Mountains. On the far right in this photo is Herb Handly. You have heard me talk about him hundreds of times. He runs the Smoky Mountain Convention and Visitor Bureau. We are good friends and I work with him on a lot of tourism projects. He is in charge of tourism for our whole county.

These proceeds include profit from Troutfest 2009 and an Embrace-A-Stream Grant the Little River Chapter received from Trout Unlimited.
Have a great day and thank you for being here with us.
Byron Begley
October 21, 2009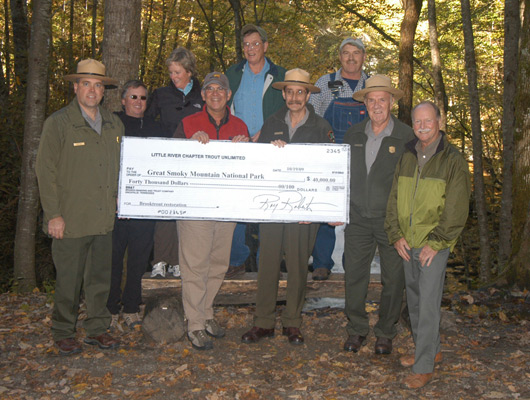 Respond to: byron@littleriveroutfitters.com