Townsend, Tennessee
October 22, 2009

Welcome to the Fishing Report. It is very foggy and a cool 43 degrees in Townsend, Tennessee this morning. Tourism is alive and well here. The colorful mountains are drawing the people in. Little River is dropping very slowly. There is plenty of flow. This morning the discharge is measured at 315 cubic feet per second. Last year on this date the flow was 18 cfs. Quite a difference.
Anglers are doing fairly well despite the cool water. It is warming up now that the cold snap is over. Bill and Sheila camped at Smokemont over the weekend. He said the water in Oconaluftee was cold and fishing was slow. He did better in Bradley Fork. Daniel and Glenn fished the Nantahala yesterday morning. The water was a little off color and fishing was slow. They drove to Oconaluftee and did well there on dries with droppers. Daniel used a Stimulator and caught a bunch of trout. He said the fishing slowed down about 4:00 pm. With the warming temperatures we should see fishing improve.
There is a 90% chance for rain tomorrow and an 80% chance tomorrow night. The streams are already high. So, it's hard to say what shape they will be in Saturday. There is only a slight chance for rain then and Sunday looks like it will be a beautiful day.
Our business is a little off for the first three weeks of October. We're down almost 6% for the period compared to last year. I guess I can blame it on the high water and heavy generation on the tailwaters. Our fishing license sales are down 29% for the period. That indicates lack of participation. The mail order business is way up. So, I think we really can blame this on people not fishing as much. There isn't anything we can do about that. I would rather have high water than no water.
I worked on the Troutfest website all day yesterday and into the night. I went through a couple of hundred photographs, chose some of the best ones and sized them for the site's slide shows and banners. When I'm finished you will be able to re-live the event via the web. Sarah Weeks and I are in charge of marketing. We'll design and order the Troutfest printing in December. Like last year we will have small posters and business cards in about 80 fly shops or stores with fly fishing departments throughout our 7 state region. We will also do some direct mail. She and I will also line up all the fly tyers. Last year we had around 40 people demonstrating in 4 hour shifts for two days.
We will have several thousand anglers show up unless the weather is horrible. If you plan to attend, and you should, it would be a good idea to book your room or cabin soon.
I'll leave the photo below on the report again today. I took it Monday. We handed over the $40,000 to the Park Fisheries Department. $10,000 of that was a grant we got from Trout Unlimited. $30,000 came out of the $34,000 we made at Troutfest this year. We held back $4,000 to use as seed money for Troutfest 2010.
Tonight the Little River Chapter of Trout Unlimited will hold the monthly meeting. The program will be given by Chip Drozenski of Andes Drifters, a guide service in Patagonia. It will be a great program so try to attend. The meeting starts at 7:00 pm at Monte Vista Baptist Church in Maryville.
Have a great day and thank you for being here with us.
Byron Begley
October 22, 2009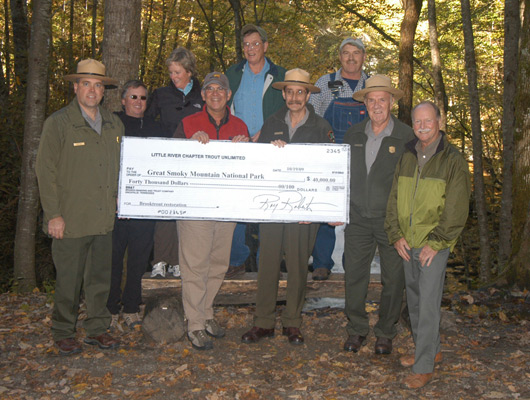 Respond to: byron@littleriveroutfitters.com