Townsend, Tennessee - Great Smoky Mountains National Park
Welcome to the Fishing Report. It is a beautiful yet cool morning here in Townsend. There was a lot of traffic on the road as I was driving in. I guess it is to be expected. Leaf season is upon us. The Fall Foliage Map on weather.com is showing the Southern Appalachians at near peak.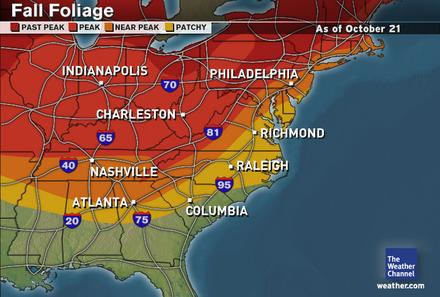 Weather reports are calling for another gorgeous weekend. There will likely be lots of people in the mountains but I wouldn't let that stop you from going. Every frosty morning is one more closer to Winter. Don't squander the last remaining pretty days.
Fishing all over the region has been good. The Smokies are fishing well with both dries and nymphs. Water levels are down but not too much lower than normal for this time of year. With lower levels you need to be extra sneaky.
If you head out early in the morning I would tie on a nymph pattern. Cold overnight temperatures have brought the water temps down into the low 50's. Good nymphs have been BH Pheasant Tails, BH Prince, BH Tellico, Copper John, etc. Don't forget about trying a larger stonefly nymph pattern or even something big and rubber leggy.
For dries, Parachute Adams, Elk Hair Caddis and of course Stimulators have all been doing well. Now is the time to start stocking up on the Blue Wing Olive patterns also.
I have heard that the South Holston River has been fishing very well. People are saying that the trout are taking dry Sulphur patterns. It seems like very late in the year for sulphurs to be hatching, but hey...it's a tailwater and they can potentially happen whenever.
Oh, I almost forgot my broken record warning for Fall. Beware of fallen leaves. They may look pretty but they are just laying in wait to make you bust your rear. Dry leaves on the bank of a stream offer no traction, especially with dry felt boots. Even worse is the early mornings when the leaves have frost between them making for a cold wet slip-n-slide. And in the water...walk around the leaf piles on the bottom of the creek. 9 out of 10 times those leaves have collected there because there is a big depression in the stream bottom. You could be in knee deep water and step on the leaves and very quickly find yourself waist deep or worse. Just be careful and vigilant.
I finally got most of the preseason orders done. There is still a few that I need to finish up or do. Some of the new items have even started to arrive. We got a shipment from Lilypond yesterday. This is an exerpt from their website....
"Introducting Lilypond
A new collection of women's bags, luggage and accessories inspired by the contrasting colors and forms that grace the landscapes of our favorite places.
Lilypond was born of an adventurous spirit and designed to complement a woman's unique style, charm and personality. Purposeful to be sure, but with a playful twist of color and styling that makes lilypond the perfect collection for every season, every reason and every place between.
Within the lilypond line you will find your sense of freedom, your unique voice and a way to express your personal spirit.
Lilypond. Find your place"
Lilypond is a seperate company but is owned by the same great folks that bring us Fishpond so you know that the quality is excellent and the products are very well thought out. We will be adding it to the Online Catalog in the next few weeks but if you see something you like on their website you can call us or stop by the shop to check it out.
Well on that note of getting new items in... I better wrap this up and get back to work checking it all in. Thank you for reading the Fishing Report today. Don't waste a great weekend. Head out and enjoy it.
Daniel Drake
October 22, 2010
Respond to: byron@littleriveroutfitters.com