Townsend, Tennessee - Fly Fishing in the Great Smoky Mountains National Park, East Tennessee and Western North Carolina

Welcome to the Fishing Report from the Great Smoky Mountains. It is overcast and 38 degrees in Townsend this morning. It is beautiful here. The trees are displaying their fall vibrant colors. Our town is busy catering to visitors. This is a nice time to visit us.
Little River is flowing low at 72 cubic feet per second (cfs) or 1.48 feet on the gauge. Median flow for this date is 81 cfs. This is one of the very rare days this year, when the water flow in Little River has actually been below normal. The water temperature at 8:05 am is 49.7 degrees.
Fishing is still good. Anglers are reporting trout activity on dry flies and nymphs or a combination of both. The smaller streams seem to be fishing best. Fly patterns used are not nearly as important right now as stealth and presentation. If you can stay hidden and make casts without spooking the trout, you will catch them. I was reading our message board yesterday. There is a great story about a guy who never fished the Smokies but hired Josh Pfeiffer to take him that first day. He did very well. It helps to have a guide to show you the tricks. When I started fly fishing here over 30 years ago, I didn't know of any guides. There were no fly shops in Townsend. I struggled for a while.
My mistakes, that I soon corrected was trying to cast too far. You can't do that here in most streams. It is hard to get a good drift. The conflicting currents drag your fly either too fast or too slow. Shorter casts allow you to control your fly and line and get a good drift. These trout are wild and wary. They are used to seeing insects floating or submerged but moving at the same rate of speed that the current is. If your fly is dragging, you won't catch many fish.
The water temperature has dropped. We have some cold nights ahead of us. The days will be fairly warm. Fishing is going to be better during the day after the water warms. The trout could be sluggish in the mornings. We have some colder nights ahead of us this week. The National Weather Service is predicting a low in the valley of 31 tonight and 27 tomorrow night. Next week is expected to be much warmer. There is no chance for rain predicted until next week and even then the chances are low. I think we are going to have some low water for a while.
Smallmouth fishing on the lakes should be good. Paula and I went fishing Tuesday and the water temperature was 64 degrees. It was windy and we didn't fish much but later in the day the wind died down. I caught one nice smallmouth bass before we went home. We are planning to go again next week.
I am working on our calendar of events for the upcoming months. We will be offering several fly tying classes beginning in November and running through February. Additionally, we will have some sort of free event on most Saturdays during that period of time. There will be free fly tying demonstrations and people of interest for you to meet. You can read our schedule by CLICKING HERE. It will be updated almost daily. If you are interested in our fly tying classes, CLICK HERE.
The store remodel project is progressing well. New merchandise is coming in daily. Our new fly tying department will be finished in a few days. While I was off, the guys started moving the fly tying materials upstairs. I am ordering new materials and replenishing our standard assortment right now. What we will end up with is a 700 square foot tying shop on the second level of our building.
The new Fishpond gear will be available next month, just in time for the holidays. You are going to have a new shopping experience available here in a few days. We are excited.
Me and some of the guides are raving about them. The forums are all chatting about them. The fly fishing trade magazines are publishing articles about them. I am talking about a fly. This new fly is going to be the game changer. In fact, it is called a Game Changer. This fly is really a 4" to 6" baitfish pattern that is articulated to give it unbelievable action.
I'm sorry if I keep wearing you out about this. If someone asked me what is new and great in fly fishing, I would say it is this fly. It's not a rod, reel, fly line, vest, wader or anything else that compares to this new innovation for fly fishermen. The photo below is one I took of the two pre-production flies that will be offered by Umpqua Feather Merchants. I have been tying them in many different versions using different body materials. The real component that makes this fly so great is the realistic movement provided by metal pieces attached together.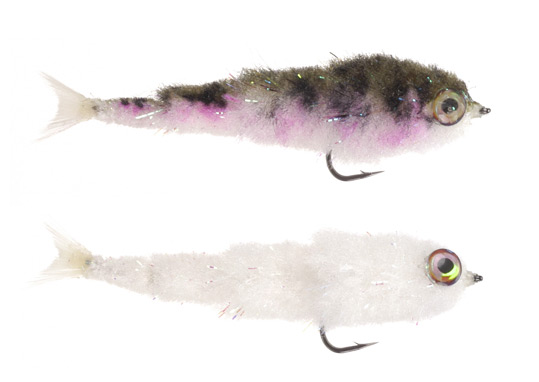 Conventional tackle fishermen have been using a big lure called a "swim bait" for a while. These lures can be very heavy. The conventional tackle companies even have special rods for casting the swim baits. Swim baits are articulated. They are realistic. They are expensive too. I've seen them online for $20 to $30 each. I've heard some cost more. Fishermen buy them and use them because they work.
Though the components are available now to tie them yourself, the real test will come next year when these flies are widely distributed in fly shops. Our first shipment is supposed to arrive in January. If we can sell a product for around $10, something that really improves fly fishing for big fish, we have got a winner.
I have been thinking about it and other people have probably been thinking the same thing. Can these spines be made from a simple paper clip?
Have a great day and thank you for being here with us.
Byron Begley
October 24, 2013