Townsend, Tennessee - Fly Fishing in the Great Smoky Mountains National Park, East Tennessee and Western North Carolina
If you don't see today's report, refresh your browser. Since this report is written every day an older version could be held in you cache.
Welcome to the Fishing Report. It is cloudy and 55 degrees this morning. I slept in a little later than normal so I came to work after daybreak. Traffic was fairly heavy. The mountains have lost much of the brilliant color. However, the shades of yellow and gold are spectacular. Wayne and I were going fishing yesterday. We stopped at The Firefly Café for breakfast. After the meal we drove down old highway 73 toward the shop. Tee Byrd was standing in front of a house they just bought so I stopped to say hello. She told us about seeing the bald eagle that has moved to town. She said he was sitting in a tree at the bend in the river. Wayne and I turned around, drove to the bend and there it was. What a huge bird. He's a male with the white head. After we watched for a few minutes he flew off. Everyone is talking about him. Stan has seen the bird three times. Once it swooped down to the highway and picked up some road kill right in front of Stan. This eagle has been living in Townsend for several weeks. I hope he stays.
I get to see many different views from my office window and they are often spectacular. Today I'm looking at yet another. I had to take this picture for you and me. Look at those clouds!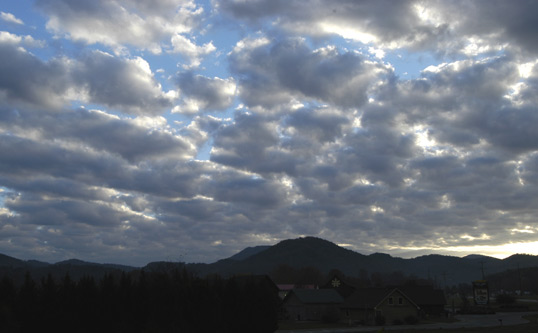 Little River is flowing a little lower each day. It is not extremely low but we should have had more rain than we have had lately and the flow numbers bear that out. Right now the river is flowing at 62 cubic feet per second (cfs). Median flow for this date is 82 cfs. The water temperature this morning was 55.9 degrees.
It is going to be very warm today, around 80 degrees. Then, starting tomorrow, cold temperatures will move in along with a chance for rain. We are expecting lows around the freezing mark Monday night.
Fishing in the Smokies should be fine. I don't think it is great by any stretch. The water is somewhat low and cool. The water is very clear. Low clear water makes for some challenging fly fishing in the Park. You need to stay hidden. Use light tippet. I would use smaller flies. If dries don't work, switch to nymphs. You will have to find what is working where you are fishing. You will probably see some brown trout preparing to spawn in the open water. I would leave them alone. The rainbows will be hiding in riffles and deep runs. The brook trout should be easy to catch in the right streams. I would choose a small stream in the shade. As you can see from the photo above, it is partly cloudy or partly sunny depending on how you look at it.
Tennessee Valley Authority is drawing down the lakes very slowly. As boating recreation has decreased for the coming Winter, the demand for higher lakes gives way to the need for storage capacity and producing hydropower. I check each lake level in our area every day for this report. They are certainly dropping.
Fishing in the lakes, at least in shallow water with fly rods is slow. Wayne and I found that to be true this week. We fished two days on the Little Tennessee impoundments and it was dead. We only saw two fish in two days. We talked to Ronnie yesterday. He is our Police Chief. He said the same thing. Who knows where the fish are. I guess they are deep. Wayne and I were on Tellico Lake yesterday below Chilhowee Dam. The dam was in generation mode all day. There was plenty of current and gin clear water. We could see the bottom of the river in 14 feet of water. That is pretty darned clear!
But it was a beautiful couple of days. The scenery was spectacular. Wayne and I have been good friends for over 44 years. He lives in Nashville. We sat in the boat for two days and laughed, talked about people we know and reminisced about our younger days, growing up in Richmond, Kentucky. I'll see Wayne again in two weeks on our annual deer hunt. Two of the guys on that trip have been good friends of mine for 55 years. Mouse will be there. I've known Mouse for over 44 years. Becker will be there. We have only been friends for 17 years. I've known Jack 17 years or longer and he may be there.
When Wayne and I prepared to pull the boat out of the water yesterday afternoon, I decided to disconnect the fuel line and let the engine burn any remaining gasoline in the fuel system. That means I may not be using the boat again this year. She may be put away for the Winter. It was kind of sad listening to that motor sputter those last few strokes. It may be the end of one season and the beginning of another. Another year has quickly gone by. It has been a good year. Some snow, cold temperatures and the gigantic leaf fall is not far off.
Have a great day and thank you for being here with us.
Byron Begley
October 26, 2012
Respond to: byron@littleriveroutfitters.com