Townsend, Tennessee - Fly Fishing in the Great Smoky Mountains
Welcome to the Fishing Report. It was pitch black when I drove to work. I only saw 3 vehicles during my commute. Light rain has been falling during the night and right now. Accumulation so far is only ¼". I used a flashlight to aid in getting to the stream to take the water temperature. I shined the light on the river. The water was clear. I could tell the level was barely up from yesterday. The water temperature was 56 degrees.
The USGS online flow gauge is working again. And it does indicate a slight up-tick in the water level. Flow right now is 96 cubic feet per second. Median flow for this date is 84 cfs. There is a 100% chance for showers today and 60% tonight. Rainfall is expected to be ½" today and ¼" this evening. Tonight the rain will most likely change to snow in the mountains. Sleet or a wintery mix will affect elevations above 2,500 feet according to the National Weather Service.
It is going to be a nice weekend after the rain ends tomorrow morning. Highs will be in the low 60's with lows in the 30's.
Fishing is very good. Angling options are varied and unpredictable. You might find blue wing olives hatching. You could encounter midges on the water. Trout are taking both. Browns and brookies are active as well as rainbows. Depending on where you are, the brown trout are in various stages of spawning. They are out where you can see them during the day. This is a good time to be fishing in the mountains. Nymphs will produce best for the brown trout. At times, dry flies might work best for rainbows, smaller browns or brook trout. We should see an increase in water flow and that will be good. You will also see more leaves in the water. The tannin color in the streams won't occur yet due to the mass of leaves in the water. In a few days that might happen. But, for many local and avid anglers who fish the Park on a regular basis, this is their favorite time of year. Now is the time they target big fish.
I didn't get a day off this week. I'm working on 8 straight. So, I did not have the opportunity to try the lower river to see what the smallmouth bass are doing. Maybe I can go next week. This is a busy time for me and I'm getting a lot of requests to do volunteer work. I'm going to try and avoid getting overwhelmed with that like I did last year.
Yesterday we held a two hour Laurel Lake ad-hoc committee meeting. It went very well. Steve Fritts of Barge, Wagonner, Sumner & Canon Engineering is working on a concept plan to re-build the 50 acre lake and create a County Park with hiking trails and a fishing pier. There will be parking for anglers and possibly a boat ramp. I imagine the lake will be designated as "electric motors only" with a possible limit on thrust capabilities. Electric outboard motors are getting more powerful. I think you can buy them with ratings up to 10 horsepower. Right now the batteries are heavy and the motors are expensive. By the time this project is complete, the prices will likely be lower and the batteries will be lighter.
After we get Steve's concept plan I will call a meeting of the full Friends of Laurel Lake committee. Below is a photo of the lake taken from the air before the dam was breached 20 years ago. You can see that this beautiful setting will be an asset to the community. From the shop, you could be launching your canoe in five minutes.
We are holding a Troutfest Marketing Committee meeting here on Sunday afternoon. Bill Guinn is Chairman of Troutfest and he is doing a great job.
Have a great day and thank you for being here with us.
Byron Begley
October 28, 2011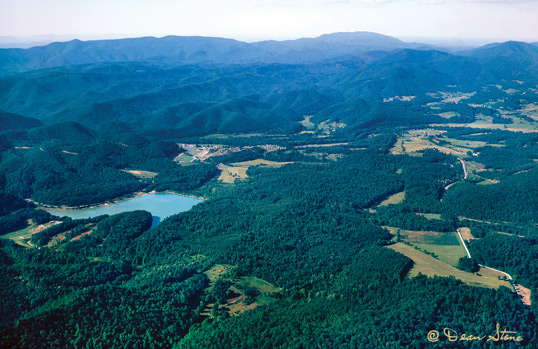 Respond to: byron@littleriveroutfitters.com