Townsend, Tennessee
November 6, 2009

Welcome to the Fishing Report. The sun is shining bright. It's cold too. There is a fairly good coating of frost on the ground and roof tops. This is the first really good frost since last winter. It is looking more like winter around here. Leaves are covering the ground. Little River is very clear. And now we can see more wildlife. This morning on my way to work a deer ran across the road in front of me. OK, I've learned, there will be another one. I slowed down and watched. Sure enough, here came another deer. There could be another. Nope, that's it. And right as I started to move forward here came number three.
Little River is still flowing fast but it is much more hospitable to anglers than it has been. Fishing should be good later in the day after the water has warmed. We'll see the water levels drop further, there is no rain in the forecast until Tuesday. I believe I would fish with nymphs. You might do fine with dry flies but I'm still sticking to nymphs. The brown trout are active. There have been some nice browns caught this Fall. And the brook trout are active too. This has been a beautiful week to be in the forest and it will continue to be.
A lot of anglers around here have been turning their attention to hunting, mainly deer. Doug, who is an avid fly fisherman and hunter said one of his friends just bagged the largest deer he had ever seen in East Tennessee. It's no wonder. In some areas around here the mast crop, especially acorns have been abundant. But in other areas, such as in Monroe County next door an early frost kept the oak trees from growing acorns.
Since I went wild boar hunting and have been talking about it I have had some very interesting conversations about these animals with customers, friends and people I've never met. I got a photo via e-mail of a boar that was shot in Texas. It was estimated to have weighed 1,800 pounds. I would say that beast has been eating some of the rancher's corn. I looked to be part mastodon. I sent this photo to Jim Casada and told him I'm thinking about getting a .375 H & H magnum to hunt these things.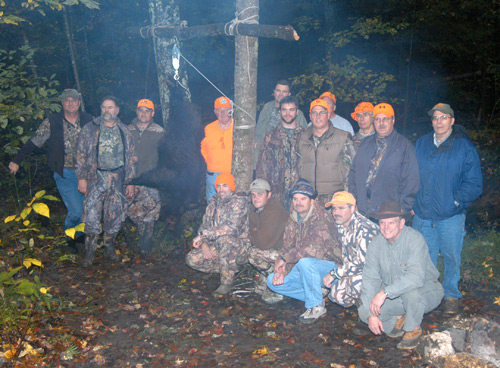 Jim Casada told me the other day he thinks the pigs in the 80 to 120 range are better to eat. Bill Bolinger and Walter Babb both told me they have shot one. The conversations about this destructive exotic import are running rampant in our community but until now I never heard the stories. Just about anywhere you go in the Smokies you will see damage from wild boar. The Park Service has a group of hunters who work at night using night-vision goggles and silencers. Evidently when they come up on a pack of boar they can shoot several before any of them know what is going on. It is very effective. The Park Service also traps wild boar. They have a budget line item just for exotic boar removal.
Believe it or not, these boar are smarter than they look. They have a good sense of smell too but they don't see well.
Matt, friend of mine told me about his wild boar trapping. He traps the things. He didn't describe the trap but it must be on wheels like the traps we see in the Park. I'm going to call my buddy and go with him to check his traps. I want to get a close look at these things. And, I'm going to start looking for boar sign around our place. I bet those pigs are around our house and I wouldn't know it.
I don't know if Matt has one or more than one trap, but he checks them every day. When he catches a pig he butchers it. Recently he didn't have time to check his trap and asked his father to fill in for him. He got a call from his dad. "You've got a bear in your trap". He didn't finish the story because we were interrupted with something. So, I guess somehow they got the door open and let the bear out.
I saw some photos that were circulating around on the internet. A wildlife officer was releasing a bear from a trap. The bear turned on the officer who was on top of the trap pulled the officer and trap off the truck bed and beat the guy up pretty bad. The caption at the bottom of the page was "Next time I'll take the pictures".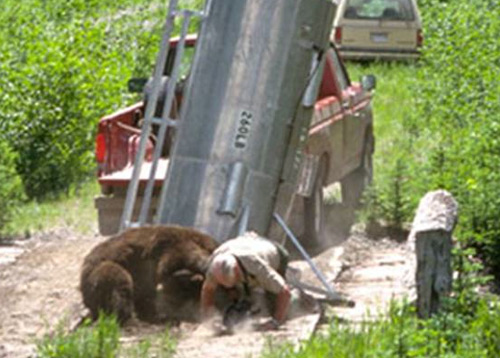 By the way, wild boar or feral pig season is open all year in Tennessee on private lands. Tennessee Wildlife Resources Agency wants hunters to get rid of them. That will be impossible. These hogs have around two litters of piglets per year and they become sexually mature in 6 months. Someone told me yesterday that some states have a bounty on them.
Have a great day and thank you for being here with us.
Byron Begley
November 6, 2009
Respond to: byron@littleriveroutfitters.com