Townsend, Tennessee - Great Smoky Mountains National Park
Welcome to the Fishing Report. It is a beautiful, clear morning here in Townsend. Water temps are cool so you might want to add another layer under the waders. The weather forecast is calling for a perfect day tomorrow then a chance of rain on Sunday.
Water levels in Great Smoky Mountains National Park are great. The flow is 1.85 feet on the gauge at Townsend. If you haven't seen the info from the streamflow gauge you can find a link to it just down to the left on this report under "Stream Info" . It gives you a line graph as well as current and historical data. Years ago it used to give the stream water temperature but that part of the gauge malfunctioned and they removed the info. When that was working you could see the big shifts in water temp that happened throughout the day. It was really surprising how much the temperature would rise and then fall again during the course of a day. It seemed as though the coolest temps would be about 7 am and the highest occured around 3 pm. Anyway...that is gone so now we have to rely on the manual method of dropping a thermometer in the water each morning.
Water temps are cool in the morning. It was 46F at the swinging bridge in Townsend. You really don't want to be falling in. If you are more prone to taking an inadvertant swim, I would fish closer to your car and keep an extra set of clothes handy.
Nymphs will be a good bet earlier in the day. All the normal patterns have been working well. Try some heavier tied nymphs such as bead heads and don't be afraid to add weight to the leader. You are going to need to get the flies down to where the trout are.
Later in the day when the water is warmer you might try some dry fly patterns. Again, the isn't much of anything hatching so try some of the good old standard patterns. Parachute Adams is a good bet along with Elk Hair Caddis, Stimulators and Blue Wing Olives.
Bill Bolinger stopped in this morning. I think he was headed to the Smokies to fish but his mind was on the South Holston. He heard that the sulphurs were still hatching solid up there. Little flies to big fish in slow water....could be a fun day if everything is going your way.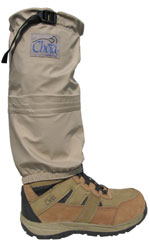 The brand new Chota Caney Fork Waterproof/Breathable Knee-High Socks arrived yesterday. This is an interesting new product. It is a waterproof/breathable, stocking foot wader but it only comes up to your knee. It isn't going to be an all around wader for every situation but it has some great uses. If you are launching a canoe or boat and have to get your feet in the water this wader will keep you dry, and then when you are in the boat the upper is soft so it won't feel bulky and in the way. It will also be great for backcountry fishing where weight is a big issue but you don't have to get in the water much. This knee high wader will let you get in and around the edge of the creek to get a better casting position or to land your fish.
They come in fives sizes. Small (5-8), Medium (8-11), Large (9-12), XL (10-13), and XXL (11-14). The price is just $69.95.
Don't forget... Brian Courtney and Hugh Hartsell will be tying flies tomorrow here at the Shop from 10am till 2pm. There is no cost...just show up and be ready to learn something.
Have a great day and thank you for being here with us.
Daniel Drake
November 12, 2010
Respond to: byron@littleriveroutfitters.com
FREE FLY TYING DEMOS
We are starting our Free Fly Tying Demonstrations on Saturdays again. All you have to do is show up. Our fly tying demonstrators will be active between 10:00 am and 2:00 pm.
On Saturday November 13th, Brian Courtney and Hugh Hartsell will be tying. Brian is an excellent fly tyer. He also teaches our fly tying classes with Walter. Hugh is a guide specializing in the Smokies, South Holston and Holston Rivers. He has a fly business and sells some unusual but very effective flies. He is always willing to share what works for him.
FLY TYING CLASSES
Our fly tying classes are starting Saturday November 20th. The first one is a beginner school. To sign up just call the shop at 877-448-3474. Daniel is posting the dates on our website today in the Schools Section. The fly tying class schedule follows:
Saturday November 20 – Beginner Fly Tying
Saturday December 4 – Intermediate Fly Tying
Saturday January 8 – Beginner Fly Tying
Saturday January 15 – Intermediate Fly Tying
Saturday January 22 – Advanced Fly Tying
Saturday February 5 – Beginner Fly Tying
Saturday February 19 – Intermediate Fly Tying
Saturday February 26 – Advanced Fly Tying
Respond to: byron@littleriveroutfitters.com