Townsend, Tennessee - Fly Fishing in the Great Smoky Mountains National Park, East Tennessee and Western North Carolina
Welcome to the Fishing Report. It is overcast and 33 degrees in Townsend. The clouds will yield to the sun shortly. The high temperature today should be around 50 degrees. There is a noticeable departure of leaves from the trees. Wind and rain took its toll on the trees yesterday and last night. All total, we had .45 inches in our rain gauge this morning.
Little River is flowing strong. Flow is currently 352 cubic feet per second (cfs). Median flow for this date is 139 cfs. The water temperature dropped to 49.3 degrees. The water is clear. You will catch plenty of leaves.
Fishing is good. It was better over the past few days. Things have changed. The water is little cooler. Flows are stronger in the streams. You can catch trout but they may not be quite as active as they were. Later in the day the water will warm some. Fishing will be better then.
Nymphs will probably be your best bet. Something like a Tellico, Pheasant Tail, Prince Nymph or Hare's Ear would be my choice. Have some Blue Wing Olive dry flies in your box just in case. Of course, the spawning browns will be busy. Anglers are waiting for the spawn to end so they can feel better about fishing for them. Nobody wants to catch a spawning female. I hope they don't.
The lakes are being lowered quickly by Tennessee Valley Authority (TVA). They do that during the winter to provide ample storage during heavy rains. The recreational need for lakes brimming with water is over until late Spring. Most recreational boaters have packed it in. Barge traffic on the Tennessee River continues. TVA will be generating at the dams as often as possible or as needed. It is that time of year.
This is a good time of year to fish below those dams if you can get the right generation schedule for the type of fly fishing you do.
It is time for fly anglers to tie flies. The tying season is upon us. Fishermen are looking for a way to participate in the sport on those days when they are more comfortable at home. Tying flies satisfies that need.
Winter days are also suitable for practicing your casting techniques. If you are so inclined, you can do that in your yard. Fifteen minutes of practice per day can make a huge difference.
Or, you can get out there and actually fish. There's nothing better than that. A few of my friends are fishing in the Smokies during January and February whenever they get a chance. There are not many, but there are some. Our trout fisheries below dams can be very productive during the winter if you can stand the cold temperatures. We do have some nice, warm days during the Winter. That's when most people around here get out.
I am banging away in Adobe Photoshop and I'll be doing that for a few weeks. It is time to update our website and the merchandise signs in the shop. Yesterday, I began the job of updating Fishpond. You will see the results of those efforts soon on our site. The signs are already going up on the walls and fixtures.
Fishpond has a new line of waterproof/water resistant bags, luggage and packs called Westwater. They are constructed to be almost waterproof. You couldn't submerge them in the lake and expect to keep the water out of the bags completely. But, for most practical purposes, they are waterproof. We will have the Westwater series on our website soon. I noticed that Fishpond is also in the process of adding the line to their website. These are great products. I think we have them all in stock right now. In fact, we strive to keep all fly fishing related products from Fishpond in stock, every one of them.
Below is a photo of two of the new Westwater pieces. The Boat Bag is on the left. The Roll Top Duffel is on the right. They sell for $219.95 and $159.95 respectively. This new series looks good too. All total, there are eleven new pieces ranging from small packs and bags to roller assisted carry on luggage. I'm impressed. You will be too. If you want one, just call us and we'll ship it to you. Ground Shipping is Free at Little River.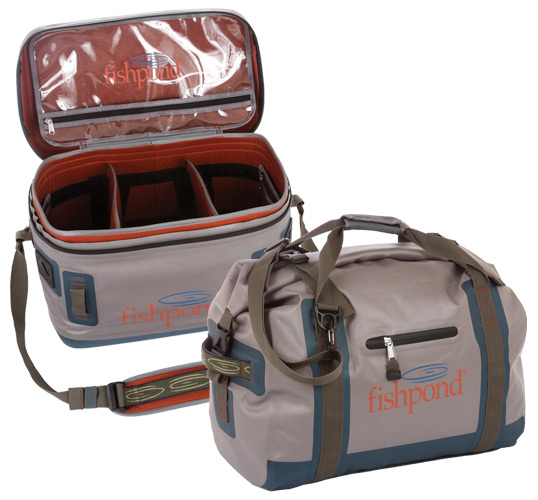 Have a great day and thank you for being here with us.
Byron Begley
November 13, 2012
Respond to: byron@littleriveroutfitters.com