Townsend, Tennessee - Great Smoky Mountains National Park
Welcome to the Fishing Report. It was 24 degrees when I left home at 7:30 to come to work. It felt like Summer earlier this week. It is going to be cold again tonight. Little River looks awesome thought the water is high. The water temperature was 44 degrees at the swinging bridge this morning. Yesterday at that time it was 52 degrees.
Flow is 658 cubic feet per second right now. Median flow for this date is 129 cfs. Todays flow is a record again. The highest reading on November 18th during the past 46 years was 616 cfs in 2007.
Fishing is great and it is slow depending on your preference. If you are targeting large brown trout it is great. If you are looking to spend the day fishing with dry flies you might have a slow one. The water will warm some and fishing will be better later today. Tomorrow, Sunday and early next week will feel more like Spring. The water will be warmer and there is plenty of it. Expect fishing to be much better, especially on Sunday, Monday and Tuesday. The high Tuesday is supposed to be 72 degrees.
Be careful wading today. The water is swift. The way Little River is dropping it will be fine tomorrow. The flow will be Spring-like.
I would use nymphs first. Until the water warms they should work best. Get them deep and ticking the streambed. You can get away with heavier tippet due to the higher water. The trout won't be as spooky either for the same reason. Try Tellico, Prince, BH Pheasant Tail or Copper Johns. Stonefly Patterns with rubber legs are a good choice. Streamers might work well for you.
The Park attendance numbers are out for October and they are down again. Here is a short article in the WASHING POST. Year to date, attendance in the Park is down over ½ million people from last year. Our entrance was down last month though not as much (percentage) as the total of the entrances. Our entrance is also down considerably for the year.
There are also some articles online about how the Super Committee in Congress may cut funding to National Parks. We'll need to watch this play out.
Fly fishing, like visitation to our Park is trending down as well and that has been happening for years. I bet, most outdoor activities are becoming less popular to Americans. I'm planning on finding out. It will be interesting to see what is going on in the backpacking, hunting and conventional fishing sports these days. I bet kids would prefer soccer over squirrel hunting if you took a national poll. When I was a kid we didn't have soccer. So we went squirrel and rabbit hunting instead. And during the warmer months we went fishing and camping. The world is different.
Yesterday, after I finished writing this report I took the rest of the day off. I did grab a fly rod and tossed a new fly I'm working on in the raging current in town. This fly floats well and you can see why from the photo below. I'm calling it a Knucklehhead. This is primarily a smallmouth bass fly. It is designed to drift down the river. It pops like a popper but does not strip well, like a Stealth Bomber. But this fly floats high. And it has an attitude too. Look at it's face.
So, I went back home with more confidence and tied a dozen. My attempts at coming up with a new smallie foam fly have been frustrating. Last week the fly I tested spent too much time on it's side. I have others that don't float well. I have a pile of failures on the tying desk waiting to be thrown away.
I dropped this pattern in a bowl of water on my fly tying desk probably 200 times a few nights ago. It only landed upside down twice. When that happened it righted itself when I touched it.
So, I'll tie this in several colors and be ready for Spring. This fly uses 2 - 2" pieces of foam, 5/16 inches wide. It is tied on a Gamakatsu B10 S #6 hook, just like a Stealth Bomber. The front 2/3 of the hook shank has four layers of the 2 mm foam on top. Extra Large Mono Eyes create the "eat me if you dare" stare. It is very easy to tie. It is durable too. I apply Fishn' Glue at every tie in point.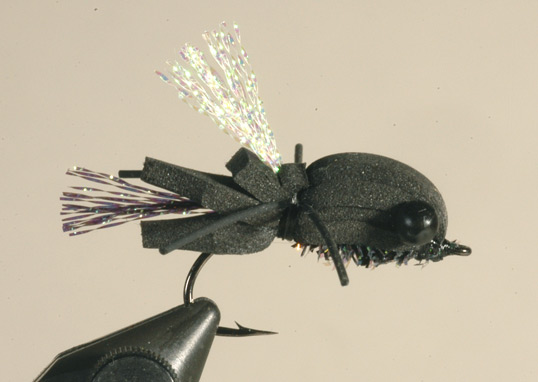 Have a great day and thank you for being here with us.
Byron Begley
November 18, 2011
Respond to: Byron@LittleRiverOutfitters.com
FLY FISHING CLASSES
Our fly fishing classes will be offered from March to October 2011. To sign up just call the shop at 877-448-3474. You can read more on our website in the Schools Section. The fly fishing class schedule follows:

Saturday October 8 – Beginner Day One
Saturday October 22 – Beginner Day One
Sunday October 23 – Beginner Onstream Day Two
Respond to: byron@littleriveroutfitters.com