Townsend, Tennessee - Great Smoky Mountains National Park
Welcome to the Fishing Report. Unlike yesterday morning, today is a gloomy one. A thin transparent fog is all but completely blocking my view of the Smokies. The sky is plain gray with no interesting features. That will change in a little while. The sky will be blue soon.
Little River is high, in fact it set a flow record again for today's date. That record is 756 cubic feet per second set in 1992. Today's flow is 1,190 cfs. Median flow for this date is 166 cfs.
Be careful wading. The current is strong. The water temperature early this morning was 55 degrees. We got ¾" of rain last night and the water is discolored, mostly from tannic acid caused by water running over the leaves before entering the rivers. That happens sometimes in the Fall.
If you go fishing today use nymphs heavily weighted. I know for sure I would pick a Girdle Bug and add plenty of split shot. I would stay close to shore and "high stick". You won't have to worry much about spooking the fish with this high and colored water. The water could clear and my perception of the color could be wrong. It was very early this morning, the sky was dark and when the sun pops out it may appear clearer.
It appears the high water we have had did not have a scouring effect on the stream bottom in Little River. That is good news since the brown trout a spawning or have spawned. They were late this year.
On the other hand, Jack told me the Oconoluftee River, where he fished last weekend was completely void of brown trout redds. He said there was recently deposited debris in the trees way above the level of the water he was fishing. Evidently, the North Carolina side got more rain than we did. Here, on November 16th, Little River rose to about the 2,800 cfs level at the Park entrance to Townsend. Last night the river peaked just a little over 4 feet or around 1,500 cfs. It is going to be sunny for a few days this week with no rain in the forecast until Saturday night.
I think Buzz, Dick and I finished the Clinch River Chapter fly tying book yesterday. We did this in two days. This will be their beginner tying class workbook. The full color portion contains 19 pages of instructions and photographs. They will do some more editing and we may make changes. But for the most part this is a done deal. The photo below will give you an idea of what it looks like. We had a great time doing this.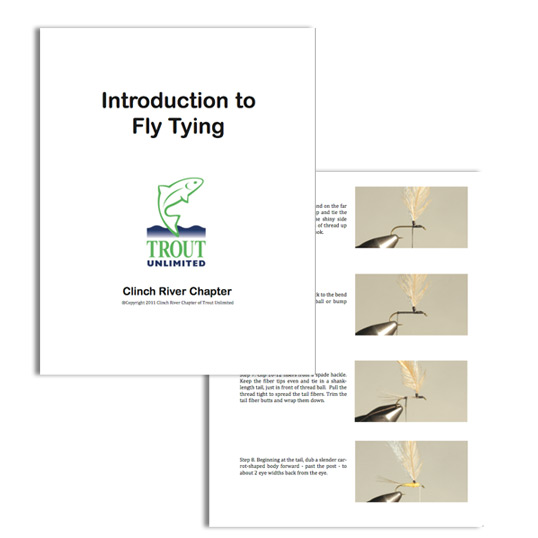 I've done my volunteer work for the month. I had to turn down some other people because of my commitment to Buzz and Dick. Next month I will be working with David Ezell on the Troutfest Website.
We will be closed tomorrow but open at 9:00 Friday morning. There will not be an updated fishing report tomorrow either. The water should drop today and overnight and hopefully the fishing will be good for the weekend. The water is going to be cooler than it is now.
Have a great day and thank you for being here with us. And have a great Thanksgiving.
Byron Begley
November 23, 2011
Respond to: Byron@LittleRiverOutfitters.com
FLY FISHING CLASSES
Our fly fishing classes will be offered from March to October 2011. To sign up just call the shop at 877-448-3474. You can read more on our website in the Schools Section. The fly fishing class schedule follows:

Saturday October 8 – Beginner Day One
Saturday October 22 – Beginner Day One
Sunday October 23 – Beginner Onstream Day Two
Respond to: byron@littleriveroutfitters.com