Townsend, Tennessee - Fly Fishing in the Great Smoky Mountains National Park, East Tennessee and Western North Carolina

Welcome to the Fishing Report. Wow, it is beautiful here right now. We got some snow last night. It was just a dusting but it is still coming down though lightly. The mountains look beautiful. I may have seen 10 vehicles on the roads this morning when I drove to work. It's just awesome out there. I raised the window in my office and took the photo below early this morning. My wide lens is at home so this one does not accurately depict what I saw.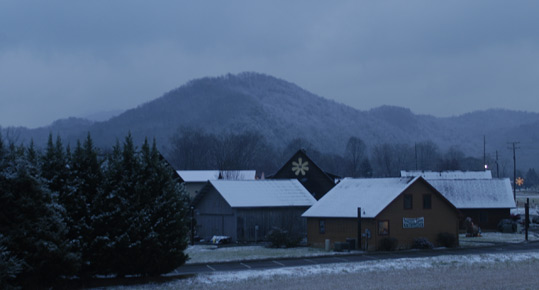 We got some heavy rain yesterday. Our gauge at the shop had exactly 2 inches in it. That brings the total to 2.75 inches in 48 hours here.
Little River is flowing at 1,410 cubic feet per second (cfs) or 4.03 feet on the gauge. Last night the gauge reading was over 5 feet. The water temperature at 8:05 am is 45.3 degrees. The river actually looked good. It is high but not flooded. It appeared to be fairly clear in town. The spring creek behind our house was muddy. That comes from the underground caves where we live in Dry Valley. Tuckaleechee Caverns is one of those caves.
Fishing will be slow today. The water temperature is not that bad, it's the flow that will make fly fishing tough to do. One of my friends is in the Park right now, pestering brown trout. I bet he is using a spinning rod. Wading could be dangerous. You can easily cast from the bank with a spinning rod.
It is going to be cold tonight, down to 16 degrees. Tomorrow will be warmer and Sunny. The weekend will be really nice with highs around 50 degrees Saturday and Sunday.
Heavier snow fell in the Park. It was not as bad as expected. Some roads are closed. Cades Cove loop road just opened 45 minutes ago. Newfound Gap and Clingmans Dome Roads were closed last night. Foothills Parkway East is closed. There is still a winter storm warning in effect in the Smokies until 4 pm.
Paula is preparing the Thanksgiving meal. She came home from the grocery a couple of days ago and saw a bear cub in front of the house. Paula watched the forest closely as she unloaded her jeep loaded with groceries.
We have this bear, the largest bear I have ever seen, living with her two cute cubs in our area. We've seen all three of them together only 15 feet from our back door. On a scale of 10, this female is a 10 in our area. The family visits the Appalachian Bear Rescue Center located a few hundred yards from our house occasionally. They know those bears well. Tom told me the sow weighs 500 pounds. He knows all about bears and their weight.
Paula is soaking our turkey outside in a large pot in brine. She is doing that on our upstairs porch. She won't be doing it on our downstairs porch. To get to the turkey, the bears would have to scale an 8 x 8 post to get up there. I still think she is taking a risk. We may have hamburgers for Thanksgiving dinner if the bears decide to climb a post. That sow didn't get that big by being stupid.
I talked to Joe and Gloria Humphreys yesterday, twice. Our phones went dead during the earlier conversation. They are getting ready for Thanksgiving too. They have more snow and cold temperatures at their home near State College, PA than we have here. We are planning to get Joe down here for a visit next Summer.
Big news in Townsend! We are getting an Ace Hardware. This is going to be a big store and it will open in January. A friend of mine, Kenny Myers will be the manager. It will be located next to the car wash and coin laundry in the former Family Dollar building. I went down yesterday to talk to the owner about digital phones and data. I suggested they use our IT people, a company called Analytical Systems in Maryville. They have been keeping us open and in business since 1998. The guys from Comcast told me they visited the site of the store and they need some help. So, I drove down there and looked everything over.
The Little River Chapter of Trout Unlimited handed over a $14,000 check to the Park Service Fisheries Chief Steve Moore this week. The money was raised through TU grants. I took the official photograph of the guys in front of the fireplace in our shop. After I took some shots, Mark Shannon, one of our customers and friends took one with me with the group.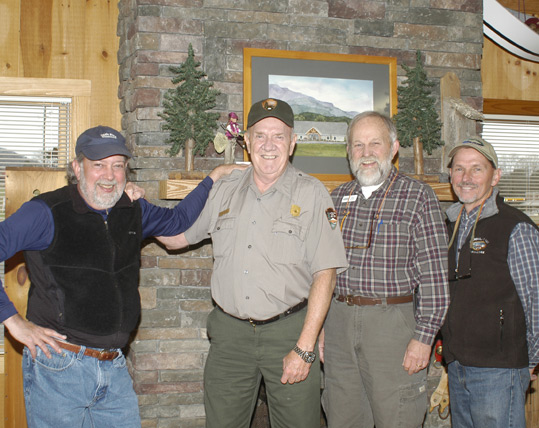 Pictured are Left to Right, Me, Steve Moore, Bill Bolinger and Mike Bryant. Bill is a very active volunteer in the Park and serves on the board of the Little River Chapter. He also works part time at the shop. Mike is the current President of the Little River Chapter.
I met Steve 20 years ago when I was organizing the chapter. I got a group of 14 people together and away we went. It took off. Our original and current goal is to provide volunteers and financial support for Great Smoky Mountains National Park's fisheries department. Steve is retiring in early January. I'm glad I got this picture. This may be last time I see Steve in uniform.
I am not Jewish but some of my friends are. Tomorrow is a very special holiday because Thanksgiving and the first day of Hanukkah are on the same day, which from what I've read, is rare.
We will be closed tomorrow for the holidays. I plan to sleep late, maybe until 7 am. I won't write this fishing report. I will be eating lots of Paula's great food if the bears don't beat us to it.
I hope you all have a wonderful holiday. We'll be back Friday. Bill Boyd Sr. and Bill Boyd Jr. will be tying at the shop Saturday. This is a free demonstration for you. Just show up. They will be tying between 10:00 am and 2:00 pm. We will also have a intermediate trout fly tying class on Saturday. We still have openings. Call us at 865-448-9459 to reserve your spot.
Have a great day and thank you for being here with us.
Byron Begley
November 27, 2013