Townsend, Tennessee - Great Smoky Mountains National Park
Welcome to the Fishing Report. It is cloudy and 38 degrees in Townsend this morning. I drove to work at 7:35 am. There was a surprising amount of traffic, mostly local people from what I could tell. Since the time changed and it is daylight when I leave home I see more people out in town.
It rained all day yesterday. What we had was a light soaking rain. During the past 24 hours our gauge collected 1.25 inches of water. The Airport received 1.91 inches. Unfortunately, there is more rain on the way today, a 70% chance. Then tonight we have a decent chance for snow.
Little River is blown out. The gauge is reading 5.04 feet. The flow is calculated now at 2,430 cubic feet per second. Median flow for this date is 257 cfs. Last night the river peaked at just over 4,000 cfs.
Even now, after the peak the flow, the river set a record for this date. The previous record was 1,420 cfs in 1983. The record low flow for this date was 36 cfs in 1988.
This has been a very wet November. The Airport has recorded 7.08 inches of precipitation this month. Normal is 3.69 inches.
Fishing in the Park is dangerous and lousy. Don't even think about wading. There will be kayakers on the river. I hope none of them get hurt or worse.
I took the photo below this morning early. You can see the swinging bridge. The water temperature was 50 degrees.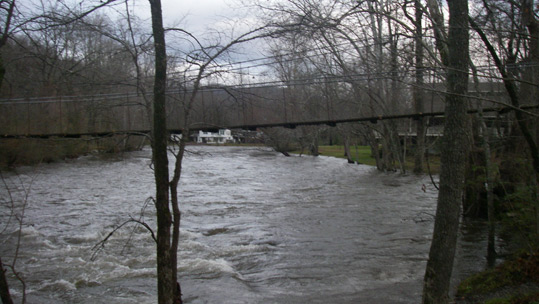 We are holding an intermediate fly tying class on Saturday. It will be taught by Walter Babb and Brian Courtney. Not many people have signed up. This is a great opportunity for you to learn some new techniques. In this class you will learn to tie the Parachute Adams, Light Cahill, Bead Head Pheasant Tail, Prince Nymph and Stimulator. The cost is $75. This is an all day class and lunch is included. Call us at 877-448-3474 to reserve your spot. This is a great class. FOR MORE INFORMATION CLICK HERE.
Bob Clouser called me yesterday to give me the news. Lefty Kreh's wife, Ev passed away last week. I think she was 85 or 86 years old. I will contact Lefty today. This makes me so sad. I feel awful for Lefty. I met Ev one time at their home near Baltimore. She was a sweet lady. I talked to her often on the phone when I called him. She was always so nice. I bet they were married about the time I was born.
Lefty has always treated me like a son. He always has advice and good advice, based on his experiences in the fly fishing industry and life. He, Rick Pope (Owner of Temple Fork) and I have had plenty of discussions about ethics. Lefty is an ethical and trustworthy man. So is Rick. Like I said, I am sad.
I'm ready for a day off. I got Thursday off last week. It was Thanksgiving day. I'm working diligently on our website. Look at the home page and you will begin to see what we are doing. I have been studying some of the finer sites in the world. I picked some features from several of them. The most evident comparison would be made to websites like Apple, Nikon, Patagonia, Porsche and Chevrolet. Apple, Nikon and Patagonia are very similar. Ours will look more like theirs.
We downloaded some new slideshow software. Daniel took few minutes to figure it out then he showed me what to do. Supposedly, this slideshow software makes a show without using Flash. That is our intent because Flash does not show up on iPhones or iPads. Steve Jobs said that Flash uses more battery power than other options. I have no idea about that. I just want everything on our site to show up on those devices.
Anyway, my brain is fried and I go home exhausted every night. This website upgrade is going to take months, working several long days each week. I know it will pay off though so that's why I'm doing it.
Hopefully the water will be down to a fishable level by the weekend. We'll be here for you if you need anything.
Have a great day and thank you for being here with us.
Byron Begley
November 29, 2011
Respond to: Byron@LittleRiverOutfitters.com
FLY FISHING CLASSES
Our fly fishing classes will be offered from March to October 2011. To sign up just call the shop at 877-448-3474. You can read more on our website in the Schools Section. The fly fishing class schedule follows:

Saturday October 8 – Beginner Day One
Saturday October 22 – Beginner Day One
Sunday October 23 – Beginner Onstream Day Two
Respond to: byron@littleriveroutfitters.com