Townsend, Tennessee - Fly Fishing in the Great Smoky Mountains National Park, East Tennessee and Western North Carolina
Welcome to the Fishing Report. It is cloudy and 51 degrees in Townsend this morning. Light rain fell this morning and continues to do so. So far, we have 1/10th of an inch in our gauge. Light rain is expected today. It is warm and will be that way for a few days. We'll see lows in the 40's and highs in the 60's through Sunday.
Little River is flowing at 74 cubic feet per second (cfs). Median flow for this date is 216 cfs. The water temperature at 8:00 am was 50 degrees. We are not expecting much rain and after today, the forecast calls for dry cloudy days for the balance of the week.
Trout are active in the Smokies due to the warm water. They are spooky due to the low water. You will probably do best fishing the larger rivers (Little River). Fish the deep runs and riffles where the trout can hide. Nymphs will work. However, Blue Wing Olives like dreary days. This is certainly a dreary day. Give the BWO dry flies a try too.
The cloud cover will be very favorable to you today. You won't be spotted as easily by the fish like you would on a sunny day. The trout will be more likely to venture out in slower water when we have clouds. It looks like we'll have cloudy skies until Saturday. An inch or so of rain would improve the fishing. It doesn't look like that will happen this week.
Yesterday was eventful. I met with Tami Vater, our new Director of Tourism. She moved here from Versailles, Kentucky to take the job. Then, I met with Mike Talley, the Townsend Mayor. Mike is an old friend of mine who runs the Talley Ho Inn.
After that, I talked to Frank Fiss, the Assistant Chief of Fisheries at TWRA. Frank told me about the Corps of Engineers (COE) plan to ban boat use below their dams on the Cumberland River and their tributaries. The distance below the dams that will be "Off Limits" has not been determined and will probably vary from dam to dam. I had not heard about this. Anglers will lose a lot of their former and prime fishing water if this plan turns out to be what it appears. Senator Lamar Alexander has contacted the COE office in Nashville and asked them not to do this without public meetings. Here is the story in THE TENNESSEAN.
I spent some time yesterday photographing the new Waterworks/Lamson Speedster fly reel. I have been waiting for these reels for months, since I first saw a prototype. These are beautiful, light and smooth. Of all the new reels I've seen this year, the Speedster is one I would really like to own. The reels will be on our online catalog sometime today.
The Speedster is a large arbor reel. Instead of making this reel wide to accommodate fly line and adequate backing, the reel is narrow with a larger diameter. To me, they look better on a rod than the normal wider large arbor reels. As you can see there is plenty of porting and machining to make them light. I also noticed they were easy to photograph. By that I mean, they are not shiny, they don't reflect much light. I didn't have to deal with much glare. The smallest reel for a 3, 4 weight costs $279. There are 5 sizes. The #3 which is made for a 6,7 or 8 weight line goes for $329. Cheap they are not. Beautiful, smooth and light, they are. We have two sizes in stock so far. OK, now you can see the models on our Online Store. Just click on the image below and you will be there.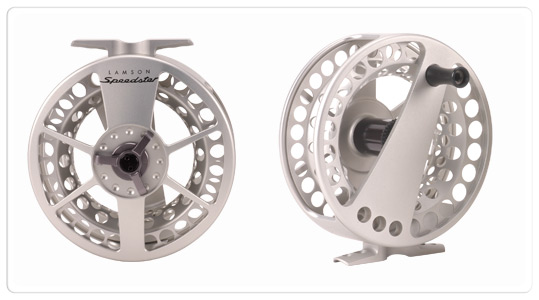 This will be an excellent day to fish. I hope you can.
Have a great day and thank you for being here with us.
Byron Begley
December 5, 2012
Respond to: byron@littleriveroutfitters.com