Townsend, Tennessee - Great Smoky Mountains National Park
Welcome to the Fishing Report from Townsend, Tennessee. It is 26 degrees, overcast and there is a little snow on the ground in town. Traffic was fairly heavy this morning for a Monday. I probably saw over 20 cars and trucks on my way to work. The snow looks great. But, many roads in Great Smoky Mountains National Park are closed. Highway 441 between Gatlinburg and Cherokee is closed. Little River Road and Laurel Creek Road to Cades Cove are closed. Most all roads in the Park are also closed. The Foothills Parkway between Walland and Highway 129 is open.
Fishing access is practically non-existent in the Park. Jack got into the Park early yesterday morning. At around 10:00, he was approached by a Park Ranger. The Ranger told him they were going to close Little River Road due to snow and ice. Jack asked "For how long?" The Ranger said they hoped to re-open around 1:00. Jack told him he would stay and fish. Jack came by here around 3:00. He had a super day of fishing, as usual for him, especially this time of year. His thumb was torn by a very large brown he caught and lip landed. When the roads open you might want to go. Use nymphs or streamers.
The flow in Little River at Townsend is currently 357 cubic feet per second compared to median flow for this date of 193 cfs. The water is very clear and 39 degrees this morning. Don't fall in!
You should have been here for the Townsend Christmas Parade yesterday. It was the largest one I've seen here and it snowed all day. The snow did not accumulate but the flakes were huge. That added more spirit to the people and the parade. I walked around and talked to a lot of people. Pat (our Mayor) and drove to Paul Reynolds house to pick him up. Paul was the Grand Marshall of the parade. We were driving a nice sedan donated for the day by Twin Cities Buick. When we got back I ran into Ed Mitchell our new County Mayor. We talked for a few minutes, I updated him on our TDOT solutions and we decided to get together later to discuss Townsend issues. He seems like a real nice guy. I will enjoy working with Ed on projects.
One project we will be working on is the plan to re-build Laurel Lake. A small group of us are meeting Friday to discuss this idea. Our plan is to advertise the idea to the public, find out how much support or opposition there is and if the opinions are positive overall, we'll move forward. This was tried a year ago and it fizzled out for some reason. I donated $400 along with 9 other people to raise money to clear the old lake bed. That was done and that was it. So, we'll see what the people have to say and maybe this can move on. The lakebed and surrounding land is owned by the County. The dam was breached about 20 years ago because it did not meet the new standards set by the State or that's what I was told. I saw the lake many times before it was drained. I didn't fish there though. Back then I concentrated my fishing on trout only. The lake size was about 50 acres and it is located just a short hike from my house. For that reason and others I'm for re-building Laurel Lake.
Below is a photo I snapped from my office window a few minutes ago. You can see the light snow here in town and on the mountains.
Have a great day and thank you for being here with us.
Byron Begley
December 6, 2010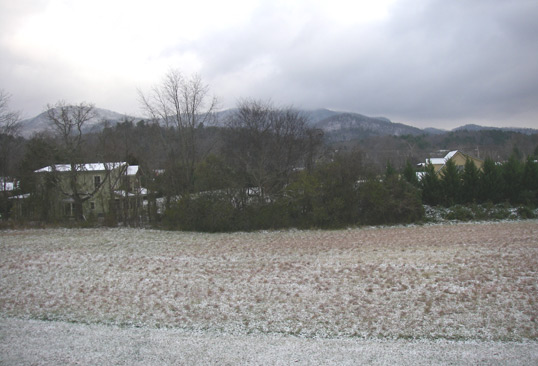 FLY TYING CLASSES
Our fly tying classes are starting Saturday November 20th. The first one is a beginner school. To sign up just call the shop at 877-448-3474. Daniel is posting the dates on our website today in the Schools Section. The fly tying class schedule follows:
Saturday November 20 – Beginner Fly Tying
Saturday December 4 – Intermediate Fly Tying
Saturday January 8 – Beginner Fly Tying
Saturday January 15 – Intermediate Fly Tying
Saturday January 22 – Advanced Fly Tying
Saturday February 5 – Beginner Fly Tying
Saturday February 19 – Intermediate Fly Tying
Saturday February 26 – Advanced Fly Tying
Respond to: byron@littleriveroutfitters.com