Townsend, Tennessee - Fly Fishing in the Great Smoky Mountains National Park, East Tennessee and Western North Carolina

Welcome to the Fishing Report. It is overcast and 57 degrees in Townsend this morning at 7:45 am. This weather is unbelievable. I saw a total of 4 vehicles on my commute to work. That's it. The USGS web page that usually gives us the water temperature inside the Park from Townsend has been down for two days. This morning, I stopped to take the water temperature. It was 52 degrees. I stopped by the IGA to get some breakfast and there were only a handful of people in the store. I mentioned to one of the ladies that there is almost no traffic in town. She said it was that way yesterday too.
Little River is still flowing slowly. Flow right now is 68 cubic feet per second (cfs). Median flow for this date is 215 cfs.
So, fishing is slow right? Nope. I'm talking to anglers who are doing very well and there are more of them reporting good catches than I've heard from for a few weeks. Sure, the water is low. But, the water is warm. The trout are active and feeding. Their metabolism is cranked up. They need food.
These conditions will change tonight. We are expecting rain through tomorrow night. The chance for rain is 100% tomorrow.
What won't change today is the warm water. The high today is expected to be 71 degrees. It is also overcast. That is certainly a benefit to anglers. The trout are not as spooky, they can't see you as well. Blue wing olives and midges are active. I talked to one guy yesterday who said he caught almost all of his trout on a #16 Blue Wing Olive pattern. He said he switched to a #14 and the fish wouldn't touch it.
So, I would usually prefer nymphs in December, but with these good conditions, I would start with a dry fly and it would be a blue wing olive #16 or smaller. Nymphs will probably work too. Try a Pheasant Tail.
Our weather will become more normal starting Tuesday. The low that night is expected to be in the high 20's. The rain should be over by Wednesday. The sun will be shining again.
I would get out there today and tomorrow and take advantage of these unusual fishing conditions. If it rains while you are fishing, all the better. Enjoy.
This would also be a very good day to fish the tailwaters and other areas nearby for trout and maybe smallmouth bass. I saw a photo yesterday of a 20" rainbow caught in a creek near Greenville. That thing was beautiful. Evidently it was a fall spawner.
I shot 36 photos yesterday of the steps involved in tying this Knucklehead fly that I've been fooling around with for over a year. I hope to work on the tutorial again today. This fly was my first attempt at tying something new and I started tying flies in 1962. I always tied variations of other flies but not a really new pattern.

This fly design was inspired by Kent Edmond's Stealth Bomber, one of my favorite patterns for smallmouth and largemouth bass. This one is not a diver and it is made with an extra layer of foam for higher floatation so I can see it. It has two big eyeballs. It works well in streams and lakes. So does the Stealth Bomber. My favorite three bass flies that I use around here are, Stealth Bomber, Knucklehead and the Puglisi Threadfin Shad. I'll add a Wooly Bugger to that list.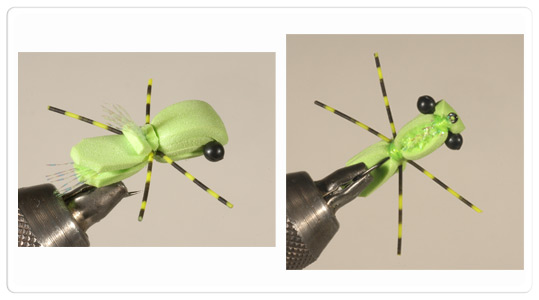 As you can see from the photos above, this is fly has a realistic profile. It looks "buggy". I'm not sure what it is supposed to be. I know this, it is a lot easier to make than a popper. It has 4 layers of 2mm foam in the front section for more floatation. Those lightweight nylon eyes are prominent. The Krystal Flash wing is easy for me to see. It is tied on a Gakatsu #6 stinger hook. I can tie one in about 10 to 15 minutes.
I know this fly works well for smallmouth bass. Jack has used them successfully for trout. I've caught largemouth bass, big bluegill and shellcrackers on them too.
I would like to get these tying instructions ready for you today. If I don't they should be available to you later this week on our website.
Go fishing folks. Right now is the time to go.
Have a great day and thank you for being here with us.
Byron Begley
December 9, 2012
Respond to: byron@littleriveroutfitters.com