Townsend, Tennessee
December 12, 2009

Welcome to the Fishing Report. It is COLD. I'm not sure if there is much a fishing report that can be written today. Here are the stats. Water Temp - 38F. Water level on Little River 570cfs and 2.85' on the gauge. Fishing in the Smokies will be difficult at best.
This time of year there isn't much point in walking miles into the backcountry to find a spot to fish. Fishing pressure and tourist traffic is low so you won't be crowded with people even fishing right along the roadside. Lower elevation streams will still be a few degrees warmer than the headwaters. Temperature is key this time of year. When it gets too cold trout just don't need to eat as much. Another big safety reason for not straying too far from the car is that if you were to fall in you need to get warm and dry quick. Hypothermia is a very real danger. Walking even half a mile in soaked clothes is not fun.
I don't know why it works like this....I mean trout are trout right? When water temps get super cold (below 40F) wild trout fishing really slows down. Stocked trout don't seem to care as much...or maybe they don't know any better. Winter is the time of Delayed Harvest water. If you aren't familiar with what Delayed Harvest is it is a stream or section of a stream where the regulations are single hook/artificial and everything is catch and release. The state comes in and stocks trout with the idea that the catch and release regs will allow for good fishing and give the trout a fighting chance of making it longer.
Tennessee has three such areas. Tellico from the mouth of Turkey Creek upstream to the mouth of North River. Paint Creek from Paint Creek Campground downstream to the mouth of the French Broad River. And the Gatlinburg area. You have to have a Tennessee license and trout stamp or All Species Non Resident license to fish these waters. If you are fishing in the Gatlinburg waters you are also required to have a Gatlinburg Daily Permit in addition to the other licenses. Gatlinburg is also still closed to fishing on Thursdays.
When the water is cold, these stocked still bite. It won't be super easy fishing...but it is usually better than the mountains. You can run into some rather large trout in the Delayed Harvest water. The state sometimes releases old brood stock.
Nymphs and streamers such as wooly buggers are the best bets for fishing such waters. Have some egg patterns also. Split shot is a must have. Especially right now when the water is still high you will need help getting the flies down to where the trout are.
We just received some new hats. Kids hats!! We only got a small order of 12 hats of each style so call quick before they disappear. When we run out it will take about two weeks to get more so it won't be till after Christmas.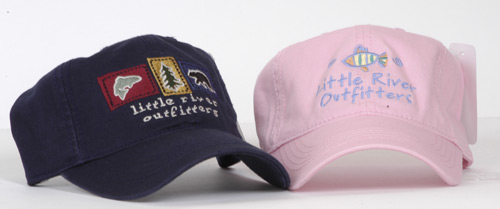 They are child sized with velcro adjustments on the back. Only $12.95.
Ok...if you go fishing....be careful and bring a set of dry warm clothes. Otherwise...stop by the shop to see us.
Have a great day and thank you for being here with us.
Daniel Drake
December 12, 2009
Respond to: byron@littleriveroutfitters.com