Townsend, Tennessee
December 13, 2009

Welcome to the Fishing Report. Thick gray clouds hang low in the valley this morning. Rain is falling lightly and looking at the radar it appears to be moving out of the area. We had 0.16" in the range gauge when I checked it this morning. Water levels are beginning to rise some. How high it goes will depend on how much rain fell in the mountains.
Looking on the Great Smoky Mountains Weather report New Found Gap received 1.20". That is alot of water that will be flowing down through Gatlinburg.
Water temperatures have warmed a few degrees since yesterday. Tomorrow is forecast to be a very nice day with highs in the 60's. If the water level doesn't come up too much today, fishing in the Smokies might be very good tomorrow.
Fishing in the Smokies today will be tough. Water temps are still cold and water levels will be on the rise. If you decide to go I be very aware of the water levels. Especially with as saturated as the ground already is there isn't much place for the rain to go other than downstream. Water levels can rise rapidly. Try to stay out of the water as much as possible.
Joe McGroom braved the cold yesterday and went fishing up on Little River in the Park. He said he did well. Well is always a hard term to quantify. Joe has been on the hunt for big fish lately, so "well" doesn't mean high quantity.
If you really need to go fishing today, West Prong of Little River could be a decent bet. It is a small stream and shouldn't be as affected by the rain. Remember to keep an eye on water levels.
I pulled up the release schedules for all the local tailwaters. Well....not much to report there. All are running tons of water. Some are generating.....others are "Spilling until further notice". TVA must be scrambling to get lake levels down to what they want them to be. It would be very bad to start the year with high lake levels and then have another wet year like we have had this year.
I noticed that the website has had over 1 million visitors so far this year. That is pretty amazing when I think about it. Everyone here at Little River Outfitters really appreciates all of you who stop by each day to read the Fishing Report and the Message Board (and hopefully other pages on the site). Without all of you visiting all our work would be for nothing. We'll do our best to keep the site to the level you have come to expect and we'll keep trying hard to make it even better.
Byron will be back tomorrow. Hopefully he'll have some wild tails of interesting characters and some dead hogs. Have a great day and thank you for being here with us.
Daniel Drake
December 12, 2009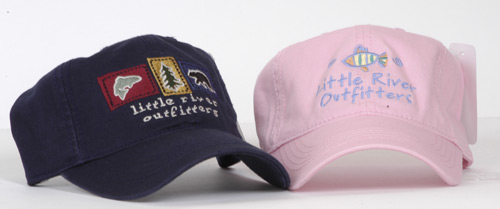 They are child sized with velcro adjustments on the back. Only $12.95.
Ok...if you go fishing....be careful and bring a set of dry warm clothes. Otherwise...stop by the shop to see us.
Have a great day and thank you for being here with us.
Daniel Drake
December 12, 2009
Respond to: byron@littleriveroutfitters.com