Townsend, Tennessee - Fly Fishing in the Great Smoky Mountains National Park, East Tennessee and Western North Carolina

Welcome to the Fishing Report. It is overcast and raining in Townsend this morning. We had almost an inch in our gauge at the shop when I got here. There is plenty more on the way. Traffic was very light on my way to work. I drove slow watching the tree line along Little River. I was watching for our bald eagles.
I could tell Little River was flowing a little higher than yesterday morning. The datum on the USGS website bares that out. Flow is currently 103 cubic feet per second (cfs) and rising. Median flow for this date is 270 cfs. The water temperature at 8:15 am was 46 degrees.
I think fishing in the Smokies will be good today and I know I'm going out on a limb. It is overcast. That is good. The water is warmer, another benefit. And there is an increase in flow coming down the mountains. That can be good or that can be bad.
Right now the water in Little River is not muddy. It is fairly clear. If that holds true in the Park, a little stain can certainly be an advantage to the angler.
What I don't know is what is ahead. You might find muddy water by the time you get here. We have a 90% chance for rain today and tonight. There is a 80% chance tomorrow. So, more rain could change the whole picture from good to bleak. I'm calling it good for now. We'll have to see what happens.
Nymphs would be my choice. I would pick a Tellico, Bead Head Pheasant Tail or Prince. I would have a big ugly fly like a Girdle Bug in my fly box. Blue wing olives might be on the water. They like this kind of day. So, have some dry flies, blue wing olives in sizes #16 or #18 in your box. You also might consider a San Juan worm, in the worm brown color. Earthworms are being washed into the streams.
Stan Smartt called me yesterday afternoon. One of the bald eagles that have been hanging around town and fishing in the river for months was perched in a dead tree at the Townsend Shopping Center. I grabbed a SLR camera, snapped in a 200 mm lens and drove to the shopping center. Sure enough, there was one of the eagles perched in a tree. Stan, Jerry and others were looking up.
I did not have a tripod. The photos I took are not very sharp. They had to be cropped to get what you see below. But, this was the best view I've had of these birds since they arrived about 3 months ago. What a magnificant bird!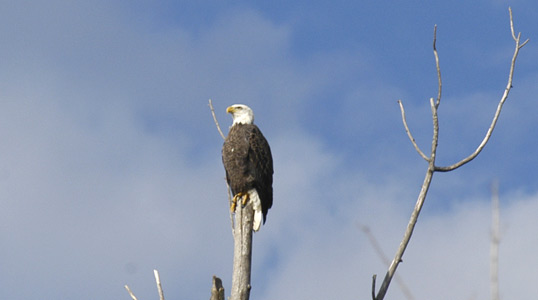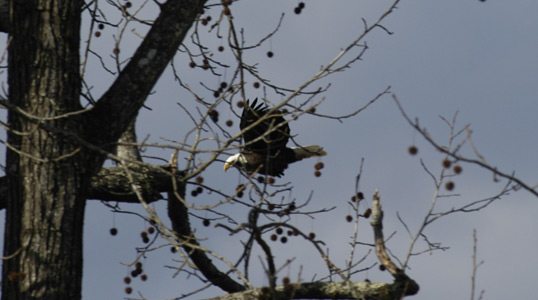 Jerry, who owns the Townsend Shopping Center told me there are actually two of them. Occasionally he sees both at the same time. They are a pair. Bald eagles pair for life unless one dies or there are reproductive problems. They sometimes find a new mate during their life. These two spend much of their time flying over Little River from Townsend down to Walland looking for fish. Stan saw one of them swoop down and pick up a dead animal from the road right in front of him. They may spend time in the Park. I see bald eagles on the Little Tennessee River occasionally. For all I know they are the same birds we see here. The Little Tennesse River is about 20 miles from here, as the eagle flies.
John Oliver was at the shopping center watching the bird. He is a direct descendant of the same John Oliver who, with his wife, were the first European settlers in Cades Cove. John asked me to e-mail my photos to him.
I told John that one of my best friends in the world is a Gregory. He is a descendant of Spencer Gregory who owned Gregory Bald and Spence Field. John said he is related to the Gregory family.
Like the clear skies at night where you can see the stars without light pollution to the bears that hang around our house, these eagles reinforce the notion that Paula and I live in a special place. I am forever grateful that I was determined to move to Townsend decades ago. I bought property here 25 years ago when I was 36 years old. I moved here and built a home on that property 20 years ago at age 41. Paula and I married after that. We are truly blessed.
I am hearing thunder right now. The rain is coming down fairly hard. Maybe this would be a better fly tying day.
Have a great day whatever you do and thank you for being here with us.
Byron Begley
December 16, 2012

Respond to: byron@littleriveroutfitters.com