Townsend, Tennessee - Great Smoky Mountains National Park
Welcome to the Fishing Report from Townsend, Tennessee and Great Smoky Mountains National Park. We made it through yesterday morning's ice storm. The temperature turned warm and snow melted on the mountains feeding our streams with new water. Townsend is quiet again this morning but not like it was yesterday morning. Clouds cover our town and the Park. I can barely see the larger mountains from my office. But, we should see some sunshine today. That will be a welcome change.
Little River is flowing strong. Currently the flow rate is 664 cubic feet per second. Median flow for this date is 263 cfs. The water temperature has risen to 40 degrees. Two days ago ice covered many of the slower pools. That is gone now.
Fishing might be fairly good. Warmer water could increase the appetite of post spawn brown trout. They won't be easy to see today due to higher water but they are there. I would not expect you to catch many fish today but your chances for a larger trout are looking better. Try nymphs and streamers.
A better choice might be a tailwater such as the Clinch, Holston or South Holston Rivers. I know everyone wants to go fishing including me.
Daniel and I have been busy updating our online catalog. Right now we are working on the Fishpond section. Most of their new products are in stock now. A new line of their luggage called the "Sporting Club Collection" will be available in March. Colors have changed and the whole line looks great and different.
We'll spend the winter updating the site and giving it a new fresh look. One addition to our website that I have mentioned before is adding fly tying video. That will happen sometime next year. I'm trying to decide how to do it. I looked at Vimeo. They don't want video that is in any way connected to businesses or trying to increase business. I can understand that. Another option is YouTube. They do allow business enhancement video. The third option is to load up the videos to our server. I talked to Thom, our host yesterday and we can do it but at some point we would probably have to get a larger server. Streaming video takes more bandwidth. That is still an option though.
There is so much to think about in business these days. The world is changing. More people are buying online and people are reading online or on digital devices. The business image has to fit with the digital world. Our brand and logo treatment will change. Older logos and store signs look out of place on the web. It's hard for me to explain but I believe it is true.
Have you noticed that font styles are different online than they are in printed materials. I don't see serifs online much and if I do it looks odd. Though I'm typing this in word using Times New Roman, I will change the font after it is coded to be on our website. It will be changed to Arial, which does not have serifs.
I believe store signs will evolve over the next decade to look more compatible with websites. Once you develop a brand you should use it on your building signs too. Store signs in Townsend are going to change. Before the last update to our sign ordinance, interior lit signs were not allowed. So we just put up hand painted signs and shined lights on them from the ground. It was a nice look, kind of rustic. There is only one problem with signs lit that way. It causes light pollution. Shining lights into the air and onto the sky will eventually eliminate visibility. You won't be able to see the stars. We like seeing the stars here. So, the City adopted an ordinance that does not allow any new lighting that does not conform to the Dark Sky Alliance guidelines.
So, thinking ahead I have started designing interior lit signs for our business. Interior lit signs will probably use LED lighting. That saves about 60% of the energy required to light a sign. We have brightness limitations here. The City even owns a light meter to check signs to be sure they are not too bright. That adds another element to sign design. You don't want to light the background. You only want to light the graphics. I will play with this for years before we make a change. But, if our sign blows down today it has to be replaced with a compliant sign.
I designed two signs last night. Our artist drew the fish around our logo for other uses. Below is one of them. Don't laugh too hard. It's just the beginning of coming of age in the digital world where seeing the stars remains a deciding factor and creating a brand that fits is important too. The final design probably won't look anything like this one.

Zach Matthews will be at the shop tomorrow between 10:00 and 2:00. Zach is known for his writing skills you have read in many fly fishing magazines. His website "The Itinerant Angler" which includes podcasts is very popular. Zach is a talented guy. He will demonstrate spey casting, talk about fly fishing photography and making his silly putty spoon flies. You will really enjoy this. It's free. Just come on by. For a detailed explaination of this event visit his website message board by CLICKING HERE.
Have a great day and thank you for being here with us.
Byron Begley
December 17, 2010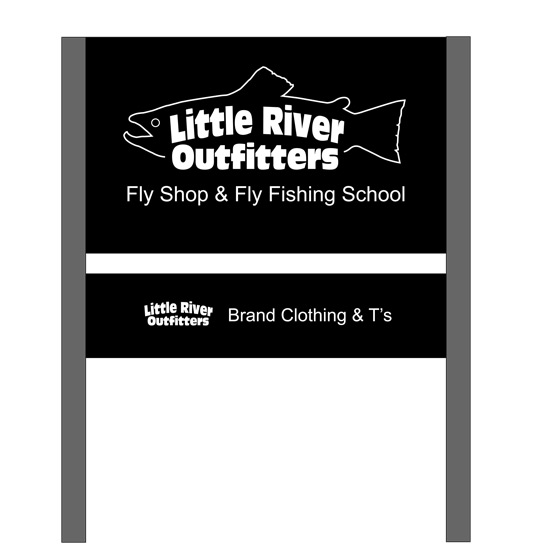 Respond To: Byron@LittleRiverOutfitters.com

FLY TYING CLASSES
Our fly tying classes will be held in January and February. To sign up just call the shop at 877-448-3474. You can read more on our website in the Schools Section. The fly tying class schedule follows:

Saturday January 8 – Beginner Fly Tying
Saturday January 15 – Intermediate Fly Tying
Saturday January 22 – Advanced Fly Tying
Saturday February 5 – Beginner Fly Tying
Saturday February 19 – Intermediate Fly Tying
Saturday February 26 – Advanced Fly Tying
Respond to: byron@littleriveroutfitters.com