Townsend, Tennessee - Fly Fishing in the Great Smoky Mountains National Park, East Tennessee and Western North Carolina

Welcome to the Fishing Report from the Great Smoky Mountains. I got here at 7:15 am this morning because I've got a lot of work to do. We had website problems yesterday that caused me to be behind. Needless to say, traffic was very light on my way to work. I couldn't see the river because it is dark. I can only imagine what it looks like, high and probably clear.
Flow in Little River right now is 1,770 cubic feet per second (cfs) or 4.42 feet on the flow gauge. Median flow for this date is 271 cfs. The water temperature is 52.2 degrees.
We had 1.5 inches of rain in the gauge this morning. Add that to yesterday's reading and we got a total of 2.75 inches in two days. The streams are blown out.
Yesterday, Little River peaked right at 6 feet on the gauge or nearly 4,000 cfs. Looking back to the beginning of the year using the chart below, you can see that there were only a couple of rain events that raised the river above the reading yesterday. One of them occurred on January 30th. The gauge height was 8.5 feet.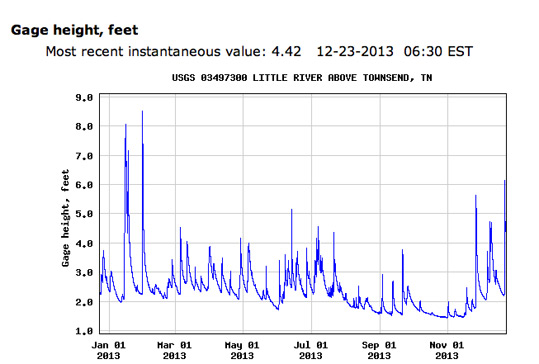 Needless to say, fishing in the Smokies is going to be slow and wading in many places will be dangerous. We will see cars and trucks toting kayaks heading into the Park today. I hope nobody gets hurt.
A cold front is approaching. We may see lows in the teens tomorrow night. The high temperature Christmas Day is expected to be in the mid 20's.
If you a visiting the Smoky Mountains for Christmas, and many of you are, I'm sorry if I encouraged you to bring your fly fishing gear. The weather forecasts changed for the worse. Actually, compared to other areas in America, we got off easy.
Our website pretty much went down yesterday. Thankfully, we have a guy who manages our hosting and serves as our consultant. He is available 24/7. He worked on the problem yesterday, which was Sunday when most people don't work. I always work on Sunday. Sometimes he does too. I remember one time we called him at 11:00 pm. That's part of the deal. We don't ever want to be down.
We will be open all day today and until noon tomorrow (Christmas Eve). Bill Hey and I will be here tomorrow. In the early days, 19 years ago, we closed on Christmas Eve. On one of those days, we got a call at home from a lady who was frantic. She was here with her family for the holidays. She thought we would be open and she wanted to buy a gift for her husband. I drove to the store, let her in and we picked out some gifts for him. After that, we decided to stay open until noon.
Most retail stores are open on Christmas Eve. We decided to be like most retail stores.
I got up at 4:30 am this morning, made coffee and started reading the news on my computer. The Washington Post had an article, "front and center" called, "Despair over the 'bug that ate Christmas'. That sounds like a nice Christmas story, doesn't it? I mean, "The Grinch that Stole Christmas" is a great Christmas story. This story was about the Woolly Adelgid, the bug that is killing our hemlock and other trees in the Smokies. This story is actually focused on the problems facing the Smoky Mountains and Southern Appalachian Mountians.
Paula and I have been watching the slow death of hemlock trees on our property. It is sad to see. We have some huge hemlock trees. Paula gathers the hemlock cones to make Christmas decorations every year. She told me just last week, "the hemlocks don't have cones this year". Maybe some trees do have cones on our property but around the house, I haven't seen any either.
There is hope. Scientists are trying to do something about the problem. They released beetles that eat Woolly Adelgid eggs. I hope it is not too late. You can read the article in the Post by CLICKING HERE. Watch the video at the top of the page.
Well, I better get to work.
Have a great day and thank you for being here with us.
Byron Begley
December 23, 2013