Townsend, Tennessee - Great Smoky Mountains National Park
Welcome to the Fishing Report. It is snowing in Townsend, Tennessee this morning. I can't see the Great Smoky Mountains but I can tell you without checking, there is plenty of snow and the roads are closed. I checked the snow depth with a ruler this morning in several places. The measurements were between 4 inches and 6 inches everywhere except on the parking lot. There is very little snow on the lot. The roads are fine if you drive slow. It took me fifteen minutes to get to work this morning and it usually takes five.
The snow started sometime early yesterday morning. According to KnoxNews.com this was our first white Christmas in 19 years. We had 2" on the ground at daybreak. The snow clung to the trees. It was beautiful. Below is a photo I took from our front porch. I can usually see the mountains from there through the trees. They were never visible yesterday.
I would say, fishing in the Park would not be a good idea. You could park at the gates and walk in but I wouldn't do it. Flow in Little River is about normal at 303 cubic feet per second. I did not check the water temperature today.
They say we are going to get between 1" and 3" of new snow. It is falling hard right now and I bet they are right.
So, there is not much to say about fishing and though we are here I don't expect many customers today. Chuck is sweeping the sidewalks, we'll throw out some ice melt and work on projects. Ethan and Daniel just came in. So here we are.
Have a great day and thank you for being here with us.
Byron Begley
December 26, 2010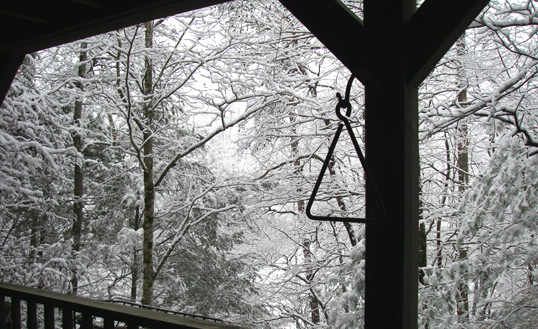 This is the view from our front porch on the main level yesterday morning. You can see we really do live in the forest. On a clear day in the winter we can see the mountains surrounding our side of Cades Cove. Not today!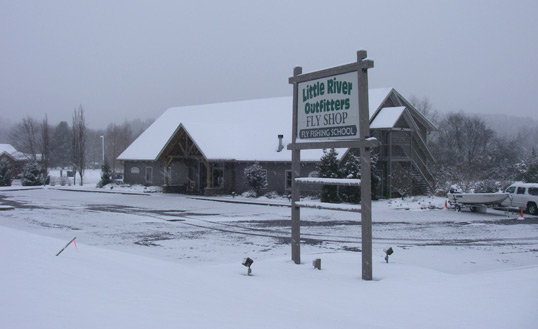 This is what the shop looked like at 8:30 am. We have 4" to 6" of snow on the ground. The Parking lot has some slush on it.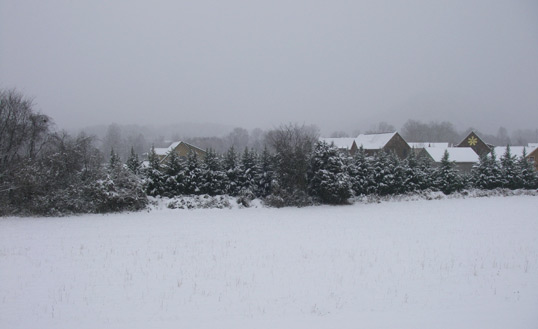 This is the view from my office this morning. I can usually see some small and some large mountains. Not today!

Respond To: Byron@LittleRiverOutfitters.com

FLY TYING CLASSES
Our fly tying classes will be held in January and February. To sign up just call the shop at 877-448-3474. You can read more on our website in the Schools Section. The fly tying class schedule follows:

Saturday January 8 – Beginner Fly Tying
Saturday January 15 – Intermediate Fly Tying
Saturday January 22 – Advanced Fly Tying
Saturday February 5 – Beginner Fly Tying
Saturday February 19 – Intermediate Fly Tying
Saturday February 26 – Advanced Fly Tying
Respond to: byron@littleriveroutfitters.com