Townsend, Tennessee - Great Smoky Mountains National Park
Welcome to the Fishing Report. The sky is clear and the temperature is 41 degrees in Townsend this morning. The restaurants are busy to be so early. The motel parking lots are full of cars. Today, begins the New Year Holiday. There are plenty of people in town right now. This is going to be a beautiful weekend in East Tennessee. High temperatures will be in the 50's through Sunday. Then it is going to get really cold, a low of 18 on Monday and a high of 33 if the forecast does not change. Now that will feel like Winter again.
Little River looks great. Flow is 392 cubic feet per second (cfs). Median flow for this date is 288 cfs. The water temperature was 42 degrees at 8:05 am. The current in the Smoky Mountain streams is strong and higher than normal. But it is definitely fishable. We are going to see the water temperature rise.
That will help the fishing. Fly fishing won't be great but you can catch them, especially on nymphs. You might even see a blue wing olive hatch. I would start with nymphs though. Put on some weight and drag the bottom. Keep an eye on the water temperature. If it does warm up, watch for surface action. But, for the most part, nymphs are the best bet. There will be some nice browns caught over the weekend. I know that because Ronnie and Jack will be fishing on Monday. They do it every year. If they don't catch a large fish, they will surely hook one. They will use nymphs or streamers.
Ronnie, (another Ronnie) caught a 30 pound flathead catfish yesterday. I saw him last night at City Hall. The fish is at his house and alive. I've got a feeling it will be released in the pool above the dam in Little River. He caught it on Tellico Lake while fishing for walleye. He told me to run down and look at it this morning. I probably will after finishing this report. That big fish will do well in the millpond pool and some tourist will probably hook it next spring. They won't land it though. They may never see it. But the experience will last a lifetime.
I caught an 8 pound flathead this Spring. I was fishing for smallmouth bass on Dale Hollow Lake with Paula. I was using a sinking fly line and a Puglisi Minnow which I tied to look like a threadfin shad. It was a fight I won't forget for a long time. I thought I had a 7 pound smallmouth. When I finally got the thing to the boat I couldn't believe it. A catfish! He was the largest fish of the trip. My fly, which probably took a hour to tie was destroyed. The fish lived to fight another day. Here's the photo.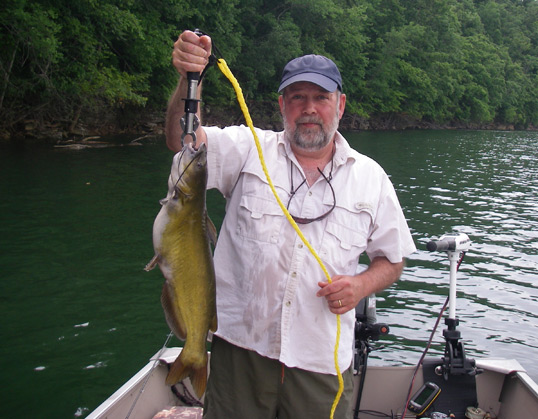 Most people don't know this. The dam in Townsend was built to generate electricity for the town. I can't find any photographs of the equipment or housing. All that remains is the dam. The pond above is an excellent place to fish but access is limited unless you know someone. My buddy Michael fishes there often. He keeps asking me to go with him. Lowell has a canoe on his property on the river above the Dam. Michael just uses that canoe. I think he has a key to unlock it. I'll talk to Lowell about this. He's a nice guy and I know he would let me launch a canoe at his place. There are some other businesses above the dam and the owners have told me to use their property. After 20 years, living here, I've never fished that stretch of water.
There are very few fur trappers left. I only know two. One of them traps otters in the dam pool. I think he catches beavers as well. I used to trap when I was a teenager. My partner, Johnny Carnes and I had a fairly large trap line. We caught mink and muskrats. We checked the traps after school. And we made quite a bit of money doing that. The problem was, at night we had to skin the things. Johnny's dad helped us. We did not have otters or beavers back then in Central Kentucky. And mink were rare. But there were plenty of muskrats and large pond owners wanted us to rid their property of muskrats.
We had a retirement party for Claude, our City Building Inspector last night. It was a great time. I will miss Claude. He served for 11 years. The Building Inspector position is a part time job, 2 days a week. The City Council as not made a decision on who to hire. I know of one architect who applied for the job. I think he would be a good replacement for Claude.
It's time to get to work.
Have a great day and thank you for being here with us.
Byron Begley
December 30, 2011
Respond to: Byron@LittleRiverOutfitters.com