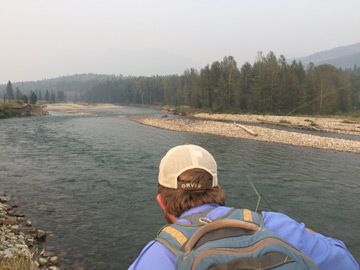 Pat sneaking up on a likely spot in the river.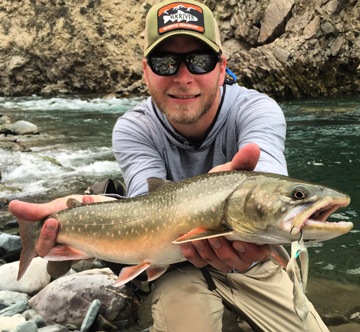 Dan (above) holding a large bull trout.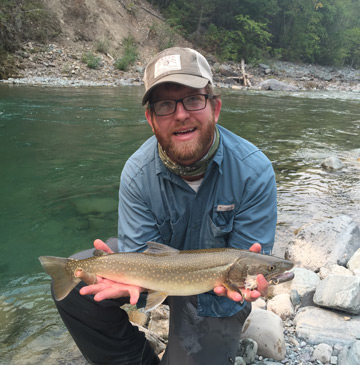 Pat holding another bull trout caught on a streamer.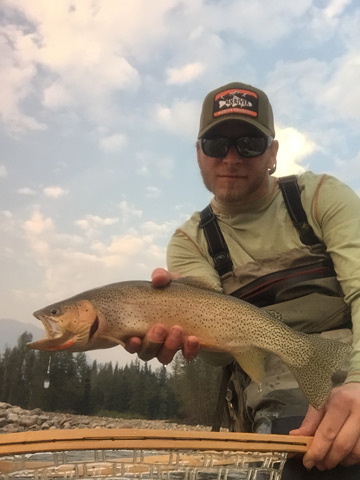 We caught cutthroat trout like this one. It was amazing!
I should probably start by saying that traveling to a new place to fly fish is one of my favorite things in the world to do. Any of my friends or family that have gone on a trip with me or allowed me to go on a trip with them have seen it firsthand. With that being said, I think apologies are in order for those people that see me often, because within the next few weeks they will hear me talk over and over about how incredible British Columbia is.

In fact, Daniel Drake will probably grow so tired of hearing about chunky 18 inch West Slope Cutthroat eating a size 8 hopper that you guys might want to check your 6 when you come into the shop and say "How was your trip Dan?!" Daniel is not a violent person, but he's gotten pretty good at throwing a Simms Freestone boot at the back of my head when he hears the same story over and over.

All joking aside, Fernie, British Columbia is now my favorite place to fly fish for trout. My expectations were high for this trip, and somehow the end result was even better than I anticipated. I went on the trip with one of my best friends Pat Tully, his father Steve, and a friend of theirs from Alaska named Chris. This was their 4th trip to the area, and when Pat invited me to tag along back in March, I knew I couldn't turn it down. They stay in a wonderful lodge that sits on 90 acres and borders the middle section of the Elk River called Elk River Lodge. The anticipation of a big trip is almost as exciting as the trip itself, and surely Pat was exaggerating when he kept telling me that 15-17 inch Cutties were a regular occurrence and 18-20 inch fish weren't out of the ordinary.
He was not exaggerating.

The dry fly fishing for native Westslope Cutthroat was as good as you can experience anywhere. As we got into the groove of our trip, I found myself toiling over how I wanted to catch fish that day. Did I want to walk through a pasture and slam down a size 8 hopper along the bank? Did I want to find a nice slick pool and pick off risers with a smaller mayfly pattern? If I really wanted to be unfair, maybe I could find a windy section of the river and drift an ant along a bubble line.

Maybe later in the evening, I would skate and skitter a big dry fly across a pool and watch the fish fight over it. All of those options usually ended with a beautiful fish rising vertically from the river bottom to slowly engulf my bug. The water in the Elk Valley is clear with a blue/green tint, and one of the hardest challenges was making sure that you didn't rip the fly off the water too soon when you saw a fish cruising up to eat.

What Pat was unable to describe (or maybe what I was unable to understand) before the trip was how vast the Elk River Valley is and how few people are around to interrupt your fishing. As it turns out, roughly 90% of the land in British Columbia is public.

Think about that for a second.

Coal Mining and logging are the main industries in the Elk River Valley, and the entire Valley is a network of gravel roads. The gravel roads range in difficulty from rough to completely impassable, and a big factor in deciding where to fish every day is making sure you don't destroy the rental car in the process. Great fishing is awesome, but great fishing with no one else in sight is something special.

We wade-fished a different section of river every day for 6 days, and I can only think of one day where we saw a fly fisherman that wasn't part of our group. One afternoon, we drove upstream along a gravel road for an hour and a half, and the fishing was fantastic. In about 4 hours of fishing, we figured that we landed somewhere between 70-90 fish between the 4 of us.

One of my bucket list items for this trip was to try and catch a big Bull Trout on the fly. For those of you that don't know, a Bull Trout is a species of Char, just like our beloved Southern Appalachian Brook Trout. They are very similar to a Dolly Varden, and they weren't classified as a separate species until somewhere around 1980.

Bull Trout are listed as a threatened species under the U.S. Endangered Species Act and require a very specific habitat, and a lot of the rivers in British Columbia happen to have the perfect habitat for them. They are heavily protected and the locals consider it a privilege to catch one on the fly and watch him swim away, and that's exactly what I intended to do.

Even though they are a fragile species, they are certainly not a weak fish. They are, without a doubt, the meanest, strongest, and most aggressive species of trout I have encountered. I would equate them to a big Brown Trout that has the bad temper of a Northern Pike. After a long 6 mile hike into a very remote canyon, Pat and I found ourselves hooking nice Bull Trout in every good looking run that we swung our streamers through. We found that the key to hooking Bulls was getting your fly down quickly.

I was casting my favorite big rod, a #8 Orvis Helios 2 with a 350 grain sinking line. Even with a heavy sinking line, there were times when a monster Bull at the bottom of a pool was too deep for our setup. Our streamers were big and heavy, and we had to test our "chuck and duck" skills while battling gusty winds. We each landed 5 or 6 really nice fish that day, and we agreed that we had both had about 15 strikes. As always, the biggest fish that I hooked that day came unbuttoned. I don't know what he would have measured, but I got a good look at him up close, and he was terrifying. Every strike was a vicious attack that gave you a shot of adrenaline, and I found myself missing that adrenaline on the grueling hike out of the gorge. All in all, that day was one of my favorite days I have ever spent with a fly rod in my hand.

In addition to the fishing we did, there are endless options to book a guide and float for either Cutties or Bull Trout. I had the pleasure of meeting and spending quite a bit of time with Paul Samycia, owner of the Elk River Guiding Company and Fly Shop. Because of what I do at LRO, I have an appreciation for someone that goes out of their way to make sure that a customer has a good fishing experience, and Paul did just that.

It is safe to say that I will make my way north to BC again within the next few years. I owe a big Thank You to Pat and Steve for inviting me. I must say that even if the fishing would have been horrible, I was surrounded by good company on and off the river and it was pleasure to spend the week with those guys. I also owe a Thank You to Paul and the whole crew at Elk River Guiding Company for not making fun of our southern accents and for being so hospitable. If you find yourself planning a trip that way, give me a call and I'd be happy to point you in right direction.

Canada, EH!!

For more information on the great lodge where we stayed, CLICK HERE.