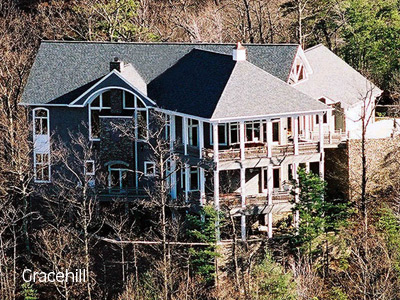 Gracehill is a Bed and Breakfast with a 360 degree view of Great Smoky Mountains National Park and it is the highest home in Blount County. It is located near Townsend. In fact, we can see it from our store…way up there. The structure is a architectural and engineering masterpiece that is finely appointed and decorated throughout. The owner calls Gracehill "Black Tie Class – Blue Jean Comfort".

Gracehill, two and half years in the making, was newly opened Thanksgiving of 2000. Imaginative and innovative Gracehill is a luxury accommodation. Without using a lot of adjectives we are hopeful the facilities will meet and likely exceed your expectations.
The exterior is cedar shake siding and 200 tons of mountain dry stack stone. The interior is light filled with floor to ceiling windows. Gracehill is decorated with an eclectic blend of antiques and contains tin ceilings, stacked stone, stained glass, original art, and 12 foot high ceilings are found through out.
The patios are local tumbled marble. The landscaping starts on the approach, winding up the side of Little Round Top Mountain. Other than the 80 bush formal rose garden the landscaping and water features are natural and blend into the woods.
Gracehill has enough verandas (2000 sq ft), patios, and gardens for each guest to sit and contemplate life in solitude. The privacy is second only to the view. Although they are in the country there is nothing "country" about Gracehill! Rates range from $275 per night to $325 per night.
A wonderful breakfast is served every morning, box lunches will be provided upon request and the evening meal is a choice of 100 restaurants from 5 to 18 miles away.
Gracehill features a spacious Fitness Center with a broad array of equipment and an area to do massages. For additional exercise, take a walk down the road a mile to the mailbox, change in elevation 1000 ft. With a short drive you may also pick up a national park trail or simply "work" lifting the binoculars or swiveling the telescope to watch the birds. Wind up your exercise with a dip in the hot tub on the veranda, or a soak in your private whirlpool.
Richmont Inn is located near Townsend. Located on a forested mountain, the inn is fashioned in the architectural style of the Appalachian cantilever barn and faces scenic views of towering Rich Mountain and more breathtaking smoky mountain views. This intimate mountain Inn is decorated with 18th century English antiques, French paintings, and with fine gourmet meals, dishes up the very best in bed and breakfast - and Smoky Mountain Memories.
Richmont Inn has four guest rooms and soon there will be a detached cottage on the grounds. Rates range from $160 to $220, based on double occupancy. In addition to the major amenities listed, rooms also include piped music, coffee maker, coffees & grinder, lounging robes, hair dryer and stocked refrigerator. From the lodge you will have outstanding views of the Great Smokies? Also, they now offer a selection of fine wines and imported beers.
The complimentary breakfast includes a cereal bar with homemade seven grain granola and crunchy, shredded wholegrain wheat with choices of numerous dried fruits, hot oatmeal- ambrosia, yogurt, and freshly squeezed orange juice. This is followed with such dishes as French Baked Eggs, Apple Cinnamon Oatmeal Pancakes with maple syrup, and French Toast L'Orange with rum soaked bananas. A favorite is Richmont Inn breaded with flour, spices, and herbs, and then baked. Both 100% Columbian regular and decaf coffees are available.

Richmont does not serve lunch or dinner. They do have a nightly desert that people have been talking about for years. Freshly made by their Chefs, desserts include our Gourmet Magazine Award Winning "Crème Brulèe Kahlua", Double Chocolate Torte, Grand Marnier Glace Soufflé and frozen Strawberry Sassis Soufflé. We serve some of the finest flavored coffees, freshly ground and decaffeinated.
After Dinner Drink ideas: Relax with a hot coffee drink topped with fresh whipped cream such as Kahlua Coffee, Irish Whiskey Coffee or Irish Cream Coffee.

Richmont Inn Website


Copyright 2006-2009 Little River Outfitters, Inc.