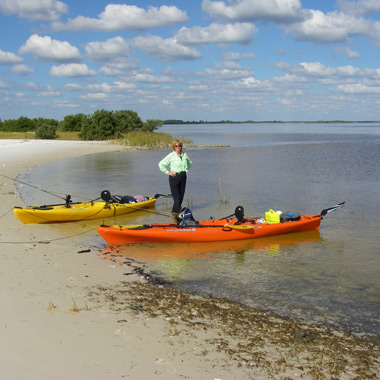 (Above) Paula standing on Atsena Otie Key near Cedar Key Florida. This large island is one mile offshore from our condo. The kayaks are 13' 5" long and 32" wide. They are self bailing and almost impossible to turn over. The kayaks are equipped with rudders that are controled by two foot pedals. These rudders proved to be essential. (Below) I am about to release a redfish. Notice the tannin colored water which we found at times.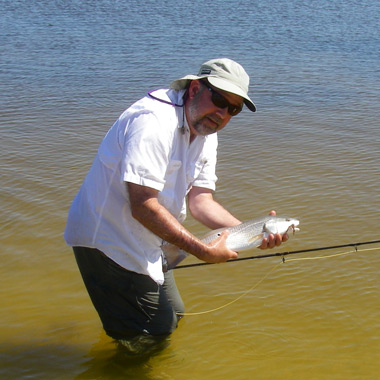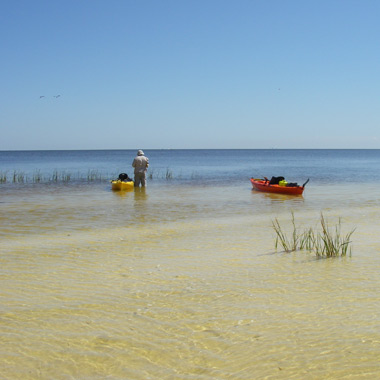 (Above) Jack changing flies on a beach we found on an uninhabited island. This area of Florida has many islands that are protected by a National Wildlife designation. At certain times of the year, on some islands, when birds are nesting you are not allowed to step foot on them. (Below) This is the view from the condominium we rented at Cedar Key.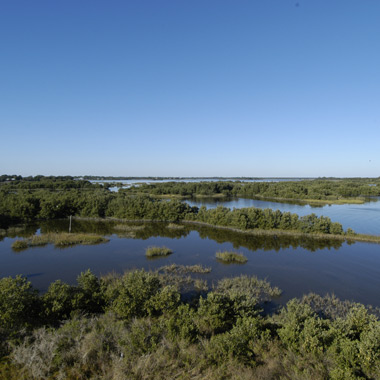 Cedar Key, Florida was once a commercial fishing village. The net ban put many of the residents out of work. The University of Florida and the State helped the displaced fishermen learn to raise clams. Now they are the largest clam producer in Florida. We bought fresh clams at a processing plant. They were great. In order to raise clams a sewage treatment plant was built. As a result, the water here is very clean. That turned out to be good for everyone.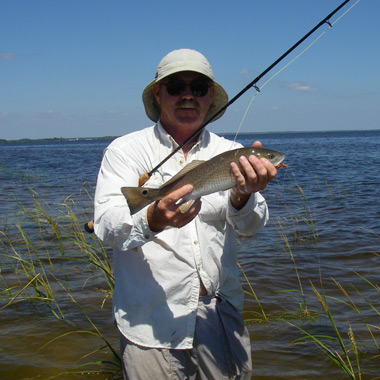 Jack holding a beautiful young redfish.
Paula and I were fishing with Cpt. Les Flaherty in an area near Horseshoe Beach, Florida. It was very shallow and we entered the skinny water at high tide in his large flat bottom boat. Redfish started tailing but we had not figured out what flies would work. All of a sudden Les announced it was time to go. We couldn't stay or we would be stuck in a maze of oyster bars. Darkness would fall and we would be there all night. That is when I decided we need a way to get to places where a boat can't go. That was three years ago.
That event has haunted me ever since. I was talking to Joe Hatton one day. I knew he liked fishing from kayaks. Every time I was around Joe I brought the subject up. He taught me a lot about the boats and suggested we buy Wilderness Systems Ride 135 kayaks. He told me they were extremely stable and would hold a lot of gear.

The next step was to call my friend Allen Doty at Cumberland Transit in Nashville. He helped me pick out all the gear, a rack for my truck and ordered the boats for us. I wanted bright colored high visibility boats that could easily be spotted by a rescue helicopter or cruise ship. I picked orange and Paula liked yellow. I drove to Nashville and picked up everything. Then I started ordering all of the other safety equipment that we would need. After all we were going to be in the ocean and maybe miles from shore. So we bought marine radios, a GPS, first aid kits, flashlights, strobe lights and a lot of other things one might need if bobbing around in the ocean for a couple of days or stranded on an island in the middle of nowhere. The marine radios were to be used to call the Coast Guard. The GPS would come in handy if the question were asked, "Where are you?"
I spent hours online and searching charts of the Big Bend area in Florida. It is hard to find a condo for rent in that region unless you go to the higher traffic tourist towns such as Crystal River. But I finally found a small town, on an island with a few condos for rent. I found Cedar Key. I found Cindy and John online thankfully. They own two condos on the island equipped with high speed internet, two bedrooms and both were on the water. I booked two weeks, one in September and one in October.
Jack Gregory and I made the first trip down to Cedar Key. The weather was not great. The wind was out of the North and it was cool. One day we couldn't go out at all due to the wind. But on the fourth and fifth days the wind died down and the fishing was pretty good. We drove down to Crystal River and fished just outside the mouth of the river where it flows into the Gulf. We caught a few redfish and several other species on the trip but the fishing was not great. Most of our fishing was in the Cedar Key area. It is very shallow there which is perfect for kayaking.
Paula and I went back to Cedar Key a month later in Late October. The weather was terrible. The wind blew out of the north, the gulf was white capping and it was cold. One night the temperature dropped to 38 degrees. We couldn't get on the water until noon on the fifth day. We paddled about 5 miles that day looking for fish in shallow water. We couldn't find them. They were holding in deep water. The bait fishing guys were doing well but the conditions were not right for fly fishing.

On both trips we learned a lot about the area and kayak fishing. I must admit the first time we shoved off and started paddling I was a little nervous. I had never done this before. But after a few minutes I felt right at home. Boats went by and threw some good sized wake toward us and the boats handled that fine. One day Jack and I encountered some 2 foot swells in shallow water. The tide was ripping out and the wind was blowing strong to our back. The force of the tide against the wind created these swells. These boats are self bailing so if water gets in the main compartment where you are sitting or in the storage area behind you it just runs out into the ocean. You might get wet but there is no way you can fill up with water and sink unless one of the storage hatches are open and water flows in.
Fly fishing out of a Kayak is not easy. The hard part for me was getting the boat into position when I saw a fish. There is a lot to handle in the wind when you are trying to drop an anchor while holding a paddle and let out the rope to get your boat into position to cast to a tailing fish. It was tough for me. I found out later that stake out poles are the way to go. You can push them down into the mud or sand through the drain holes in the bottom of the boat. You are then locked into position. If your pole is long enough you may have four feet sticking up out of the cockpit so you could stand and hold on to the pole and cast.

Casting was not hard even though you are sitting at almost water level. You can't cast as far as you normally could but you don't have to. In a kayak you can sneak up on the fish.
Another thing I found to be hard was reaching behind to get stuff out of the storage compartment. When Jack and I were fishing at Crystal River a wildlife officer pulled up to me in a fairly large boat. He wanted to check my license and fish which I had not caught. My fishing license was in a box in the large storage compartment behind me. It was hard to get to the box and we were out in the gulf in deep water when he checked me. I finally got to the box. He wanted to look in my dry compartment in the front of the kayak. That would have been another struggle. Finally he decided he didn't need to check the front compartment.

I'm sure we will learn more as time goes on. What we did like is the ability to transport a lot of gear for miles in extremely shallow water. It was more enjoyable to paddle out to an island, park the boats and wade fish. We had plenty of tackle, an extra rod and reel stored in the front dry compartment, a cooler full of ice, water and soft drinks, food, camera and just about anything else you want to take. We had more than enough room for gear.

The paddling and exploring was a blast. I could paddle between 2 and 3 miles per hour. A one mile jaunt out to an island is easy. You don't get out of breath or very tired. Kayaking is an efficient way to travel.

We got so close to wildlife that everything looked larger. We had porpoises swim by and they appeared huge. You could look right into their big eyes. Of course we were on their level and they were about as big as the boat. So your perspective is different than when you are higher off the water in a flats skiff. And, the wildlife tend to get closer to you when you are in a small craft like a kayak. Jack spooked a huge ray. The huge ray also spooked Jack. The water exploded behind his kayak and the splash appeared to be as large as Jack's boat. My guess is the rudder probably scraped along the back of the ray in shallow water.
Rudders make paddling much more enjoyable. Our boats are equipped with foot pedal steering. You don't have to be constantly changing your paddle stroke to keep the kayak on track. You simply push with your left foot to go left and do it with your right foot to go right. Our rod holders point the rod straight to the bow of the boat. You can use the rod as a sight. Keep the rod pointed to your destination using your feet to steer and you will track well and get there quicker.

Kayaking in the ocean or on a lake is a great way to spend time relaxing. The whole experience so far has been wonderful. Learning to fish out of a kayak is going to be an interesting challenge. That will come with time. I have spent many days and hours in boats and canoes. But, this beats anything I have ever done on the water. I can see now why kayaking on the ocean and on lakes is becoming so popular.

Cedar Key is a beautiful place. It is not a destination where famlies go to enjoy a beach. What you will find there is protected land, shallow flats, local folks and a small town that has not changed much in a long time. It is still "Old Florida". Cedar Key is a village on an island with about 700 residents. Tourism is not a large industry, not even close to what we have here in Townsend. Most people would not want to vacation there. It is perfect for us. I can't think of a better place except for maybe Port St. Joe. I will report on this area in future articles. We'll be going back.

Byron