Townsend, Tennessee - Fly Fishing in the Great Smoky Mountains, East Tennessee and Western North Carolina

If you don't see today's fishing report, refresh your browser.

Welcome to the Fishing Report from the Great Smoky Mountains. It is foggy, dark and 60 degrees in Townsend, Tennessee. Cold air has moved into our area and it feels like Fall. Water temperatures in the Smoky Mountains streams have dropped into the trout's preferred range in the lower elevations.
Little River is flowing at 133 cubic feet per second (cfs) or 1.66 feet on the flow gauge. Median flow for this date is 70 cfs. The water temperature at 6:15 am is 64.5 degrees.
We'll have nice days all week through the weekend. High temperatures will be around 80 degrees. Lows at night will range from the high 50's to slightly over 60 degrees.
You could not ask for better September fly fishing conditions. What we have now is rare.
Trout will be active in all low to mid elevation streams. It will be comfortable for people too. The high elevations will be chilly in the mornings, maybe in the 40's. Throw in a layer or two if you fish there.
Trout should be taking dry flies. Sometimes, when the stream temperatures drop, they won't at first. Then, it is time to fish sub-surface. Nymphs, like Green Weenies, Pheasant Tails, Tellico Nymphs and Prince Nymphs are a good choice. Most any dry fly will do if the trout are looking up. A Neversink Caddis, Elk Hair Caddis, Parachute Adams or Yellow Stimulator will do. A black foam beetle might be perfect.
Cooler water will be flowing into the lakes. Fishing is already picking up on some lakes.
Fall is my second favorite time of year. September can be warmer and dry. Streams in the Smokies are usually lower in September. Not this year.
Jack and I were talking the other day about the best fish we ever caught. Your best fish is not always the largest fish.
One of my most memorable fish lately was a smallmouth bass that weighed probably 2 pounds. I was fishing a lake, casting a Knucklehead to the banks. That bass rose and took my fly. I set the hook and missed. I continued with a backcast and shot that fly right back to him. Before the fly it the water, I could see that smallie swimming around in circles, looking for the fly he missed. When the fly hit the water, the bass took it again. I got him that time. You don't forget moments like that.
Jack and I were fishing with a tarpon guide name Doug Cole in Florida. Jack had a tarpon, not a huge one but big enough, following his fly. He kept stripping and the tarpon kept coming right to the boat. With his leader in is rod guides, Jack lifted his rod to keep the fly moving. The fish kept coming. At the boat, not a foot away, the tarpon opened it's mouth and sucked in the fly. His head came out of the water. The 70 pound (estimate) fish turned and Jack fought him for a while. He lost it. But we marveled at what we saw. I was sitting in the boat and that big fish head was probably two feet from me when it took Jack's fly. That was cool. That ranked as a favorite fish.
Jack says his favorite fish is a 12" rainbow he caught in the Park. He has caught many brown trout in the 26" to 30" range. Still, his favorite was this rainbow. Jack was fishing with a dry fly, which was floating with the current back to him. The rainbow started following the fly. Then, something happened that happens to all of us. The fly caught a twig in the water. As the current passed by, the fly held there motionless, hung on that twig. The trout stopped and watched the fly. Not wanting to miss an easy meal, the rainbow swam up to the twig and fly, then sucked the fly right off that stick. Jack landed the trout.

We love enjoying nature and we often experience things that are remarkable. In our favorite activity, we witness animals, trees, fish, insects and many natural events in our environment that are unusual to us. I think that's the main reason we go. We are constantly looking for something unique in nature.
I like looking at rock formations. Wondering about how that stream cut through the earth sparks my interest. How long did that take? It's sometimes hard to think about, but, we see creatures, we live with, kill and eat other creatures. You don't see that sitting in an office all day. You do see it out here in the forest. We are drawn here for that reason. When we wade into a stream, we are entering an ecosystem or part of one. We become part of that ecosystem.
You may be a hiker, paddler, bird watcher, wildlife photographer, hunter or fisherman. We are all really the same. We are there for the same reasons.
Every day fishing is a good day. Some are better than others. Once in a while, something happens that is unusual and unforgettable. Think about it. You have some favorite fish too. I hope you catch one soon.
Have a great day and thank you for being here with us.
Byron Begley
September 18, 2014
Respond to byron@littleriveroutfitters.com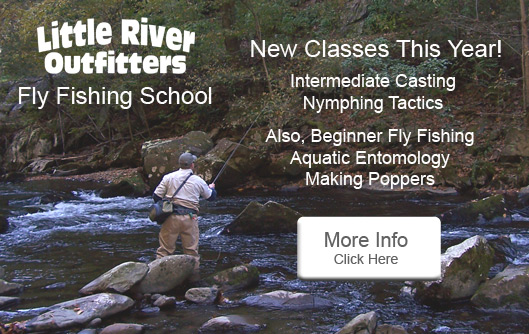 Please enter your e-mail address in the box to the left to sign up for our e-newsletter. You will receive news about the shop, Troutfest, sale information, fishing info and more important information a fly angler would want to have.

You can opt out at any time. If you decide you don't want to receive our information just change your status or click at the bottom of an e-mail we send you in the "Remove" box.

We do not sell or give your e-mail address to anyone. And, we won't hound you to death with e-mails. You will just get a few per year. Thank You for supporting us.