If you don't see today's Fishing Report, refresh your browser to empty your cache.

Welcome to the Fishing Report from Townsend, Tennessee in the Great Smoky Mountains. At 6:22 am, the temperature is 42.1 degrees.
Today will be cool, about 60 degrees. Tonight the low is expected to plunge into the mid to high 30's. Tomorrow, through the end of October will be warmer, with highs in the low to mid 70's and lows in the 40's to 50 degrees. We have a slight chance for rain this morning and a fairly good chance Thursday.
Some rain fell night before last. While I was writing this report yesterday, I checked the radar. It appeared the rain was over. When I finished, it was raining again. Then, all day long, small rain cells formed to our west, and moved into the Smoky Mountains. Little River kept rising most of the day. Other streams on the west side of the Park did the same thing. The small cells kept forming and moving our way.
At the end of the day, personal weather sites I check showed some fairly significant rainfall, from a low of .60 inches to a high of 1.34" in Gatlinburg.
Other weather stations I checked in Maryville and the Knoxville Airport did not get much rain at all.
Today may be a good one to fish the Little River watershed and maybe others, including the Little Pigeon.
Little River is flowing at 88 cubic feet per second (cfs) or 1.57 feet on the gauge. Median flow for this date is 75 cfs. The water temperature is 57.9 degrees. As you can see, Little River is flowing above normal this morning. And, it appears to still be slowly rising.
I updated yesterday's report a couple of times, reporting the rising river. I would go fishing today. It is going to be nice and cool. Little River looks good and others may too. The water temperature is perfect in the lower elevations.
I have a feeling, this will be a nymphing day. But, dry flies may work too. The trout will be scattered, more than they have been in a while, due to the higher water. There is a chance you could encounter stained water but I don't think that is likely, because the rainfall was light yesterday. It just lasted a long time. The cells were small and somewhat scattered. One prong of Little River may be higher than the others. I don't know.
This comes at a time when parts of the Southeast are in an awful drought. We are considered to be in a Severe Drought. To our south, it is worse. Areas in south east Tennessee, Mississippi, Alabama and Georgia are listed as Extreme and even Exceptional. Western North and South Carolina are stricken as well. Water conservation pleas have been issued in our area. More extreme measures have been taken in other areas to conserve water.
So, we got lucky in the Smoky Mountains of East Tennessee yesterday. Make the best of an improved situation and go fishing. This may not happen again for a while. The drought in the Southeast United States is predicted to last at least through the end of the year.
Fishing never got really bad here. I got e-mail from anglers yesterday, telling me about the trout they were catching, before yesterday's rain event. One angler fished with Rob Fightmaster, and caught between 12 and 15 trout. Another reported his son caught a brook trout on his first cast. These were recent reports. But, I'm telling you, now is the time to go, especially today and tomorrow.
I am loving this cool weather. I can't wait to go on our morning walk. Yesterday was the first day I've worn long pants in I don't know how long. I wore a fleece vest last night, while piddling around in the boat house. This has been a record breaking or near record breaking summer, in terms of heat. If you live in the Southeast, or maybe other areas of the country, you know what I'm talking about. It's been hot and many of us are welcoming true fall weather, finally.
I feed birds during the winter. I mean, I really feed birds, going through at least 2 gallons of seed per day. I buy in bulk and mix my own. We have an area, behind our house, that is wooded. I cleared the small trees and brush so we can see back about 100 feet. I rake the leaves and make small trails that meander or zig zag through the woods. I change the location of the trails frequently.
I have to stop feeding in the Spring, because it draws bears near the house. The last day I fed this spring, a huge sow and her cub were licking the seed from the ground right outside my office window. Now, I don't expect to see bear. They have plenty to eat. They will be denning soon. Over a week ago, I created one small trail, with bare ground, and started throwing out seed every morning, mostly sunflower and millet. The birds came back immediately. I watch them from my office and any window or door on the back side of our house.
As you can imagine, squirrels feed there too. They have found the sunflower seeds already.
Yesterday I was working in my office, looked out the window, and saw a bobcat walk by. Bobcats love to eat squirrels, if they can catch them. Last winter, Paula and I watched as a bobcat chased a squirrel up a tree. He returned to the ground, without the squirrel.
The bobcat I saw yesterday is very large. It could have been the same one we saw frequently last winter. The photo below is that cat. It does not appear large in the close-up photo, but it is. Without a personal contact reference, I think it's back would be right about at my knee, if we were standing together. I doubt if that will ever happen. Bobcats are reclusive and they are seldom seen, much less standing a couple of feet from a human. In the photo below, the bobcat was 25 feet from my office window, early in the morning.
Once I feel confident, the bears will not bother us, I'll expand the trails. Then, the turkeys will find the seed. When that happens, that will require more work on my part and more seed. I've seen groups of up to 35 turkeys walk into my feeding area, and eat every seed in about an or or so. They even eat the millet. I hope the beautiful lone gray coyote comes back, looking for squirrels. I think he is a half grey wolf, coyote mix. He does not run with a pack. He is a loner. The photo of him is below too. If bears appear, the feeding will be over for a while. I hope that doesn't happen.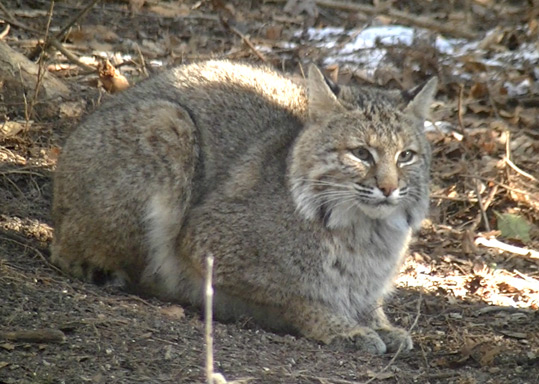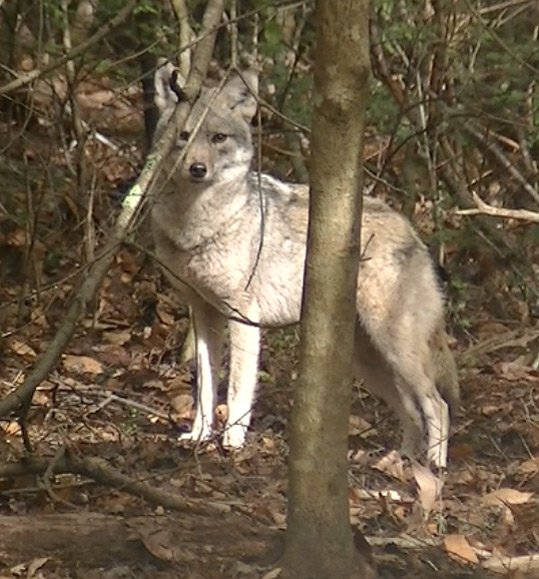 Have a great day and thank you for being here with us.
Byron Begley
October 22, 2016