Townsend, Tennessee - Fly Fishing in the Great Smoky Mountains, East Tennessee and Western North Carolina

If you do not see today's fishing report, please refresh your browser or empty your cache.

Welcome to the Fishing Report from the Great Smoky Mountains. At 6:05 am, the temperature is 64.4 degrees. It will be unseasonably warm today and tomorrow with a 40% to 50% chance for rain. Expect highs in the high 80's and lows in the mid 60's.
Cool temperatures, more like we would expect in September, should arrive late next week. High temperatures are predicted to be around 80 degrees, with lows in the 50's beginning next Saturday.
Little River is flowing very low, as are most streams in Great Smoky Mountains National Park. Flow in Little River this morning is 33 cubic feet per second (cfs) or 1.09 feet on the flow gauge. Median flow for this date is three times what we have, at 99 cfs. The water temperature is 71.2 degrees this morning.
I have not seen Little River this low in a while. USGS data indicates the water has been this low, at least 4 times since 2008. Tubers were actually trying to float the river, through Townsend yesterday. What I saw was a riverbed, littered with large boulders, and water trickling around them.
Below is a USGS chart, depicting flows since August 2008. See what I mean? Our area is not listed as being in a drought. Only parts of Great Smoky Mountains National Park, are recognized by the US Drought Monitor and classified as "Abnormally Dry". We just have not had much rain in the mountains lately. That should change soon.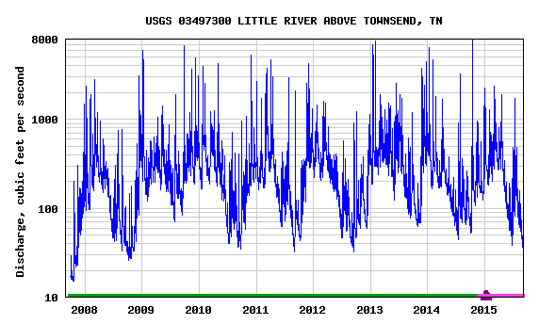 If you fish in the Smokies today, go high where the water is cooler. The trout are going to be concentrated in the broken water, in riffles, plunge pools and deep runs. If you are fishing shallow water, which is likely, use dry flies. I would use a black foam beetle or a Yellow Sally stonefly imitation though most reasonable flies should work. The trout are hungry and looking for food.
Wade fishermen, targeting trout, have possible opportunities on the tailwaters this morning, namely the Clinch and Holston Rivers. Check the TVA website and see if you can work with their generation schedules.
Fishing on the lakes is good in the evenings. Bass and bluegill are vigorously taking poppers when the sun is low, on the banks. Watch for schools of shad on the lake surface. They are there in the evenings. Paula and I chased bait balls Thursday evening. We tried to hit the areas where fish were attacking on the surface. Our attempts were futile but fun. There was not a huge amount of surface activity, just enough to keep us trying. I use the trolling motor to get into range to cast a Puglisi shad pattern.
Every time we got close enough, the feeding activity on the surface stopped. The shad were still there, in schools on the surface and going down deep. We could see them in the clear water, very deep below the surface. In hindsight, I should have weighted the Puglisi. The fish were probably feeding on the shad deeper. This is a very clear lake. I can often see the bottom in 12 to 14 feet of water. The depth where we were fishing was approximately 30 feet. I could see big fish and bait balls on the depth finder.
I don't like to use split shot to weight threadfin shad patterns. Instead, I slip a tungsten bead, made for tying flies, on the leader before tying on the fly. That way, the strength of my tippet is not compromised, by clamping on the split shot.
Wildlife is very active around our house. Turkeys are everywhere, looking for food. Deer are roaming. We haven't seen a bear at our house in weeks. But, they are there. They are hungry and looking for food.
Experts say, the cherries were absent this year in the Park for the most part. They also say, the mast crop of acorns and other nuts is light this year. Bear are trying to bulk up for the Winter.
I'm hearing and reading some crazy stories about bear activity lately. One was a woman who reported a bear in her car in the Smokies. She left her window down. Another which seems unbelievable to me, was a bear breaking the windshield of a car, to get in. There is a good story about the recent bear activity on the WBIR website. You can read it by CLICKING HERE.
A man was attacked in Campbell County, by what was probably a bear, but he doesn't know for sure. He is recovering at UT Hospital in stable condition. The man was walking along a country road, it was dark, and the animal attacked him. TWRA suspects it was a bear and they are trying to capture it. Experts will examine the tooth and claw marks on the man and make a determination. Can you imagine what that must have been like? You can read that story on the WBIR website by CLICKING HERE.
We are going to be careful for a while around our house and you should too when visiting the Park. I wouldn't be carry around a bunch of donuts.
I keep a digital high-definition, video camera mounted on a tripod here in the "man cave". We live in the woods and wildlife can be seen often. Thursday, a doe and her fawn were licking a mineral block Paula bought and placed about 50 feet from our house. I shot video and at one point, the doe started licking her fawn on the head. The fawn closed it's eyes and you could tell, was enjoying the loving very much. The fawn tried to nurse at one point. The doe would not comply. This fawn has been weaned. I saw a large buck nearby but didn't get any footage of him. Below is a screen shot of one point in the video. It's not very clear but you can see the mom and her fawn, and the love they share for each other.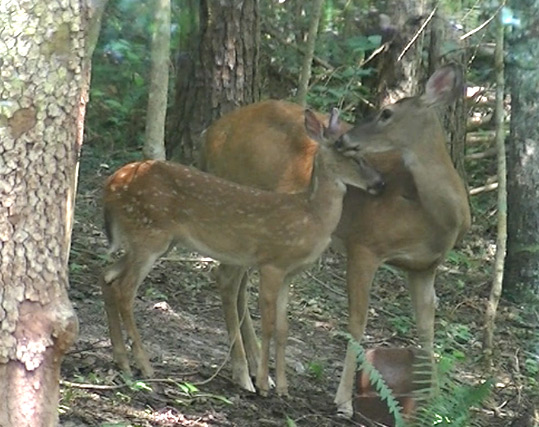 Have a great day and thank you for being here with us.
Byron Begley
September 5, 2015
Respond to byron@littleriveroutfitters.com

Lake Information and Tailwater Generation Schedules



Please enter your e-mail address in the box to the left to sign up for our e-newsletter. You will receive news about the shop, events, sale information, fishing info and more important information a fly angler would want to have.

You can opt out at any time. If you decide you don't want to receive our information just change your status or click at the bottom of an e-mail we send you in the "Remove" box.

We do not sell or give your e-mail address to anyone. And, we won't hound you to death with e-mails. You will just get a few per year. Thank You for supporting us.