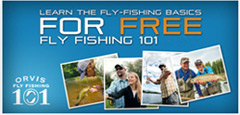 If you have considered learning to fly fish, here is a chance to get a FREE 2-hour introduction to Fly Fishing.

The FREE 101 Classes will be held at our School and Fly Shop, throughout the year. All you have to do is choose a date and call us at 865-448-9459 to make a reservation. You can learn more by clicking the links below.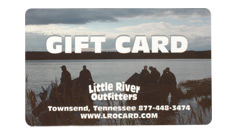 A Little River Outfitters Gift Card
Is the Perfect Gift

Buy Them in the Shop
Buy Them Online
Call 865-448-9459 to Order

Redeem the Same Way


Free Ground Shipping
In the Continental United States

Order Online or Call 865-448-9459

We can get you just about anything
Fly Fishing Related
Give us a call!
Summer Fly Tying Classes


Intermediate Fly Tying
Saturday August 8th

MORE INFO

Townsend, Tennessee - Fly Fishing in the Great Smoky Mountains, East Tennessee and Western North Carolina

Welcome to the Fishing Report from the Great Smoky Mountains. At 6:45 am, it is a very nice 62.6 degrees in Townsend. It is going to be hot today, probably over 90 degrees. Tomorrow will be about the same. Rain is back in the forecast Thursday and Friday, in the form of thunderstorms.
LITTLE RIVER
Little River is flowing low at 74 cubic feet per second (cfs) or 1.35 feet on the flow gauge. Median flow for this date is 129 cfs. The water temperature is 69.6 degrees, below the "Y" just inside the Townsend entrance.
FLY FISHING IN THE SMOKY MOUNTAINS
The water is low. Trout will be spooky. Water temperatures in the low elevations are warm.
Fish in the higher elevations where the water is colder. Use your low water tactics. If you don't have that experience, now is a great time to learn. Trout can be caught, if you do.
When the water is low, trout are packed into holding lies that offer them protection from predators. They are trying to be hidden. The water is choppy. They will be in riffles and near faster water that offers cover. They will be in pockets, behind rocks, where the water is calm with faster water moving overhead.
To me, it's easier to fish a dry fly under these conditions. You can get fairly close to the fish, if you are dressed to blend in, don't cast a shadow over the area you intend to fish and stay as low as possible. Hit those pockets with a fly and try your best to get a good drift, at least for a few seconds, enough time for a trout to spot your fly and quickly eat it.
The higher elevations will also give you relief from the heat. A high elevation shaded stream is a good place to be today.
FLY FISHING IN THE LAKES
The lakes are fishing pretty well in the evenings. Cast some poppers on the surface, or use Dragons deeper. If you find shad on the surface, with gamefish feeding on them, switch to a small threadfin shad pattern and join in on the fun.
After tomorrow, thunderstorms may keep you off the lakes for a couple of days.
TAILWATER TROUT
The TVA website indicates they will be generating all day on the Clinch and Holston Rivers.
FALL IS COMING!
Well, not exactly, not yet. Every year, I start thinking about Fall fly fishing. I love the Fall season. Look at those brightly colored brown and brook trout. They love Fall too. Walking along a stream, holding a fly rod, on a crisp Fall morning can't be beat. The water is cooler and the trout are active. On the lake, it's the same. I love shoving off from the ramp, wearing a light fleece jacket, knowing I will be shedding it later. The orange and yellow trees reflect onto the water. Fall is rejuvenating. And, it's not far off.
FLY THREADERS
Maybe everyone's eyes are getting worse. Maybe more new products for threading fine tippet through the eye of tiny trout flies are coming to the market. All I know for sure is, we are selling a lot of fly threaders. We have one, and for the life of me, I can't think of the name this morning.

Paul shows it to every customer who will watch his 30-second demonstration. We sell the heck out of them. I saw a box recently, full of these threaders, that UPS dropped off. It was a case of 48 threaders. Daniel told me that is not uncommon. We get them in, sell them quickly, then get more. I think they sell for $12.
Yesterday, he called to get a sample of yet another fly threader/knot tyer combo. He is hoping, since this one is flatter, we can ship it cheaper. Since we don't charge for shipping, that is important to us.
ARE WE TOO PRACTICAL?
This week, Paul, Daniel and I were talking about a product to sell in the shop. It is expensive. We discussed the pros and cons, merchandising, shipping, what our competition is doing, things like that. Daniel said the product would not sell well in our store because we would not get behind it. It's too expensive. We are practical. You can ask Paula. I'm "frugal". If you don't believe her, look at my truck.
Yesterday, I wrote content for a new web page. I was writing about smallmouth bass tackle. I described what I use. This will link to a category on our online store. What I did was advise people to buy less expensive tackle, but still get really great stuff, like TFO rods, Orvis Reels and a Rio Fly Line. Rio fly line is not inexpensive. There are just some things I will not do. Cutting corners on a fly line is one of them.
Our culture, as a fly shop, that has been the case for over 20 years, dictates, "Not trying to cram the most expensive, top end tackle down the throats of people who are in our shop buying". I think customers appreciate that. I would. We try to serve a wide range of price points and always have. We don't consider ourselves sales people. We consider ourselves service people. Good or bad for our bottom line does not come into play, when advising a customer. Low pressure sales practices, also make it more enjoyable for us. We try to treat people the way we would want to be treated. I guess it works.
Have a great day and thank you for being here with us.
Byron Begley
August 4, 2015
Respond to byron@littleriveroutfitters.com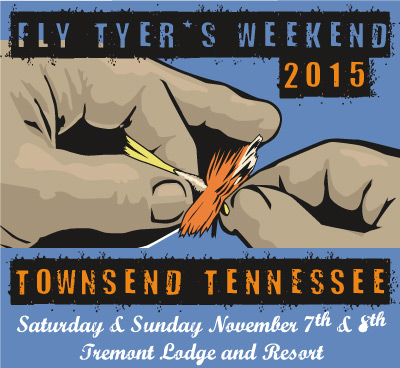 Fly Tyers Weekend will return Saturday and Sunday
November 7th & 8th, 2015
THE EVENT IS FREE AND IT'S GOING TO BE BIG
Brought to you by
Southeastern Council of the Fly Fishing Federation
Tremont Lodge and Resort and Little River Outfitters

MORE INFO CLICK HERE

These pages are under construction but you will get the idea.



Please enter your e-mail address in the box to the left to sign up for our e-newsletter. You will receive news about the shop, Troutfest, sale information, fishing info and more important information a fly angler would want to have.

You can opt out at any time. If you decide you don't want to receive our information just change your status or click at the bottom of an e-mail we send you in the "Remove" box.

We do not sell or give your e-mail address to anyone. And, we won't hound you to death with e-mails. You will just get a few per year. Thank You for supporting us.