If you do not see today's Fishing Report, please refresh your browser to empty your cache.
Welcome to the Fishing Report from Townsend, Tennessee in the Great Smoky Mountains. At 5:21 am, the temperature outside is 60.1 degrees.
Today, we have a 90% chance for thunderstorms, mainly before 2 pm. Quoting the National Weather Service, "New rainfall amounts between a tenth and quarter of an inch, except high amounts possible in thunderstorms". The high temperature today will be in the mid-70's.
Tomorrow through Sunday looks good, with warm temperatures and only a slight chance for rain again until Sunday night.
Little River is flowing at 549 cubic feet per second (cfs) or 2.76 feet on the flow gauge. Median flow for this date is 268 cfs. The water temperature is 58.8 degrees this morning.
You can see from the image below, Little River has been receding steadily since it peaked on April 24th. If we do not get much rain today, the river will continue to fall to 2.5 feet, which is fishable. The water will be swifter than normal. I consider 2.5 feet to be on the high side of good. If we do not get more rain, the river and other steams will recede further tomorrow and Saturday. Fishing will be very good again.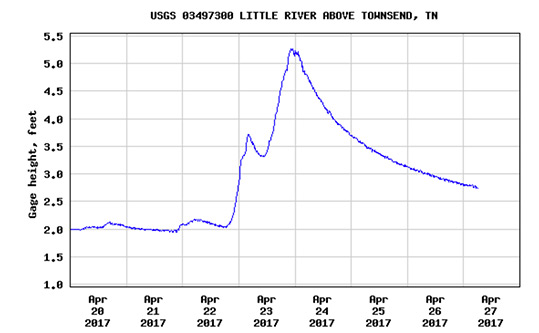 The water temperature is perfect in the low and mid-elevations. That will continue through the weekend.
If thunderstorms do drop heavy rain in the Smoky Mountains, some streams will rise once again. Some weather websites predict scattered thunderstorms today. What I am seeing now, on the radar, does not look "scattered" to me. The frontal boundary of this storm will move into our County soon. You can see the radar I watch for our area by CLICKING HERE. You may need to click on the blue button to the left and top of the radar screen to animate the movement of the storm.
If you are planning a trip here this weekend, and you are trying to make up your mind, you may have to wait until tonight or tomorrow morning to make the decision to come. Or, come on and take your chances.
You can watch the water level in Little River, on the USGS website, showing activity at the Little River Gauge by CLICKING HERE or the link below in the USGS Gauge section of this page.
We will just have to wait to see what happens. I'm hoping for the best outcome.
It is dark outside now, but I can hear the wind picking up. I walked out on the front porch and looked to the east. Dawn has almost begun. The sky is pink to the east. The storm is coming from the west. It feels comfortable out there. I wish I could just sit outside and watch this unfold.
WBIR is updating and releasing more of their story about Elkmont, the cabins and the Wonderland Hotel. I quickly scanned it this morning and learned more about the community and I remembered things I forgot.
I forgot, Sandy Beall offered to invest $15 million to restore the Wonderland Hotel, and operate it as an inn, along with his Blackberry Farm resort in Walland. The Park Service turned Sandy down. That was an exciting time. I've know Sandy for many years. It would have happened. I thought it would happen.
You can read the updated story and watch new video on the subject by CLICKING HERE. Now, their page does not open. Maybe they will fix it. The link is correct.
CBBC Bank is holding a hot dog lunch, at the Townsend Branch, today, for bank customers. I thought it was yesterday. Paula and I showed up. I have had the flyer on my desk here at home for over a week. It clearly states, "April 27th".
My mind plays tricks on me when someone mentions "Free Food".
We changed our plans quickly yesterday, and I drove to Morristown to pick up our boat at Tri-County Marine. That is a very long 3-hour round trip drive. I say long, because I take the back roads to Sevierville, then hop on the interstate at Kodak. I had them do everything I could think of the to the motor, getting ready for many up-coming fishing outings.
I had the carb and water pump rebuilt. Neither really needed to be done. They left the impeller that was removed from the water pump, and all removed parts in the bottom of the boat. They looked fine. I hate taking chances when it comes to a boat motor. While it was there, I had them tune the motor and change fluids, something I usually do myself. We are good for another two years on the water pump. I don't mind investing money on "Fishing".
Fly fishing has always been the one pastime I really enjoy, more than any other. I worked a lot last year and did not get to fish as much as I like to. This year will be different. I am so excited about 2017, for many reasons.
Dam repairs at Chilhowee Lake are nearing completion. They say it will be re-filled by June. Fishing is not great on the lake, and fishing will probably be slow for a couple of years. The lake was drained to the river in 2015. It's a small lake but it is pretty. And, we can be at the ramp in 35 minutes.
Uh oh! I hear thunder, a lot of thunder.
Have a great day and thank you for being here with us.
Byron Begley
April 27, 2017