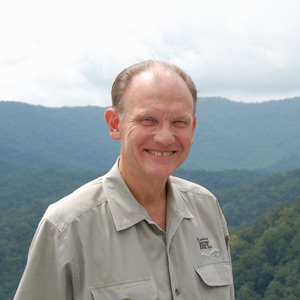 Jim Hart, Executive Director at Friends of the Smokies.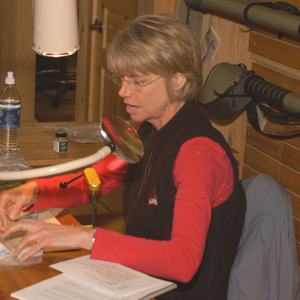 Sarah Weeks, Director of Development at Friends of the Smokies.


In the early 1990's we were working to establish the Little River Chapter of Trout Unlimited, organized to help support Great Smoky Mountains National Park Fisheries Department. The Chapter was the first to partner and sign a Memorandum of Understanding with a National Park. At the same time another organization was born. They were called Friends of the Smokies. They were founded to support the National Park in all areas on a broad and large scale.
I became more interested in Friends when our friend, Sarah Weeks was hired to be the Director of Development. Sarah has spent her career in the fund raising business with a long tenure at the University of Tennessee Alumni Association. Her background and love of the Smokies made her the perfect person to direct the development of Friends. Sarah also serves on the Executive Committee of Troutfest. As Chairman of Troutfest I wanted her experience to help us succeed to make the event different and larger. I call on her often for advice as none of us on the Committee have her level of expertise. Since the money we raise at Troutfest goes to the Park, she shares her time and knowledge. She is also a member of the Clinch River Chapter of Trout Unlimited and is an avid angler.
Friends of the Smokies was chartered in 1993 when 156 charter members donated $1,000 each to be used as seed money. The first Executive Director was Charles Maynard. The first large project was to build a log dormitory for the Park's seasonal employees. I was there just after completion. It appeared to me at that point Friends meant business. Then in 1995 the historic Cammerer Fire Tower was reconstructed. It was in terrible repair and a beautiful piece of architecture. I remember seeing photos of it at Park Service user group meetings in the early 90's. Also in 1995 they held their first telethon which was a huge success. Friends were on their way to becoming a significant supporter of the Park.

In 1996 Friends funded the reconstruction of Alum Cave and Boulevard trails what were damaged by Hurricane Opal. Picnic areas and campgrounds were rehabilitated and the Alfred Reagan House was restored. Friends launched the specialty license plate for Tennessee residents in 1997. Two years later they would do the same thing in North Carolina. Those two fundraising projects generate more than $750,000 annually. Endowments were established, historic log cabins were restored and other worthwhile projects occurred over the years.
In 2001 Friends opened their North Carolina office in Waynesville. Elk were reintroduced that same year to the Park. Total funds donated to protect the eastern hemlocks have grown to $1 million. Money from Friends has been used to buy low emission automobiles and convert part of the fleet to biodiesel. The list goes on and on. The accomplishments are huge.

All total this group has raised more than $26 million through their fundraising efforts. Currently there are over 4,000 members. Jim Hart is the Executive Director who oversees all activities of friends in both offices. You can find out more by visiting their website at:
http://www.friendsofthesmokies.org/

Friends of the Smokies is an organization well worth the time and money to get involved with. This year Great Smoky Mountains National Park celebrates it's 75th anniversary. You can become a 75th Anniversary Sponsor like we did.
Byron Begley