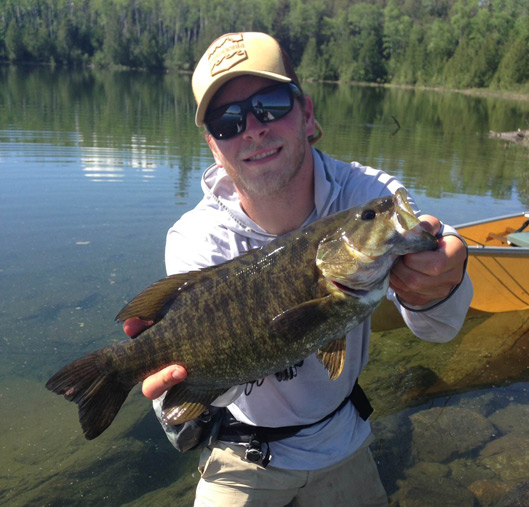 Dan Munger with a beautiful smallmouth bass, caught on a fly in the Boundary Waters.
Smallmouth bass are members of the sunfish family. Their original native range was basically in the Mississippi River and Ohio River basins including Lake Michigan, Lake Ontario, Lake Erie and Lake Huron. Their range extended as far South as Tennessee, North Georgia and North Alabama in the Tennessee River watershed. They were not found east of the Appalachian mountains.
Maybe it is the shape of the fish or the muscle density or maybe it is all attitude. The smallmouth bass is the hardest fighting freshwater fish, inch for inch or pound for pound that swims. For this reason, fishermen and especially fly fishermen love to fish for smallmouth bass. These fish have stamina and determination. They never give up when hooked. They may tire somewhat, but they never quit.
Smallmouth bass do best in cooler, highly oxygenated water. They prefer rocky or gravel stream or lake beds. Smallies live in freestone streams, natural lakes, impoundments and tailwaters where the water is cool and clean. They do not tolerate pollution well. Water that is often stained with silt does not provide good smallmouth habitat. Basically, they like cool, clean water.
Where I live, in East Tennessee, smallmouth bass may live 15 years and grow to a length of 21 inches or longer. Since we are in the most southern range, the growing season is longer than it is in the northern states. Tennessee Wildlife Resources Agency (TWRA) research has shown that a smallmouth bass that lives it's life in a stream will grow on average to 14 inches by six-years of age. In reservoirs, a smallmouth will grow to be 14 inches in 4 years. According to TWRA, smallmouth bass can be found in nearly all of Tennessee's reservoirs. The smallmouth bass is the official state sport fish. The standing world record smallmouth bass was caught in Dale Hollow Lake in Tennessee.
Some excellent research on smallmouth bass has been done by the Wisconsin Department of Natural Resources (WDNR). I have gathered a lot of information while researching this project and I found more information from WDNR than any other source.
Their research indicates an adult smallmouth bass is about 8" long at 3 years of age and 15.75 inches at 7 years old. The Wisconsin Department of Natural Resources website, The Fishes of Wisconsin, reports that a 19 inch smallmouth bass in that state is rare.
Growth rates are determined by water temperature and the amount of available food.
Smallmouth bass become lethargic and even dormant when the water temperature drops to around 40 degrees F. They may suspend in reservoirs where there is no current during the winter. We know, at least in the southern states, these suspended bass do eat. They often feed on threadfin shad that are dying, due to the cold water.
Smallies in rivers may seek structure on river bottoms and lay dormant, not feeding at all when the water is cold. In the Spring, when the water temperature rises to 50 degrees, smallmouth bass become more active by moving into or near spawning areas.
The preferred temperature of smallmouth bass, according to WDNR is between 69 and 79 degrees F. Spawning occurs when the water temperature reaches between 55 to 60 degrees.
Understanding the effect of temperature on smallmouth bass behavior is essential for the fly fisherman. Smallies move from shallow water to deep water as temperatures change. Fly anglers love fishing in shallow water so knowing what the water temperature is helps define what fly fishing tactics to use.
The sun also plays a vital role in planning a fly fishing trip, especially to a lake or slow moving river. Smallmouth bass are most likely in deeper water when the sun is shining. On cloudy or rainy days, you may find these bass in shallow water all day. On sunny days, plan on fishing very early and late if your idea of good fishing is using top water flies or sight fishing for the bass.
Byron Begley