Townsend, Tennessee - Fly Fishing in the Great Smoky Mountains, East Tennessee and Western North Carolina

If you don't see today's Fishing Report, refresh your browser to empty your cache.

Welcome to the Fishing Report from Townsend, Tennessee in the Great Smoky Mountains. At 5:32 am, the temperature is 69.4 degrees.
It is going to be hot this weekend, with highs in the high 80's to 90 degrees. Lows will be near 70 degrees. According to one weather website, there is a 60% chance for thunderstorms today and tomorrow. Another website puts the odds at 20% today and 30% tomorrow. It will be partly sunny to mostly sunny.
Little River is flowing at 64 cubic feet per second or 1.44 feet on the flow gauge. Median flow for this date is 103 cfs. The water temperature is 73.8 degrees.
The air was suffocating yesterday. Paula drove me to Maryville to pick up my truck at the body shop. Driving home, my truck indicated an outside temperature of 98 degrees. Paula said her car showed the same number. We got home and that number dropped to 89 degrees. It is amazing how much cooler it is at our house, than it is in town on hot days.
I plan on staying indoors all weekend, working on our website and tying Knuckleheads.
If you go fishing this weekend, first, go early. Second, drive or hike to a higher elevations where the water is cooler. I would wander into the backcountry and plan to stay there. The air will be cool, fishing will be better, those small streams are mostly shaded, and you will enjoy your day.
The streams are very low. Stay hidden, blend in and fish the choppy water. Dry flies or nymphs will work for you. The guys at the shop tell me the Squirmy Wormy in pinkish red or green are working very well. I would use a #16 Yellow Neversink Caddis and maybe drop the Squirmy Wormy off the dry.
I am seeing a lot of inchworms or sourwood worms dangling from the trees. I'm not too familiar with the Squirmy Wormy, but I know the Green or Pink Weenie works well.
Thirty years ago, I would have never dreamed I would be using words like "Weenie", "Squirmy" or "Wormy" when describing recommended flies. I would have been using words like, Adams, Elk Hair, Trude, Humpy, Dun and others. 35 years ago I would not be talking about bead head flies. I don't think they had been invented.
If you go to the lakes to fish, go early. You should be there now. You may do fine casting poppers to the banks until the sun is on the water. Move around and find shaded banks to fish. When the sun is higher in the sky, I would be loading the boat and heading home.
I nice cool tailwater is a good option this weekend. Check the TVA website's generation schedules and make a decision on where and when to go. We have some good trout tailwaters nearby and others that require a longer drive.
I stopped at the Farmer's Co Op on my way home from the body shop, where my truck got it's 15 year makeover. It looks brand new. I bought it new, 15 years ago.
At the Co Op I purchased two mineral blocks for the deer. I keep at least one in the woods behind our house. Those I bought yesterday are just salt and minerals, made for livestock. They weigh 50 pounds. I hauled one behind the house and gave the other to our neighbor, Will. Will said he would place it on one of the trails on his property.
I also bought and placed a different mineral block behind the house this Spring. That block weighs 25 pounds and it looks like a rock. It is a rock. It was mined somewhere in the west. I think they come from Utah. Deer love those too. It contains salt and other minerals wildlife like. About half of that rock has been licked away. Yesterday, after writing this fishing report, I opened the blinds in my office, and there was a deer back there, licking away.
The 50 pound blocks cost about $7. The 25 pound rocks cost $25. I think the deer like the cheap mineral block better.
Paula and I were sitting on the porch last evening like we always do, listening to the forest and watching the hummingbirds fight over three feeders. A decent sized bear walked up our lower driveway and by the boat house below. That driveway serves as a travel corridor, used by bear, that walk from the spring creek near our barn. They continue by our house, cross the private road, and walk down a trail that ends up at Lawson Road, where the Appalachian Bear Rescue (ABR) is located. For some reason, wild bears like to be near ABR. Maybe they think they will be taken in and fed.
When the bear walked by, his tongue was hanging out. It was still hot out there. He walked slowly. Paula took the photos below with her phone. I was standing at the top of the steps that lead down to the boat house when he walked by and the second photo was taken. I was very close to him. That bear never looked up at me. He kept his head down and just slowly walked.
Look at the close-up photo. He is missing a lot of hair. I've never seen that before. I've never seen this particular bear. He doesn't appear to be malnourished. He sure does have a hair loss issue. He didn't look very happy or alert either. Most of the bears we see look healthy and pretty. Not this one.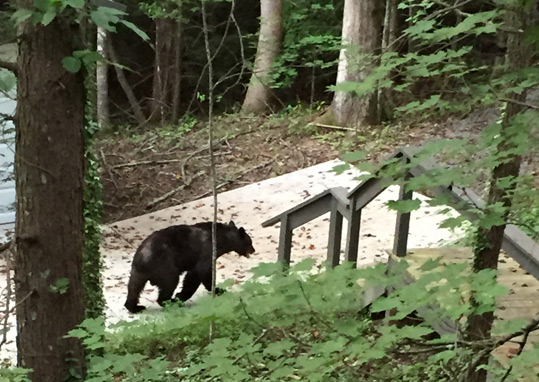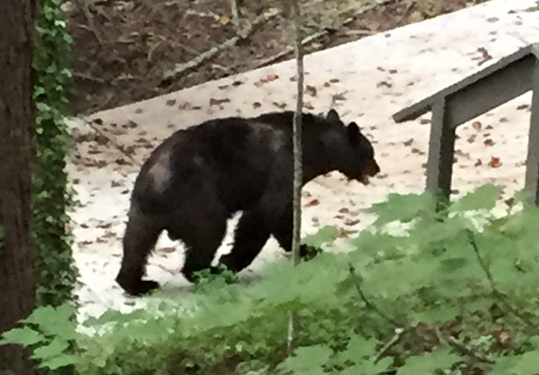 I walked along the top driveway, watching him on the lower drive through the trees. I was a good distance from the house, and he disappeared. He stepped into the forest. That was my signal to go back to the house. He was out there somewhere, and I didn't know where. He obviously needs protein, but I didn't want to be the source. Maybe he should wander behind our house and lick some mineral blocks.
I've never seen a bear lick those blocks. Deer will stand there and lick continuously for a long time. Not bears. If bear liked those blocks, I would have to remove them. Having bear walk through going somewhere else is fine. What you don't want to do is give them a reason to stay. Those hummingbird feeders could become a problem some day.
Have a great day and thank you for being here with us.
Byron Begley
August 27, 2016
Respond to: byron@littleriveroutfitters.com
Lake Information and Tailwater Generation Schedules



Please enter your e-mail address in the box to the left to sign up for our e-newsletter. You will receive news about the shop, events, sale information, fishing info and more important information a fly angler would want to have.

You can opt out at any time. If you decide you don't want to receive our information just change your status or click at the bottom of an e-mail we send you in the "Remove" box.

We do not sell or give your e-mail address to anyone. And, we won't hound you to death with e-mails. You will receive no more than one per week unless unusual or critical fishing news might be of interest to you.