Townsend, Tennessee - Fly Fishing in the Great Smoky Mountains, East Tennessee and Western North Carolina

If you do not see today's fishing report, please refresh your browser or empty your cache.

Welcome to the Fishing Report from Townsend, Tennessee and the Great Smoky Mountains. At 6:17 am, the temperature is 62.1 degrees. We should expect a warmer day today, near 87 degrees, with a slight chance for thunderstorms this afternoon. Tomorrow will be cooler and the chance for thunderstorms increases to "Likely". One weather website lists the chance at 40% and another says 60%.
The USGS Flow Gauge on Little River stopped transmitting data yesterday afternoon. Flow is likely similar to yesterday, at 1.19 feet and 47 cubic feet per second (cfs). Median flow for this date is 94 cfs. The water temperature this morning is probably in the mid-60's.
It will be warm today so plan on fishing the streams in the mid to high elevations where the water is cool. I would use dry flies or a Green or Pink Weenie. For a dry fly, I would choose a black foam beetle or a Yellow Sally stonefly imitation. Most reasonable fly patterns will work. The trout will be found hiding in broken water, in plunge pools, pockets or near faster runs. Stealth is important. Don't be seen by the fish.
Tailwater trout fishermen may have some opportunities this morning on the Clinch and Holston Rivers. Check the TVA website and determine if you can work with their generation schedules. Both will be generating heavily this afternoon. Check using the links below for Norris and Cherokee Dams.
Lake fishing is good early and late. Tomorrow will be cloudy. Fishing could be good all day. Watch out for those thunderstorms. Bass and bluegill can be caught using poppers, foam top water flies or sub-surface patterns. Fish the shaded banks. Watch for shad schools on the surface in the evenings. Game fish may be feeding on the shad, on top.
Fishing for smallmouth bass on the tailwaters has been good. The bass are often taking top water flies.
Yesterday, I photographed more new BoogleBug poppers. We are gradually building that department and it is doing very well. Dan Munger and I are both using these poppers, and trying to determine which ones work best. Then, we'll beef up those particular models. I did find, the BooglePopper model in the #6 size made a lot of noise and got plenty of strikes. But, I missed a bunch of nice bluegill due to the size of the popper. We got a shipment yesterday, which included poppers in the #8 size, slightly smaller. I think they will be perfect for bass and bluegill. Two models were backordered.
I hope to have the new sizes, models and colors on the online store this weekend. You can see what we have listed so far by CLICKING HERE. Or call the shop and ask what we have added this week. We do not charge for ground shipping. The poppers all sell for $5.50 each. They are extremely durable.
I mentioned yesterday, that Paula and I fished out of our kayaks in a small lake. Before that, we only used them in Florida in the ocean. We use our boat to fish the lakes here. I had a hard time keeping my kayak in position to cast to the banks.
I talked to my friend Frank in Kentucky yesterday. He fishes out of his kayak often, on lakes. He told me, he gets to a likely spot and drops his anchor. Then, to keep the kayak positioned to cast, he adjusts using a hand paddle. I fished on the French Broad river recently in his kayak and tried that hand paddle. It works great. You can see them, and order one by CLICKING HERE and visiting the Austin Kayak website. They sell for $29.95.
I've bought a lot of kayak stuff from Austin Kayak, including our Malone kayak trailer. Believe it or not, when I bought the trailer, shipping was free. It arrived via FedX in about 3 days, in 7 boxes. Paula and I assembled the trailer. That was a job! It works great though, and we're very happy we bought it. You can visit the Malone website by CLICKING HERE. Ours is the Microsport with the two kayak package. We bought the longer bars because our kayaks are wide.
They did not charge sales tax on this big ticket item. We paid the Tennessee sales tax voluntarily. Then we were able to obtain a Tennessee Semi license plate for the trailer. License tags are not required in our state. But, we travel to Florida with ours. They require them and if you get caught without one, you will get a hefty fine. That happened to a friend of mine.
You may be able to buy these trailers from a local dealer. And, they might assemble it for you.
Here's a photo of our rig.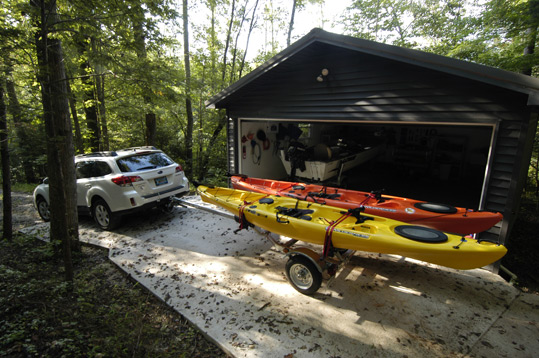 Dan Munger and Pat are back from their trip to British Columbia. They caught some nice bull and cutthroat trout. I can't wait to hear their stories. Dan has been posting on Facebook. I don't use Facebook, but Daniel showed the photos to me. Those bull trout are awesome.
I read this morning, gasoline is selling for under $2 per gallon in our county. I fill my truck about once a month. You can tell I don't drive much. I don't have to. We have great fishing close to home. Going to the shop takes about 5 minutes. Paula runs all the errands. Some days I don't drive at all. I work from home most days.
So, go out and buy some cheap gas and go fishing!
Have a great day and thank you for being here with us.
Byron Begley
August 29, 2015
Respond to byron@littleriveroutfitters.com

Lake Information and Tailwater Generation Schedules



Please enter your e-mail address in the box to the left to sign up for our e-newsletter. You will receive news about the shop, events, sale information, fishing info and more important information a fly angler would want to have.

You can opt out at any time. If you decide you don't want to receive our information just change your status or click at the bottom of an e-mail we send you in the "Remove" box.

We do not sell or give your e-mail address to anyone. And, we won't hound you to death with e-mails. You will just get a few per year. Thank You for supporting us.